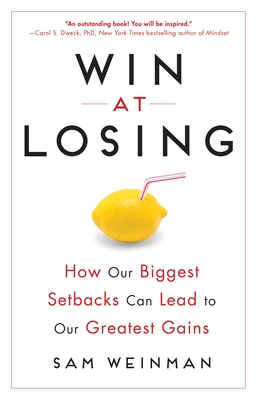 Win at Losing (Hardcover)
How Our Biggest Setbacks Can Lead to Our Greatest Gains
TarcherPerigee, 9780143109587, 256pp.
Publication Date: December 20, 2016
Other Editions of This Title:
Paperback (12/19/2017)
* Individual store prices may vary.
Description
An engaging, inspiring exploration of the surprising value of setbacks—and how we can use them to succeed

As an award-winning sports journalist, Sam Weinman has long studied the ripple effects of losing. But as a father of two competitive boys, he struggled to convince them that failing—whether losing a hockey game or bombing a math test—can actually be a critical part of success. So he sought out the perspectives of men and women who have turned significant setbacks into meaningful comebacks—and sometimes even new careers—to illustrate how we can not only overcome defeat but grow stronger from the experience.

Blending firsthand interviews and advice from professional athletes, business executives, politicians, and Hollywood stars with expert analysis from leading psychologists and coaches, Win at Losing reveals how renowned figures—from Emmy Award–winning actress Susan Lucci to golfer Greg Norman and politician Michael Dukakis—have prevailed and even triumphed in the aftermath of loss, humiliation, and rejection. In showcasing the ways our most difficult moments can be turned into powerful growth opportunities, this lively and moving guide asks readers to redefine what constitutes success and failure, and offers an essential blueprint for harnessing the power of setbacks to achieve what we want in life.
About the Author
SAM WEINMAN is the digital editor of Golf Digest. Prior to that, he was a senior writer for The Journal News in Westchester County, New York, where he was honored with multiple national writing awards for his coverage of the PGA Tour and the National Hockey League. His work has also appeared in USA Today, Golf World, Yahoo! Sports, ESPN the Magazine, and Sports Illustrated. A graduate of the University of New Hampshire, he lives with his wife and two sons in Rye, New York, where he coaches multiple youth sports teams. To learn more, check out his website, www.SamWeinman.com.
Praise For Win at Losing: How Our Biggest Setbacks Can Lead to Our Greatest Gains…
"Instructive reading for anyone who wonders how to cope with defeat — at work, at sports, at life . . . Reading the stories from the other side of famous defeats, as well as the psychological benefits of those defeats, is incredibly useful." —Chicago Tribune

"The clear, conversational, and self-aware writing creates an enjoyable read with a worthy takeaway." —Booklist

"An outstanding book! In riveting chapters, Weinman portrays spectacular failures that helped people grow instead of crushing them. You will be inspired." —Carol S. Dweck, PhD, New York Times bestselling author of Mindset

"We always hear and read a great deal about winning and the joy of success. Win at Losing is all about the other side of winning and the truth that no one wins without losing many times. Learning from losing is a big part of success.  This is a wonderful read." —Bob Rotella, PhD, bestselling author of Golf Is Not a Game of Perfect

"Because we live in a country where our most admired citizens are labeled 'winners,' we often fail to appreciate the tremendous value of defeat. Well, thank goodness for Sam Weinman, whose ode to dropping the ball, missing the shot, failing to rise to the occasion is a beautiful—and important—reminder that second place often trumps first. A blissful read." —Jeff Pearlman, bestselling author of The Bad Guys Won

"Readers (especially sports fans) will enjoy this thought-provoking analysis of beneficial losses." —Publishers Weekly

"Sam Weinman took on a fascinating challenge when he decided to look into how people deal with loss—not just in sports, but in many walks of life. His reporting is thorough and insightful, allowing the reader a view of how those who are the best at what they do, deal—and grow from—defeat." —John Feinstein, bestselling author of A Season on the Brink

"What's the thread that unites the highest performers in sports, business, and life? They've all faced failure and defeat . . . and emerged stronger for the experience. Sam Weinman takes readers on an entertaining journey that shows how getting knocked down is part of all of our lives, and how each of us can grow and learn from the experience." —Mark McClusky, bestselling author of Faster, Higher, Stronger

"Sam Weinman will have to do his own 'winning from losing' in some other forum, because his book is terrific. And, although its genesis was in sports, it's really about how to be a better, happier, and more self-aware person." —David Owen, staff writer, The New Yorker