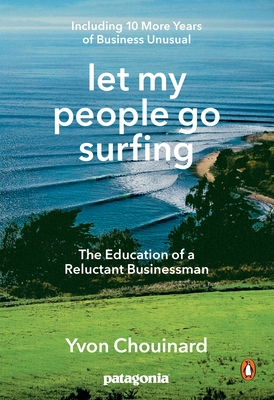 Let My People Go Surfing
The Education of a Reluctant Businessman--Including 10 More Years of Business Unusual
Paperback

* Individual store prices may vary.
Other Editions of This Title:
Digital Audiobook (9/5/2016)
Paperback (9/1/2006)
Description
In this newly revised 10th anniversary edition, Yvon Chouinard—legendary climber, businessman, environmentalist, and founder of Patagonia, Inc.—shares the persistence and courage that have gone into being head of one of the most respected and environmentally responsible companies on earth.

From his youth as the son of a French Canadian handyman to the thrilling, ambitious climbing expeditions that inspired his innovative designs for the sport's equipment, Let My People Go Surfing is the story of a man who brought doing good and having grand adventures into the heart of his business life-a book that will deeply affect entrepreneurs and outdoor enthusiasts alike.

"This is the story of an attempt to do more than change a single corporation—it is an attempt to challenge the culture of consumption that is at the heart of the global ecological crisis."—From the Foreword by Naomi Klein, bestselling author of This Changes Everything
Praise For Let My People Go Surfing: The Education of a Reluctant Businessman--Including 10 More Years of Business Unusual…
"Wonderful... a moving autobiography, the story of a unique business, and a detailed blueprint for hope." --Jared Diamond, Pulitzer Prize-winning author of Guns, Germs, and Steel

"For everyone who is alternately outraged and depressed by the wave of greed that has been the hallmark of corporate America in the twenty-first century, there is a name that inspires hope: Yvon Chouinard....Unique and compelling." --San Francisco Chronicle

"Chouinard's biography, Let My People Go Surfing, reveals a fascinating and colorful character....For all of our sakes, it seems the responsible thing for companies to do is follow Chouinard's ascent." --USA Today

"No matter what you do, you will find essential guidance and inspiration in Let My People Go Surfing." --Dave Foreman, The Rewilding Institute
Penguin Books, 9780143109679, 272pp.
Publication Date: September 6, 2016
About the Author
Yvon Chouinard is the founder and owner of Patagonia, Inc., based in Ventura, California.  He began in business by designing, manufacturing, and distributing rock climbing equipment in the late 1950s. His tinkering led to an improved ice ax that is the basis for modern ice ax design. In 1964 he produced his first mail-order catalog, a one-page mimeographed sheet containing advice not to expect fast delivery during climbing season. In 2001, along with Craig Mathews, owner of West Yellowstone's Blue Ribbon Flies, he started One Percent for the Planet, an alliance of businesses that contribute at least 1 percent of their net annual sales to groups on a list of researched and approved environmental organizations.