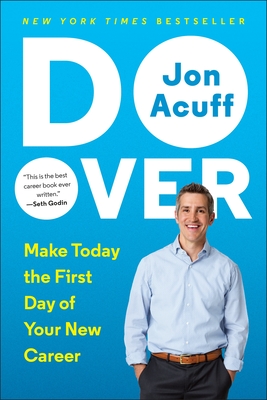 Do Over
Make Today the First Day of Your New Career
Paperback

* Individual store prices may vary.
Other Editions of This Title:
Digital Audiobook (4/6/2015)
Hardcover (4/7/2015)
Description
From the New York Times-bestselling author of Quitter and Start comes the definitive guide to getting your dream job.

When you don't like your job, Sunday isn't really a weekend day. It's just pre-Monday. But what if you could call a Do Over and actually look forward to Monday?

Starting on the first day you got paid to scoop ice cream or restock shelves, you've had the chance to develop the four elements all great careers have in common: relationships, skills, character, and hustle. You already have each of those, to one degree or another.

Now it's time to amplify them and apply them in a new way, so you can call a Do Over on your career, at any age. You'll need a Do Over because you'll eventually face at least one of these major transitions:

   •  You'll hit a Career Ceiling and get stuck, requiring sharp skills to free yourself. 
   •  You'll experience a Career Bump and unexpectedly lose your job, requiring strong relationships to survive. 
   •  You'll make a Career Jump to a new role, requiring solid character to push through uncertainty and chaos. 
   •  You'll get a surprise Career Opportunity, requiring dedicated hustle to take advantage of it. 

Jon Acuff's unique approach will give you the resources to reinvent your work, get unstuck, and get the job you've always wanted!


Praise For Do Over: Make Today the First Day of Your New Career…
"You have the power to give yourself a fresh start. Jon Acuff shows you how."
—
SOPHIA AMORUSO
, author of
#GIRLBOSS

"As Abraham Lincoln once said, being forced into work you don't love is like paying to upgrade your cell phone to the latest model: no one should have to do that! Fortunately, you don't need to do at least one of these things anymore. Take it from me and from Honest Abe: Jon's book can get you unstuck."
—CHRIS GUILLEBEAU, author of The Happiness of Pursuit and The $100 Startup

"Do Over is an energetic, user-friendly guide to navigating the jumps, bumps, and ceilings that we all face in our careers."
—ADAM GRANT, author of Give and Take

"Do Over is funny, insightful, and well-written. Three reasons I resent Jon Acuff."
— JIM GAFFIGAN, comedian and author of Food: A Love Story

"Honest, funny, helpful, fresh: there's a long list of words to describe the wisdom you'll find in Do Over. I dare you to read the first few pages of this book. If you're like me, you won't be able to stop. I have ordered a copy for every member of my team."
—MICHAEL HYATT, author of Platform

"Big dreams often start with big books. Do Over is one of them. The impact this book is going to have on the careers and lives of people across the world is going to be really fun to watch!"
—ANDY ANDREWS, author of The Noticer and The Traveler's Gift

"Jon Acuff serves up heaping portions of sage advice with a healthy side of selfdeprecating humor. As an entrepreneur and business owner, I found myself nodding, laughing, and getting my toes stepped all over in a good way throughout these pages."
—CRYSTAL PAINE, founder of MoneySavingMom.com and author of Say Goodbye to Survival Mode

"This is the best career book ever written. I'm not even sure what book comes in second. This is practical, human, touching, urgent, vulnerable, universal, actionable truth, all in a well-written, handy package. Go!"
—SETH GODIN, author of What to Do When It's Your Turn

"If you're sick of constantly fighting the Monday blues, this book is for you . . . [Acuff's] career advice is solid . . . By the end, most will have a new outlook on their role in the workplace. They will be ready to take on the day with nothing but an adjusted attitude and a ton of grit."
—Associated Press 
Portfolio, 9780143109693, 288pp.
Publication Date: January 3, 2017
About the Author
JON ACUFF is the author of five books, including Quitter and the New York Times bestseller Start. For nineteen years he's helped companies like the Home Depot, Bose, Staples, and AutoTrader.com tell their stories. He's a well-known public speaker, and his blogs have been read by millions of fans. He lives in Nashville with his wife, Jenny, and their two young daughters.
Follow Jon on Twitter @JonAcuff and on the web at www.Acuff.me
or
Not Currently Available for Direct Purchase