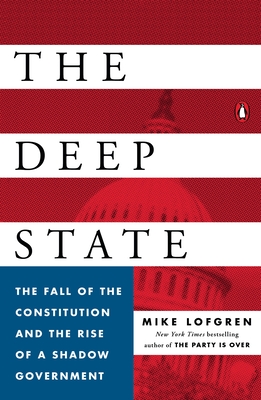 The Deep State
The Fall of the Constitution and the Rise of a Shadow Government
Paperback

* Individual store prices may vary.
Other Editions of This Title:
Digital Audiobook (1/4/2016)
Description
The New York Times bestselling author of The Party Is Over delivers a no-holds-barred exposé of who really wields power in Washington
 
Every four years, tempers are tested and marriages fray as Americans head to the polls to cast their votes. But does anyone really care what we think? Has our vaunted political system become one big, expensive, painfully scripted reality TV show? In this powerful expose of the sins and excesses of Beltwayland, a longtime Republican party insider argues that we have become an oligarchy in form if not in name. Hooked on war, genuflecting to big donors, in thrall to discredited economic theories and utterly bereft of a moral compass, America's governing classes are selling their souls to entrenched interest while our bridges collapse, wages, stagnate, and our water is increasingly undrinkable.
 
Mike Lofgren was the first to use the term Deep State, in an essay and exclusive interview on Moyers and Company, to refer to a web of entrenched interests in the US government and beyond (most notably Wall Street and Silicon Valley, which controls access to our every click and swipe) that dictate America's defense decisions, trade policies and priorities with little regard for the actual interests or desires of the American people. In this essential and eye-opening book Lofgren takes his argument one step further. Drawing on insights gleaned over three decades on Capitol Hill, much of it on the Budget Committee, he paints a gripping portrait of the dismal swamp on the Potomac and the revolution it will take to reclaim our government and set us back on course.
Praise For The Deep State: The Fall of the Constitution and the Rise of a Shadow Government…
"Lofgren puts a name and a shape to a problem that has often been only nebulously defined…. The logic and sophistication of his argument is hard to resist."
– Salon
 
"The book's greatest value is Lofgren's description of Washington DC"
– Financial Times

"I could not put this book down. . . . This should be required reading not just for every student but for every American and probably every citizen of the world." --Frank Murano 

"Lofgren leaves no president or party unscathed. . . Although The Deep State might sound like an expose on, say, the government's assasination of JFK, or a cover-up of UFOs, the real story is much more insidious, realistic and troubling."
–Pittsburg Post-Gazette

"With echoes of Dwight D. Eisenhower's Farewell Address warning in 1961 about the military-industrial complex, Lofgren offers a compelling vision of what happens when a democracy becomes a plutocracy, when political dysfunction reigns supreme over democratic deliberation, and when the war on terrorism leads to the militarization of our foreign policy. . . A must-read for anyone interested in the health and sanity of our body politic."
–Library Journal

Praise for The Party Is Over:

"A fast-moving, hard-hitting, dryly witty account of the radicalization of the Republican Party, the failures of Democratic rivals and the appalling consequences for the country at large. The Party is Over is forceful, convincing and seductive."
--The Washington Post 

"Lofgren's often comedic take on the grim political reality in Washington is no joke. . . . He wields not only a rare integrity in this town, but credibility, too."
--The American Conservative

"Lofgren describes the Republic Party as an 'apocalyptic cult' given to lying and delusional thinking. . . . He writes about how the party took advantage of a profoundly ignorant electorate, an easily conned and distracted media, and a cowed Democratic Party to press the ideological struggle in spite of the deep unpopularity of many of its positions. If all of this had come from a Nation columnist, it would have been unremarkable. Instead, it came from a mild, inconspicuous Hill staffer who hadn't written a political word in thirty years in Washington [and] had the feel of a long-repressed confession and the authority of an insider's testimony, like the anti-war views of a decorated infantry officer."
--George Packer, The New Yorker

 "A pen in Lofgren's deft hands, combined with his deep understanding of political history and acid sense of humor, becomes a sharp, deeply penetrating harpoon aimed at the heart of his subject. In addition to harpooning the bloated degenerate Republican whale, Mike harpoons the Democrats by demonstrating subtly, yet persuasively, how their growing 'uselessness' arose out of an enervating sense of entitlement to power."
--Counterpunch 
Penguin Books, 9780143109938, 336pp.
Publication Date: September 13, 2016
About the Author
Mike Lofgren is The New York Times bestselling author of The Party Is Over. He spent twenty-eight years working in Congress, the last sixteen as a senior analyst on the House and Senate Budget committees. He has appeared on Bill Moyers, Hardball, Chris Hayes, and To the Point, among others, and lives in Alexandria, Virginia.
or
Not Currently Available for Direct Purchase