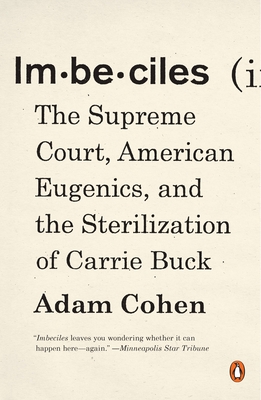 Imbeciles
The Supreme Court, American Eugenics, and the Sterilization of Carrie Buck
Paperback

* Individual store prices may vary.
Other Editions of This Title:
Digital Audiobook (2/29/2016)
Hardcover (3/1/2016)
Description
Longlisted for the 2016 National Book Award for Nonfiction

One of America's great miscarriages of justice, the Supreme Court's infamous 1927 Buck v. Bell ruling made government sterilization of "undesirable" citizens the law of the land
 
In 1927, the Supreme Court handed down a ruling so disturbing, ignorant, and cruel that it stands as one of the great injustices in American history. In Imbeciles, bestselling author Adam Cohen exposes the court's decision to allow the sterilization of a young woman it wrongly thought to be "feebleminded" and to champion the mass eugenic sterilization of undesirable citizens for the greater good of the country. The 8–1 ruling was signed by some of the most revered figures in American law—including Chief Justice William Howard Taft, a former U.S. president; and Louis Brandeis, a progressive icon. Oliver Wendell Holmes, considered by many the greatest Supreme Court justice in history, wrote the majority opinion, including the court's famous declaration "Three generations of imbeciles are enough."

Imbeciles is the shocking story of Buck v. Bell, a legal case that challenges our faith in American justice. A gripping courtroom drama, it pits a helpless young woman against powerful scientists, lawyers, and judges who believed that eugenic measures were necessary to save the nation from being "swamped with incompetence."  At the center was Carrie Buck, who was born into a poor family in Charlottesville, Virginia, and taken in by a foster family, until she became pregnant out of wedlock. She was then declared "feebleminded" and shipped off to the Colony for Epileptics and Feeble-Minded.

Buck v. Bell unfolded against the backdrop of a nation in the thrall of eugenics, which many Americans thought would uplift the human race. Congress embraced this fervor, enacting the first laws designed to prevent immigration by Italians, Jews, and other groups charged with being genetically inferior. 

Cohen shows how Buck arrived at the colony at just the wrong time, when influential scientists and politicians were looking for a "test case" to determine whether Virginia's new eugenic sterilization law could withstand a legal challenge. A cabal of powerful men lined up against her, and no one stood up for her—not even her lawyer, who, it is now clear, was in collusion with the men who wanted her sterilized.

In the end, Buck's case was heard by the Supreme Court, the institution established by the founders to ensure that justice would prevail. The court could have seen through the false claim that Buck was a threat to the gene pool, or it could have found that forced sterilization was a violation of her rights. Instead, Holmes, a scion of several prominent Boston Brahmin families, who was raised to believe in the superiority of his own bloodlines, wrote a vicious, haunting decision upholding Buck's sterilization and imploring the nation to sterilize many more.
Holmes got his wish, and before the madness ended some sixty to seventy thousand Americans were sterilized. Cohen overturns cherished myths and demolishes lauded figures in relentless pursuit of the truth. With the intellectual force of a legal brief and the passion of a front-page exposé, Imbeciles is an ardent indictment of our champions of justice and our optimistic faith in progress, as well as a triumph of American legal and social history.
Praise For Imbeciles: The Supreme Court, American Eugenics, and the Sterilization of Carrie Buck…
"This well-written narrative of legal history demonstrates what happens when the powerful and elite in society fail to protect the powerless and poor…Imbeciles combines an investigative journalist's instinct for the misuse of power, a lawyer's analytic abilities, and a historian's eye for detail to tell this compelling and emotional story…[The book] serves as a cautionary tale about what may happen when those who have, or obtain, power use the institutions of government and the law to advance their own interests at the expense of those who are poor, disadvantaged, or of different 'hereditary' stock."—Los Angeles Review of Books

"[IMBECILES is] the story of an assault upon thousands of defenseless people seen through the lens of a young woman, Carrie Buck, locked away in a Virginia state asylum. In meticulously tracing her ordeal, Cohen provides a superb history of eugenics in America, from its beginnings as an offshoot of social Darwinism—human survival of the fittest—to its rise as a popular movement, advocating the state-sponsored sterilization of 'feeble-minded, insane, epileptic, inebriate, criminalistics and other degenerate persons.'"—David Oshinksy, The New York Times Book Review (cover review)
 
"In this detailed and riveting study, Cohen captures the obsession with eugenics in 1920s America… Cohen's outstanding narrative stands as an exposé of a nearly forgotten chapter in American history."—Publishers Weekly (starred review)

"IMBECILES indicts and convicts any number of villains, albeit with proper judicial restraint. Cohen mostly lets the facts speak for themselves…[and] skillfully frames the case within the context of the early 20th century eugenics movement…[The book's] considerable power lies in Cohen's closer examination of the principal actors…Buck v. Bell has never been overturned. But thanks to Adam Cohen, we shall never forget it." —Boston Globe
 
"Cohen…tells the shocking story of one of the greatest miscarriages of justice in U.S. history…and demonstrates to a fare-thee-well how every step along the way, our system of justice failed…The last chapter of the case of Carrie Buck, Cohen reveals, hasn't been written…IMBECILES leaves you wondering whether it can happen here — again."—Minneapolis Star Tribune

"An important new book…which details the eugenic horror that still haunts the American legal system… Cohen's narrative of the legal case that enshrined these practices is a page-turner, and the story it tells is deeply, almost physically, infuriating… Cohen reminds us of the simple, shocking fact that while forced sterilizations are rare today, they remain legal because American courts have never overturned Buck v. Bell."—The New Republic

"Imbeciles is lively, accessible and, inevitably, often heart-wrenching."—Nature 

"Searing…In this important book, Cohen not only illuminates a shameful moment in American history when the nation's most respected professions—medicine, academia, law, and the judiciary—failed to protect one of the most vulnerable members of society, he also tracks the landmark case's repercussions up to the present."—Booklist (starred review)

"The story of Carrie Buck…illustrates society's treatment of the poor, of minorities and immigrants, and other populations considered 'undesirable.'… This thought-provoking work exposes a dark chapter of American legal history."—Library Journal 

"Imbeciles is a revelatory book. Eye-opening and riveting. In these pages, Adam Cohen brings alive an unsettling, neglected slice of American history, and does so with the verve of a master storyteller."  —Alex Kotlowitz, author of There Are No Children Here

"Cohen revisits an ugly chapter in American history: the 1920s mania for eugenics…[in this] compelling narrative....He also tells a larger story of the weak science underlying the eugenics cause and the outrageous betrayal of the defenseless by some of the country's best minds…A shocking tale about science and law gone horribly wrong, an almost forgotten case that deserves to be ranked with Dred Scott, Plessy, and Korematsu as among the Supreme Court's worst decisions."—Kirkus (starred review )
 
"Adam Cohen knows how to recognize a story and has the gift to tell it with disarming fidelity to facts that make us cringe. In that vein, Imbeciles made me question my longstanding admiration for the mind and character of Oliver Wendell Holmes and my fading hope that the Supreme Court can sometimes save us from ourselves."—Joseph J. Ellis, Pulitzer Prize–winning author of The Quartet: Orchestrating the Second American Revolution

"'Three generations of imbeciles are enough'—these are among the most haunting words in the history of the Supreme Court. In Imbeciles, Adam Cohen unearths the secret history of the case that moved Oliver Wendell Holmes to utter that notorious sentence. The book provides a stark portrait of the resilient eugenics movement—and a welcome warning about its sinister appeal."—Jeffrey Toobin, author of The Oath and The Nine

"A powerfully written account of how the United States Supreme Court collaborated in the involuntary sterilization of thousands of poor and powerless women. Cohen's Imbeciles is that rarest of books—it is a shocking story beautifully told, and also the definitive study of one of the darkest moments in the history of American law."—John Fabian Witt, author of Lincoln's Code and The Accidental Republic

"Imbeciles is at once disturbing, moving, and profoundly important.  With the zeal of an investigative journalist and a novelist's insight, Adam Cohen tells the story of an injustice carried out at the highest levels of government, and how it reverberated across history and remains with us today.  Cohen is one of our most gifted writers, and he has turned the story of the Supreme Court and American eugenics into one of the best books I've read in decades."—Amy Chua, John M. Duff, Jr. Professor of Law, Yale Law School, and author of The Battle Hymn of the Tiger Mother
Penguin Books, 9780143109990, 432pp.
Publication Date: March 7, 2017
About the Author
ADAM COHEN, a former member of the New York Times editorial board and senior writer for Time magazine, is the authorof Nothing to Fear: FDR's Inner Circle and the Hundred Days That Created Modern America and the forthcoming Supreme Inequality: The Supreme Court's Fifty Year Battle for a More Unjust America.  A graduate of Harvard Law School, he was president of volume 100 of the Harvard Law Review.
or
Not Currently Available for Direct Purchase