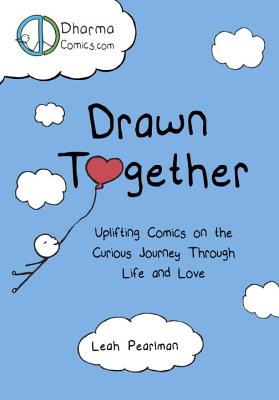 Drawn Together
Uplifting Comics on the Curious Journey Through Life and Love
Hardcover

* Individual store prices may vary.
Description
Based on the popular webcomic Dharma Comics, an irresistibly clever, heartfelt, hand-illustrated collection that will delight anyone looking for a dose of daily inspiration.  

Since 2010, Leah Pearlman's Dharma Comics have been warming the hearts of fans everywhere with their witty and wise insights on navigating the ups and downs we all face. Now Drawn Together, the first Dharma Comics collection, offers the perfect pick-me-up to get through any situation life throws our way. Featuring over 100 beloved favorites and new, never-before-published comics in a charming, two-color package , it illustrates the surprising ways we connect with ourselves, with our aspirations and fears, and with others. This enlightening and entertaining book is the perfect gift that will give a boost of encouragement to anyone needing a little support, a break from the daily grind, or a tender reminder that, no matter what happens, we're never alone.
Praise For Drawn Together: Uplifting Comics on the Curious Journey Through Life and Love…
"An enthralling, profound and often hilarious collection of visual stories that teach us about the most important elements of a life well lived, one filled with laughter and love."--Daniel J. Siegel, MD, New York Times bestselling author of Brainstorm

"Leah's little book is thoughtful, whimsical, and dear."--Byron Katie

"Wise and sweet, charming reminders to our good hearts." --Jack Kornfield, author of After the Ecstasy, the Laundry

"Drawn Together offers profound wisdom in a delightfully playful way. I'm a huge fan of Leah's comics. They never fail to uplift and inspire!" --Lori Deschene, founder of TinyBuddha.com and author of Tiny Buddha's 365 Tiny Love Challenges

"This wise, charming book has precious mojo: it will lighten and brighten your heart!"
--Tara Brach, author of Radical Acceptance and True Refuge

"Deep wisdom and human companionship sometimes come in simple, delightful packages, as Leah Pearlman's Drawn Together demonstrates. This little book will light up your heart, and bring joy to anyone you share it with."--Sharon Salzberg, author of Lovingkindness and Real Happiness 

"What delights me most about Leah's work is the way she so skillfully combines wisdom, insight and playfulness. A freshness and immediacy permeates her drawing and her text that is obviously garnered from personal experience. This is no replay of The Old Masters. I can almost smell the hard-won clarity of the Zendo percolating off her pages. Reading her words and apprehending her drawings a second or third time brings new understanding and insight. I have never come across anything that is quite so illuminating, and at the same time, so playful. And when we play, we learn."--Hugh Milne, author of The Heart of Listening: A Visionary Approach to Craniosacral Work

TarcherPerigee, 9780143110248, 176pp.
Publication Date: October 4, 2016
About the Author
LEAH PEARLMAN is the creator and founder of Dharma Comics. She lives in Berkeley, California.
or
Not Currently Available for Direct Purchase