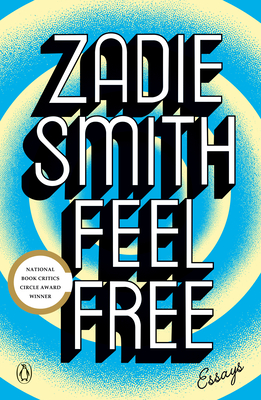 Feel Free
Essays
Paperback

* Individual store prices may vary.
Other Editions of This Title:
Digital Audiobook (2/5/2018)
Hardcover (2/6/2018)
CD-Audio (2/13/2018)
Description
Winner of the 2018 National Book Critics Circle Award for Criticism 

A New York Times Notable Book

From Zadie Smith, one of the most beloved authors of her generation, a new collection of essays

Since she burst spectacularly into view with her debut novel almost two decades ago, Zadie Smith has established herself not just as one of the world's preeminent fiction writers, but also a brilliant and singular essayist. She contributes regularly to The New Yorker and the New York Review of Books on a range of subjects, and each piece of hers is a literary event in its own right.

Arranged into five sections--In the World, In the Audience, In the Gallery, On the Bookshelf, and Feel Free--this new collection poses questions we immediately recognize. What is The Social Network--and Facebook itself--really about? "It's a cruel portrait of us: 500 million sentient people entrapped in the recent careless thoughts of a Harvard sophomore." Why do we love libraries? "Well-run libraries are filled with people because what a good library offers cannot be easily found elsewhere: an indoor public space in which you do not have to buy anything in order to stay." What will we tell our granddaughters about our collective failure to address global warming? "So I might say to her, look: the thing you have to appreciate is that we'd just been through a century of relativism and deconstruction, in which we were informed that most of our fondest-held principles were either uncertain or simple wishful thinking, and in many areas of our lives we had already been asked to accept that nothing is essential and everything changes--and this had taken the fight out of us somewhat."

Gathering in one place for the first time previously unpublished work, as well as already classic essays, such as, "Joy," and, "Find Your Beach," Feel Free offers a survey of important recent events in culture and politics, as well as Smith's own life. Equally at home in the world of good books and bad politics, Brooklyn-born rappers and the work of Swiss novelists, she is by turns wry, heartfelt, indignant, and incisive--and never any less than perfect company. This is literary journalism at its zenith.

Zadie Smith's new book, Grand Union, is on sale 10/8/2019.
Praise For Feel Free: Essays…
"It is exquisitely pleasurable to observe Smith thinking on the page, not least because we have no idea where she's headed…At times she reminds me of a musician jamming, or one of those enviable cooks who can take five random ingredients lying around the kitchen and whip up a meal. Her loose, roving essays cohere because they are rooted in her sensibility, in what Elizabeth Hardwick called 'the soloist's personal signature flowing through the text.'" —The New York Times Book Review

"What binds the collection is Smith's voice: frank, urgent, self-ironic. Dipping into these pieces (in any order) is like setting out on a walk with a vibrant, curious, gracefully articulate friend." —San Francisco Chronicle
 
"There are few better places to go for a stroll than inside Zadie Smith's mind…In everything to do with books, language and family experiences, she's funny, intuitive, spry and sharp…The book is filled with lines that seem destined for the next edition of Bartlett's…Other passages may transform the way you watch someone mosey down the street."—Seattle Times
 
"Brilliant…[Smith's] new book is lively, intelligent and frequently hilarious, and proves that she's one of the brightest minds in English literature today…She considers Brexit and Key & Peele, J.G. Ballard and Jay-Z, Billie Holiday and Justin Bieber. Refreshingly, she does it all without the kind of knowing wink that some cultural observers can't resist; if she believes there's a clear-cut dichotomy between so-called 'high' and 'low' culture, she doesn't let on…Reading Feel Free is a lot like hanging out with a friend who's just as at home in a museum as she is binge-watching a sitcom. She engages artists on their own terms; she's opinionated, but not judgmental. And she manages to breathe new life into well-worn topics…There's not an essay in Feel Free that's less than engrossing. Sure, Smith is extremely intelligent, but smart authors are a dime a dozen: More importantly, she's an elegant writer, original, big-hearted and enthusiastic." —NPR.org
 
"Lest you forget that Zadie Smith's output encompasses several masterful careers, please allow Feel Free, her new collection of essays, to remind you…Incisive and often wry…these pieces are as relevant as can be. They are reminders of how much else there is to ponder in this world, how much else is worth our time, and how lucky we are to have Smith as our guide." —Vanity Fair 

"Refreshingly insightful on any number of topics, from Martin Buber to Justin Bieber…Reviewing a book by her countryman Geoff Dyer, [Smith] writes that she is most struck by 'his tone. Its simplicity, its classlessness, its accessibility and yet its erudition—the combination is a trick few British writers ever pull off.' Without question, Smith is one of them." —TIME Magazine 
 
"These essays, reviews, and columns bristle with Smith's probing desire to understand the world and share her own obsessions with humor and insight. One gravitates to her words, as you would if she were holding court with a group of really astute friends…Smith writes with such clarity, it's a reminder of how beautiful unfussy writing can be. She trusts herself enough to let her thoughts breathe…Feel Free is joy — and ferocity, sharp wit, longing, even despair." —Boston Globe
 
"Smith, of course, has authority: It often arises from her sentence-level precision, the refined elucidation of her insights, the exuberance and humor that sustains readers' attention …'Getting In and Out,' 'Mark Bradford's "Niagara,"' 'A Bird in a Few Words: Narrative Mysteries in the Paintings of Lynette Yaidom-Boakye,' present Smith's most forceful writing yet about film, visual art and blackness. 'The Bathroom,' 'Love in the Gardens,' 'The Shadow of Ideas' and 'Joy' demonstrate Smith's mastery of creative nonfiction and the essay form...[A] tremendous, enthralling book." —Los Angeles Times
 
"Smart, spirited and distinctive. 'Find Your Beach'…[is a] superb addition to the catalogue of New York stories…Ms. Smith is particularly sharp on topics of aesthetics and identity…Her exquisite essay on Joni Mitchell, 'Some Notes on Attunement', belongs alongside other canonical essays on aesthetics by the likes of William Wordsworth, Matthew Arnold and Susan Sontag…It's a rare piece of critical writing that can contemplate a mystery and deepen our understanding of it without 'solving' it. This is criticism with the open-ended power, yet also the ambiguity, of the creative genius from whom it is derived." —Maureen Corrigan, Wall Street Journal

"In the best of these pieces…Smith presses down hard as a cultural critic, and the rewards are outsize." —Dwight Garner, The New York Times
 
"These essays and journalistic pieces…confirm Zadie Smith as a non-fiction writer of striking generosity and perception…Here is Smith, coolly appraising, connoisseurial, discerning; and here she is, too, the book nerd, the culture geek, reading, hearing and seeing, occasionally dizzied by her own place among all these works of art, and dying to talk to somebody about it…[A] wonderfully suggestive collection." —The Guardian
 
"Eclectic in her tastes, centrifugal in her style, Smith as an essayist loves to stretch her frame. Moving from wit towards wisdom, she explores the rolling hinterland behind the fads and trends…In her case, the category of 'classical English essayist'—in the vein of Hazlitt and Orwell, Virginia Woolf and Angela Carter—may well look as quaint to the digital natives she strives to understand as that of, say, 'leading Byzantine silversmith. No matter. Beyond doubt, she has joined their company." —Financial Times
 
"Brims with a wide-ranging enthusiasm…[Smith's] open-mindedness gives the whole of Feel Free a lively, game-for-anything spirit...Enchanting." —USA Today
 
"Charmingly digressive…Smith sets an unpretentious tone…As the pages pass, there's a palpable absence of self-certainty. In its place are ample reserves of curiosity and empathy." —Minneapolis Star Tribune
 
"The joy of this collection is Smith's straightforward phrasing, often summing up her thesis with a single thoughtful sentence. Her words are not overwritten; they do not distract from her purpose, nor are they a barrier to her argument; they are welcoming. I found myself re-reading the brightest of these sentences over and again, marveling at her humor and her brevity." —Associated Press
 
"The strongest essays showcase Smith's skills as an art, literary and cultural critic…As with any book of opinions, Feel Free makes claims one might dispute…But a collection of essays that doesn't prompt disagreements would be a dull book, and Feel Free is anything but dull." —Houston Chronicle
 
"Enlightening and inquisitive, thoughtful and provocative…No matter what the subject matter may be…one thing is for sure: Smith's accounts will resonate deeply with you and ask you to look inward to discover the many layers of your own self. In many ways, Feel Free acts as a mirror; it demands that you meditate on your reflection and search deeper within…It will inspire you to create, to connect, and to look at life with fresh eyes." —Bustle
 
"Feel Free is a gift; another guided tour inside Ms. Smith's beautiful, busy, brilliant mind. The terms 'criticism' and 'commentary' don't do justice to the humor, intimacy and heart that Ms. Smith, who is English-Jamaican, brings to her explorations of a broad range of subjects. This is commentary as art itself: enlightening and entertaining, brainy and accessible, but you have to keep up…Smith's musings are at once timeless and timely." —Pittsburgh Post-Gazette

"For years, [Smith] has been one of the most important literary journalists we have. This is why." —Buffalo News
 
"Feel Free is a shepherd's pie of nonfiction whose only through line is a writer unafraid of getting lost, because she always knows the way home…Age hasn't hardened [Smith] against the world, only made her more porous." —Vulture.com

"A delicious hodge podge of ideas that show Smith's breadth of interest and thoughtfulness. It's stretching: a yoga class for the mind." —The Times (UK)
 
"Engrossing…to end with a question from the reviewer, should you read this brilliant book? Answer—absolutely!" —The Independent (UK)

"If only all such thoughts were so cogent and unfailingly humane. The author is honest, often impassioned, always sober…Smith's observations are timeless." — Kirkus, (starred review)

"A generous volume that shares the breadth and depth of this thoughtful writer's curiosity…Smith is not only a penetrating and candid writer, she is also embrac­ing. Reading these pieces can feel like a pleasant dinner conversation with a smart, open-minded friend." —BookPage

"In glowing and remarkable prose, Zadie Smith argues out the world we live in.  Her approach is fierce and lucid, nuanced and definitive, witty and deeply serious, joyful and hopeful and honest.  This book is a tonic that will help the reader reengage with life." — Andrew Solomon, author of Far From the Tree and The Noonday Demon

"[Smith] contains multitudes, but her point is we all do… The subtlest joy of these essays is sensing Smith's own personhood, a personhood inseparable from her intellectual life. The self encompasses both."—The New Republic
 
"Smith's curiosity is insistent; hers is a vibrant, buzzing world full of dots to be connected…The often unlikely intersections of Smith's passions — for philosophy, dance, hip-hop and of course literature — generate remarkably vivid and rich insights."—WBUR.org's The ARTery


Penguin Books, 9780143110255, 480pp.
Publication Date: February 5, 2019
About the Author
Zadie Smith is the author of the novels White Teeth, The Autograph Man, On Beauty, NW and Swing Time, as well as a novella, The Embassy of Cambodia, and a collection of essays, Changing My Mind. She is also the editor of The Book of Other People. Zadie was elected a fellow of the Royal Society of Literature in 2002, and was listed as one of Granta's 20 Best Young British Novelists in 2003 and again in 2013. White Teeth won multiple literary awards including the James Tait Black Memorial Prize, the Whitbread First Novel Award and the Guardian First Book Award. On Beauty was shortlisted for the Man Booker Prize and won the Orange Prize for Fiction, and NW was shortlisted for the Baileys Women's Prize for Fiction. Zadie Smith is currently a tenured professor of fiction at New York University and a Member of the American Academy of Arts and Letters.