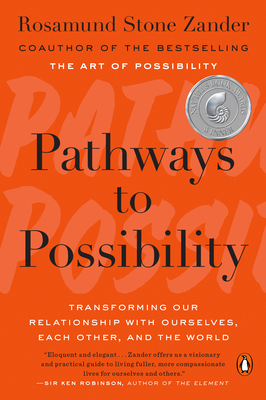 Pathways to Possibility
Transforming Our Relationship with Ourselves, Each Other, and the World
Paperback

* Individual store prices may vary.
Other Editions of This Title:
Digital Audiobook (6/20/2016)
Hardcover (6/21/2016)
Description
"Rosamund Zander is a miracle. Her generous voice will resonate with you, change you and help you create work that matters." —Seth Godin, author of The Icarus Deception

The bestselling author of The Art of Possibility returns with a new vision for achieving true human fulfillment that's sure to appeal to fans of Brene Brown's Daring Greatly and Elizabeth Gilbert's Big Magic

As children, we develop stories about how the world works, most of which get improved upon and amended over time. But some do not, even as we mature in other ways.  Opinionated, self-centered and fear-driven, these "child stories" are the source of the behavioral and emotional patterns that hold us back. When we learn to identify and rewrite these stories, limitless growth becomes possible.
 
In her groundbreaking and inspiring new book, Rosamund Stone Zander shows us that life is a story we tell ourselves, and that we have the power to change that story. She illuminates how breaking old patterns and telling a new story can transform not just our own lives, but also our relationships with others—whether in a marriage, a classroom, or a business. Finally, she demonstrates how, with this new understanding of ourselves and our place within an interconnected world, we can take powerful action in the collective interest, and gain a sense of deep connection to the universe.
 
Pathways to Possibility expands our notions of how much we can grow and change, whether we can affect others or the world at large, and how much freedom and joy we can experience. Stimulating and profound, it is the perfect companion to her beloved first book, The Art of Possibility.

Praise For Pathways to Possibility: Transforming Our Relationship with Ourselves, Each Other, and the World…
"Zander introduces readers to an opportunity for transformation via rewriting our old stories, essentially changing the worldview we've gripped onto since childhood."
—Spirituality & Health

"Fresh, compelling, and uplifting. A well-written and accessible model for self-examination for even the most well-adjusted adult."
—Booklist

"Filled with fascinating stories illuminating the many challenges to our inner and global well-being, Rosamund Stone Zander has created a narrative to liberate our lives in ways we may have never imagined possible. Pathways to Possibility is a treasure trove of human journeys that reveals the deep nature of who we are and how we can create a more meaningful life and healthier world."
—Daniel J. Siegel, M.D., author of Brainstorm and The Whole Brain Child
 
"Rosamund Zander is a miracle. Her generous voice will resonate with you, change you and help you create work that matters." 
—Seth Godin, author of The Icarus Deception
 
"You must read Pathways to Possibility for it is an extraordinary, a unique, book. Zander helps us to see the connection between our inner selves and the nature of the natural world and the universe.  By the end we have a new understanding of who we are and our individual human responsibilities."
—Jane Goodall, award-winning primatologist and author
 
"Rosamund Zander is the best companion to walk you through your next passage. Her words radiate possibility as she leads readers out of the darkness of an old story, showing us how to change it, open up, and move into the lightness of love and gratitude."
—Gail Sheehy, author of Passages and Daring: My Passages
 
"In this eloquent and elegant book, Rosamund Stone Zander offers us a visionary and practical guide to living fuller, more compassionate lives for ourselves and others."
—Sir Ken Robinson, author of The Element and Creative Schools
 
"Pathways to Possibility is a great stepping stone from Rosamund Zander's previous book, The Art of Possibility. I saw myself in this book: my relationship to my childhood, to the past, and to Nature, and the struggle and delight of helping a new self emerge. She's teaching us all how to be architects of the spirit."
—Richard Preston, author of The Hot Zone

Praise for The Art of Possibility

"One of the most inspiring, practical, and uplifting books I have ever read. The very act of reading it with an open heart and mind will improve your health!"
—Christiane Northrup, M.D.
 
"The Zanders' book of practices has made my life one of infinite possibility. . . . The implications for corporate and political life are extraordinary."
—Warren Bennis, author of On Becoming a Leader
 
"This is a wide, uplifting, and important work, a seamless blend of insight and inspiration, personal revelations, and stories drawn from the worlds of art, psychology, business, and politics. Ben and Roz Zander make an extraordinary team—their energy, passion, and fundamental commitment to humane values are absolutely contagious."
—Doris Kearns Goodwin
 
"The passionate energy permeating The Art of Possibility is a true force for every reader for self-development and life fulfillment."
—Klaus Schwab, founder and president, World Economic Forum
Penguin Books, 9780143110545, 272pp.
Publication Date: June 6, 2017
About the Author
ROSAMUND STONE ZANDER is the author, with Benjamin Zander, of The Art of Possibility. Trained as a family systems therapist, she coaches organizations from the inside out. Ms. Zander has brought wisdom, humor, and enlightenment to people in a wide variety of settings, from school systems, hospitals, and corporations to the World Economic Forum.
or
Not Currently Available for Direct Purchase