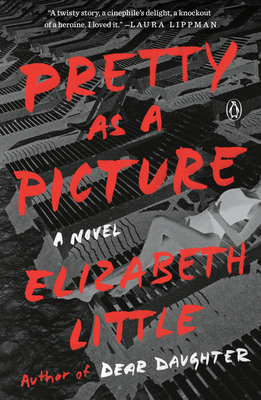 Pretty as a Picture
A Novel
Paperback

* Individual store prices may vary.
Other Editions of This Title:
Digital Audiobook (2/24/2020)
Hardcover (2/25/2020)
Library Binding, Large Print (5/27/2020)
Description
A Wall Street Journal, Seattle Times, and CrimeReads Best Mystery Book of 2020

"Funny, fast-paced, and a pleasure to read." --The Wall Street Journal

An egomaniacal movie director, an isolated island, and a decades-old murder--the addictive new novel from the bestselling author of Dear Daughter

Marissa Dahl, a shy but successful film editor, travels to a small island off the coast of Delaware to work with the legendary--and legendarily demanding--director Tony Rees on a feature film with a familiar logline.

Some girl dies.

It's not much to go on, but the specifics don't concern Marissa. Whatever the script is, her job is the same. She'll spend her days in the editing room, doing what she does best: turning pictures into stories.

But she soon discovers that on this set, nothing is as it's supposed to be--or as it seems. There are rumors of accidents and indiscretions, of burgeoning scandals and perilous schemes. Half the crew has been fired. The other half wants to quit. Even the actors have figured out something is wrong. And no one seems to know what happened to the editor she was hired to replace.

Then she meets the intrepid and incorrigible teenage girls who are determined to solve the real-life murder that is the movie's central subject, and before long, Marissa is drawn into the investigation herself.

The only problem is, the killer may still be on the loose. And he might not be finished.

A wickedly funny exploration of our cultural addiction to tales of murder and mayhem and a thrilling, behind-the-scenes whodunit, Pretty as a Picture is a captivating page-turner from one of the most distinctive voices in crime fiction.
Praise For Pretty as a Picture: A Novel…
A Seattle Times 10 Best Crime Novel of 2020 | A CrimeReads Most Anticipated Book of 2020

Praise for Pretty as a Picture

"A film editor who can't much tell where stories end and life begins, Marissa is also prickly, hyperarticulate, suspicious, neurotic, surprisingly tough and very funny — the ideal narrator for a book that pays homage to Hollywood and classic detective fiction. . . . The book celebrates women who have each other's backs and put their friends ahead of their men. It is also a valentine to the intoxications of filmmaking and film-viewing."
—Sarah Lyall, The New York Times Book Review

"Ms. Little's witty book deftly skewers the movie-making world and the types who inhabit it. . . . Pretty as a Picture, with its mix of satire and action, is funny, fast-paced, and a pleasure to read." 
—The Wall Street Journal

"An exciting locked-room mystery that touches on domineering personalities, art and the #MeToo movement, helmed by an unconventional heroine. . . . Little's cinematic eye and affinity for strong plotting guide the fascinating Pretty as a Picture as the author smoothly goes behind the scenes of moviemaking while delving into characters' psyches. . . . Little's debut novel, Dear Daughter, was a standout of 2014. Pretty as a Picture seals her as an author to watch."
—Oline H. Cogdill, Associated Press

"In Elizabeth Little's nimble Pretty as a Picture, part of the fun is figuring out L.A. film editor Marissa Dahl. . . . Despite (or maybe because of) her quirks, Marissa Dahl is an engaging narrator who's up for the challenge [of solving the crime], her encyclopedic knowledge of cinema serving as her north star." 
—The Los Angeles Times

"An unconventional crime novel with an unconventional heroine and an uncommonly high dose of humor."
—Chicago Tribune

"Elizabeth Little's fantastic new book is part parable of the film industry, part feminist thriller, and part ode to the rise of the true crime podcast."
—CrimeReads

"One of the year's most anticipated thrillers."
—Bustle

"Both a captivating thriller and a snarkily funny send-up of Hollywood pretensions, the book glories in movie references — film fans will be especially rewarded." 
—The Seattle Times

"The California writer's prose style is so nimble and engaging, her dialogue so smart and quippy, you'd follow her anywhere. . . . A sharply detailed satire of movie-set misbehavior and Hollywood's absurd sense of entitlement, filtered through the cynical eye of an under-appreciated editor. . . . She's hilariously good company on the page."
—Air Mail

"Pre-order this one now. Go ahead, put it in your basket. . . . Little has an extraordinary gift for capturing voice. . . . [She] depicts perfectly what it feels like to be a little different and on the outside. . . . Startling plot twists. I can't recommend this one highly enough."
—Crimespree Magazine

"Hugely entertaining. . . . Like Dear Daughter, Little's well-received debut novel, Pretty as a Picture is propelled by a sharp, sardonic voice and an engaging protagonist. . . . The novel includes many film references to delight cinephiles, and the mystery will keep readers guessing, but the main attractions are Marissa and her vivid inner life."
—Shelf Awareness for Readers

"A fun, slightly eerie, definitely scary look at real murder in a make-believe world."
—New York Journal of Books

"The standout feature of Pretty as a Picture is its idiosyncratic heroine, whose observational skills and deductive reasoning make her a true twenty-first century rival of Sherlock Holmes."
—Ellery Queen Mystery Magazine

"Half the fun in Pretty as a Picture—Elizabeth Little's follow-up to the excellent Dear Daughter—lies in its narrator's singular, knowledgeable, and savagely funny voice. . . . A suspenseful thriller with an entertaining play on the locked-room mystery trope, Pretty as a Picture more than cements Little's reputation as a spectacularly sharp and captivating writer."
—The Seattle Review of Books

"The perfect murder mystery. . . . If you're looking for an intriguing yet ultimately heartwarming murder mystery novel that you will absolutely read in only one or two sittings, ignoring your responsibilities (it's that gripping!), Pretty as a Picture is the book for you." 
—Hypable

"I failed to guess how much I would love this book. . . . Little's style of writing in this book was perfect. . . . Any cinephile will enjoy this book. . . . Add in a colorful cast of characters and murder, and you've got something irresistible."
—City Book Review

"Murder and mayhem plague a film set on a secluded island. . . . Readers fascinated with the behind-the-scenes machinations of a movie set will be enthralled, plus there's a frisson of romantic tension. . . . A quirky and distinctive heroine headlines this fun and fast-paced thriller loaded with cinematic flourishes."
—Kirkus Reviews
 
"[A] smart, cinematically steeped page-turner. . . . Little scores with the achingly vulnerable Marissa, whose specific set of skills enables her to see the big picture before anyone else. Psychological thriller fans will be well satisfied." 
—Publishers Weekly

"Little once again delivers a dark, witty thriller. Movie fans will be delighted with the behind-the-scenes setting and the numerous cinematic references. . . . This character-driven whodunit is mainly propelled by Marissa, an intelligent, charming protagonist whose neurodiversity is well portrayed." 
—Library Journal

"Elizabeth Little is part of an exciting new generation of crime writers who have been bending this sturdy genre into new, unexpected shapes. Pretty as a Picture is a glorious buffet—a twisty story, a cinephile's delight, a knockout of a heroine. I loved it." 
—Laura Lippman, New York Times bestselling author of Lady in the Lake and Sunburn

"I am a sucker for a tough yet vulnerable heroine, and in Pretty as a Picture, Elizabeth Little gives the reader an excellent one, and sets her against a brilliantly toxic backdrop of glitz and entitlement." 
—Ruth Ware, New York Times bestselling author of The Turn of the Key and The Woman in Cabin 10

"Engaging and irresistible from the very first page, Pretty as a Picture is a smart and compelling thriller filled with surprises. Little writes with such a clear, confident, and witty voice, I found myself smiling as I read." 
—Alafair Burke, New York Times bestselling author of The Better Sister

"Pretty as a Picture is a remarkable thriller that succeeds on almost too many levels. It's sharp and stylish, witty and fierce, not to mention extremely intelligent. Little perfectly and expertly conjures the unglamorous side of filmmaking—the gruesome grind of a movie shoot—in meticulous detail. This is no mere crime novel, but a must read for anyone with a passion for movies or the industry."
—Ivy Pochoda, author of Wonder Valley

"Pretty as a Picture is an atmospheric thriller that sparkles with intelligence and irrepressible wit, anchored by the singular voice of Marissa Dahl, a mega-competent female film editor plagued by anxiety. Elizabeth Little has an impeccable ear for dialogue and a sharp eye for detail, and she's created a page-turner that is as well written as it is captivating. I enjoyed every scene and sentence of this glorious book."
—Steph Cha, author of Your House Will Pay


Praise for Dear Daughter

"Quick-witted and fast-paced, this debut mystery should be a hit with Gone Girl fans."
—People

"When former It Girl Janie Jenkins is released from prison, she embarks on a mission to discover if it was really she who murdered her mother. The debut novel's twists will easily hook you, but it's the narrator's dark wit and sharp observations that make this a truly fun read."
—Entertainment Weekly 

"Little keeps you guessing until the end—and then closes her book with a final, twisted flourish."
—Daneet Steffens, The Boston Globe

"Compelling. . . . This novel's engrossing suspense comes from its unreliable (and not especially likable) narrator who pursues answers with relentless fervor, regardless of the painful truths she turns up about herself. . . . Excellent."
—Stephanie Klose, Oprah.com

"Engrossing. . . . The unlikable protagonist with a biting personality and outrageous actions, but who is fascinating at the same time, has never been more popular. Just think of Gone Girl. In her confident fiction debut, Elizabeth Little puts a fresh spin on this character in the form of Jane Jenkins, a young woman famous for being famous until she was sent to prison for the murder of her wealthy socialite mother. Little also makes Dear Daughter a parable about the cult of the celebrity stoked by a relentless press and a ruthless public's thirst for details of a woman it loves to hate."
—Associated Press 

"This is not your mother's mystery. The clever, prickly and profane heroine is, after all, a former It Girl whose aim as a teen was to be the next Paris Hilton, only better. . . . Sassy and lively. . . . The book's satisfying conclusion somehow manages to tie things up while also providing a cliffhanger, a pretty neat trick for a debut novel."
—Colleen Kelly, Minneapolis Star Tribune 

"The best debut crime novel of 2014, a spiky, voicey, jolting, surprising story of a celebutante convicted of murdering her mother. . . . Little also produces one of the best endings of 2014."
—Sarah Weinman, National Post (Canada)

"A former It Girl hunts down her mom's murderer in this can't-put-down thriller."
—Cosmopolitan

"In prison for her mother's murder, L.A. socialite Jane Jenkins is released on a technicality. To track down the real killer Jane gets plain, goes underground and stirs up dangerous amounts of dirt in her mom's South Dakota hometown."
—Good Housekeeping 

"[A] fun and riveting debut mystery." 
—The San Diego Union-Tribune

"Little makes a thrilling debut with this gripping read. Fans of Tana French and Gillian Flynn are going to enjoy the smart narrator and the twists and turns in the case." 
—Library Journal (starred review) 

"A really gutsy, clever, energetic read, often unexpected, always entertaining. I loved Janie Jenkins's sassy voice and Elizabeth Little's too. In the world of crime novels, Dear Daughter is a breath of fresh air."
—Kate Atkinson, New York Times bestselling author of Life After Life

"Dear Daughter has three of my favorite things in a book: a smart, damaged, unstoppable narrator with a slicing sense of humor; needle-sharp writing that brings characters and atmosphere leaping off the page; and a vivid, original plot full of satisfying twists. This is an all-nighter, and the best debut mystery I've read in a long time."
—Tana French, New York Times bestselling author of Broken Harbor  and In the Woods
Penguin Books, 9780143110552, 352pp.
Publication Date: December 29, 2020
About the Author
Elizabeth Little is the author of Dear Daughter, which won the Strand Critics Award for Best First Novel, and two works of nonfiction, Biting the Wax Tadpole and Trip of the Tongue. She lives in Los Angeles with her family.