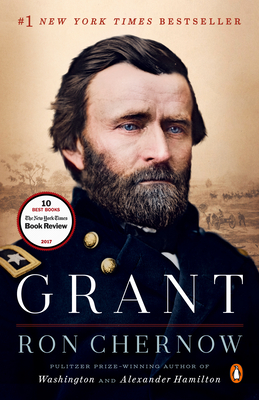 Grant
Paperback

* Individual store prices may vary.
Other Editions of This Title:
Digital Audiobook (11/20/2017)
Digital Audiobook (10/9/2017)
Hardcover (10/10/2017)
Library Binding, Large Print (3/7/2018)
CD-Audio, Abridged (12/12/2017)
CD-Audio (10/10/2017)
Description
The #1 New York Times bestseller and New York Times Book Review 10 Best Books of 2017

"Eminently readable but thick with import . . . Grant hits like a Mack truck of knowledge." —Ta-Nehisi Coates, The Atlantic

Pulitzer Prize winner Ron Chernow returns with a sweeping and dramatic portrait of one of our most compelling generals and presidents, Ulysses S. Grant.
 
Ulysses S. Grant's life has typically been misunderstood. All too often he is caricatured as a chronic loser and an inept businessman, or as the triumphant but brutal Union general of the Civil War. But these stereotypes don't come close to capturing him, as Chernow shows in his masterful biography, the first to provide a complete understanding of the general and president whose fortunes rose and fell with dizzying speed and frequency.
 
Before the Civil War, Grant was flailing. His business ventures had ended dismally, and despite distinguished service in the Mexican War he ended up resigning from the army in disgrace amid recurring accusations of drunkenness. But in war, Grant began to realize his remarkable potential, soaring through the ranks of the Union army, prevailing at the battle of Shiloh and in the Vicksburg campaign, and ultimately defeating the legendary Confederate general Robert E. Lee. Along the way, Grant endeared himself to President Lincoln and became his most trusted general and the strategic genius of the war effort. Grant's military fame translated into a two-term presidency, but one plagued by corruption scandals involving his closest staff members.

More important, he sought freedom and justice for black Americans, working to crush the Ku Klux Klan and earning the admiration of Frederick Douglass, who called him "the vigilant, firm, impartial, and wise protector of my race." After his presidency, he was again brought low by a dashing young swindler on Wall Street, only to resuscitate his image by working with Mark Twain to publish his memoirs, which are recognized as a masterpiece of the genre.
 
With lucidity, breadth, and meticulousness, Chernow finds the threads that bind these disparate stories together, shedding new light on the man whom Walt Whitman described as "nothing heroic... and yet the greatest hero." Chernow's probing portrait of Grant's lifelong struggle with alcoholism transforms our understanding of the man at the deepest level. This is America's greatest biographer, bringing movingly to life one of our finest but most underappreciated presidents. The definitive biography, Grant is a grand synthesis of painstaking research and literary brilliance that makes sense of all sides of Grant's life, explaining how this simple Midwesterner could at once be so ordinary and so extraordinary.

Named one of the best books of the year by Goodreads • Amazon • The New York Times • Newsday • BookPage • Barnes and Noble • Wall Street Journal
Praise For Grant…
"This is a good time for Ron Chernow's fine biography of Ulysses S. Grant to appear . . . As history, it is remarkable, full of fascinating details sure to make it interesting both to those with the most cursory knowledge of Grant's life and to those who have read his memoirs or any of several previous biographies . . . For all its scholarly and literary strengths, this book's greatest service is to remind us of Grant's significant achievements at the end of the war and after, which have too long been overlooked and are too important today to be left in the dark . . . As Americans continue the struggle to defend justice and equality in our tumultuous and divisive era, we need to know what Grant did when our country's very existence hung in the balance. If we still believe in forming a more perfect union, his steady and courageous example is more valuable than ever." —Bill Clinton, New York Times Book Review

"Grant is vast and panoramic in ways that history buffs will love. Books of its caliber by writers of Chernow's stature are rare, and this one qualifies as a major event . . . . Chernow is clearly out to find undiscovered nobility in his story, and he succeeds; he also finds uncannily prescient tragedy. There are ways in which Grant's times eerily resemble our own . . . Indispensable." —The New York Times

"Chernow tells all this rapidly and well; his talent is suited to Grant's story . . . He is extraordinarily good on what could be called, unpejoratively, the Higher Gossip of History—he can uncannily detect the actual meaning beneath social interactions . . . Fluent and intelligent." —Adam Gopnik, New Yorker

"Marvelous . . . Chernow's biography gives us a deep look into this complicated but straightforward man, and into a troubled time in our history that still echoes today." —Thomas E. Ricks, Foreign Policy

"Chernow rewards the reader with considerable life-and-times background, clear-eyed perspective, sympathy that stops short of sycophancy, and gritty and intimate details." —The Boston Globe 

"A triumph: a sympa­thetic but clear-eyed biography that will be the starting point for all future studies of this enigmatic man . . . Chernow [is] one of the finest biographical writers in American history." —Foreign Affairs

"Ron Chernow's monumental biography of the 18th president is essential to understanding our race-conscious nation today." —Bloomberg

"Ron Chernow . . . has written an expansive new life of Grant. It is a work of striking anecdotes, skillful pacing, and poignant judgments." —David W. Blight, The New York Review of Books

"Arriving at a moment when excitable individuals and hysterical mobs are demonstrating crudeness in assessing historical figures, Chernow's book is a tutorial on measured, mature judgment . . .  Chernow's 'Grant' is a gift to a nation much in need of measured judgments about its past." —George Will, The Washington Post

"Chernow's Grant is as relevant a modern figure as his Hamilton. His Grant is a reminder that the very best American leaders can be, and should be, self-made, hard-working, modest for themselves and ambitious for their nation, future-looking, tolerant, and with a heart for the poor . . . . Chernow turns the life of yet another misunderstood figure from U.S. currency into narrative gold." —Slate

"Eminently readable but thick with import . . . Grant hits like a Mack truck of knowledge." —Ta-Nehisi Coates, The Atlantic

"Ron Chernow's biography reminds our 21st-century selves of the distinction between character and personality." —National Review

"Chernow's special gift is to present a complete and compelling picture of his subjects. His biographies do not offer up marble deities on a pedestal; he gives us flesh and blood human beings and helps us understand what made them tick. Just as he did with George Washington and Alexander Hamilton, Chernow brings Ulysses S. Grant to life. At the end of the book, the reader feels as if he knows the man . . . A magnificent book . . . This is richly rewarding and compelling reading." —Christian Science Monitor 

"In 1948, a survey of historians ranked Ulysses S. Grant as the second-worst American president. Corruption had badly tarred his administration, just as it had that of the man at the bottom, Warren Harding. But recent surveys have been kinder. Grant now lands in the middle, thanks to his extraordinarily progressive work on race relations . . . . Ron Chernow's 1,100-page biography may crown Grant's restoration . . . . Mr. Chernow argues persuasively that Grant has been badly misunderstood." —The Economist

"Chernow writes definitive biography of Ulysses S. Grant . . . [An] essential read . . . restores Grant to the pantheon of great Americans." —Newsday

"A landmark work . . . . Chernow impressively examines Grant's sensitivities and complexities and helps us to better understand an underappreciated man and underrated president who served his country extraordinarily well . . . . monumental and gripping . . . in every respect, which even at nearly 1,000 pages, is not a sentence too long." —American Scholar

"Grant's true story needed desperately to be told. Thanks to a great historian, it has." —Chris Matthews, Parade Magazine

"Full of personal and professional insights into a president and military leader that readers will find simultaneously flawed, relatable, and inspiring." —Money Magazine

"Reading Ron Chernow's new biography, a truly mammoth examination of the life of Ulysses S. Grant, one is struck by the humanity—both the pitiful frailty and the incredible strength—of its subject." —Philadelphia Inquirer

"Masterful and often poignant . . . Chernow's gracefully written biography, which promises to be the definitive work on Grant for years to come, is fully equal to the man's remarkable story." — Minneapolis Star Tribune

"Reading this compelling book, it's hard to imagine that we'll continue to define Grant by these scandals rather than all he accomplished in winning the war and doing his best to make peace, on inclusive terms that would be fair to all." —Milwaukee Journal Sentinel 

"[A] beautifully written portrait . . . . Chernow doesn't gloss over Grant's struggle with alcoholism or his tendency to trust shady operators. However, his willingness to protect the gains of freemen and to fight the KKK was an example of the moral courage he consistently displayed. This is a superb tribute to Grant, whose greatness is earning increased appreciation." —Booklist, Starred Review
 
"A stupendous new biography . . . Fascinating and immensely readable . . . uncommonly compelling and timely . . . . Chernow's biography is replete with fascinating details and insight­ful political analysis, a combination that brings Grant and his time to life . . . put Grant on your must-read list." —BookPage

"The definitive biography for the foreseeable future." —Publishers Weekly
Penguin Books, 9780143110637, 1104pp.
Publication Date: September 25, 2018
About the Author
Ron Chernow is the prizewinning author of six previous books and the recipient of the 2015 National Humanities Medal. His first book, The House of Morgan, won the National Book Award, Washington: A Life won the Pulitzer Prize for Biography, and Alexander Hamilton—the inspiration for the Broadway musical—won the George Washington Book Prize. A past president of PEN America, Chernow has been the recipient of eight honorary doctorates. He resides in Brooklyn, New York.