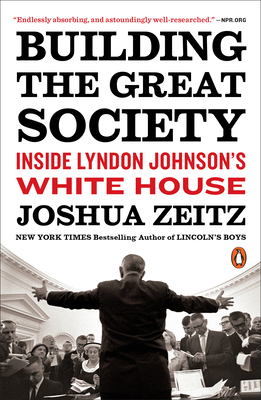 Building the Great Society (Paperback)
Inside Lyndon Johnson's White House
Penguin Books, 9780143111436, 400pp.
Publication Date: January 29, 2019
Other Editions of This Title:
Digital Audiobook (1/29/2018)
Hardcover (1/30/2018)
* Individual store prices may vary.
Description
An "absorbing, and astoundingly well-researched" (NPR.org) book that takes us inside Lyndon Johnson's White House to show how the legendary Great Society programs were actually put into practice: Team of Rivals for LBJ. The personalities behind every burst of 1960s liberal reform - from civil rights and immigration reform, to Medicare and Head Start.

LBJ's towering political skills and his ambitious slate of liberal legislation are the stuff of legend: the Civil Rights Act of 1964, the Voting Rights Act of 1965, Medicare, Medicaid, Head Start, and environmental reform. But what happened after the bills passed? One man could not and did not go it alone. Joshua Zeitz reanimates the creative and contentious atmosphere inside Johnson's White House as a talented and energetic group of advisers made LBJ's vision a reality. They desegregated public and private institutions throughout one third of the United States; built Medicare and Medicaid from the ground up in one year; launched federal funding for public education; provided food support for millions of poor children and adults; and launched public television and radio, all in the space of five years, even as Vietnam strained the administration's credibility and budget.

Bill Moyers, Jack Valenti, Joe Califano, Harry McPherson and the other staff members who comprised LBJ's inner circle were men as pragmatic and ambitious as Johnson, equally skilled in the art of accumulating power or throwing a sharp elbow. Building the Great Society is the story of how one of the most competent White House staffs in American history - serving one of the most complicated presidents ever to occupy the Oval Office - fundamentally changed everyday life for millions of citizens and forged a legacy of compassionate and interventionist government.
About the Author
Joshua Zeitz has taught American history and politics at Cambridge University, Harvard University, and Princeton University. He is the author of several books on American political and social history and has written for the New York Times, the Washington Post, New Republic, The Atlantic, Dissent, and American Heritage. He lives with his wife and two daughters in Hoboken, New Jersey.
Praise For Building the Great Society: Inside Lyndon Johnson's White House…
Praise for Building the Great Society

"Building the Great Society is endlessly absorbing, and astoundingly well-researched — all good historians do their homework, but Zeitz goes above and beyond. It's a more than worthwhile addition to the canon of books about Johnson."
—NPR.org, Michael Schaub 

"[A] well-researched and readable history of a vast governmental effort to make America anew."
—Wall Street Journal


"Zeitz draws creatively on memoirs and White House documents. His tales… zip along with style."
—The New Republic

"Zeitz's lively narrative foregrounds the personalities and power plays of Johnson's White House staff…[his] lucid account yields engrossing insights into one of America's most hopeful, productive, and tragic political eras."
—Publishers Weekly

"Zeitz presents accessible, nuanced portraits of the men behind Lyndon B. Johnson's domestic programs...[and] effectively demonstrates how Johnson assembled one of history's most productive White House staffs: an amalgam of committed John F. Kennedy holdovers along with new talents from academia, the newspaper world, and think tanks."
—Library Journal

"Joshua Zeitz's beautifully written book is not only a riveting portrait of LBJ and the talented men around him, but also a compelling reminder of what extraordinary political skill it took to enact the body of laws that made America a more humane and admirable society. Every officeholder in Washington would profit from reading this book."
—Robert Dallek, author of An Unfinished Life: John F. Kennedy, 1917–1963 and Franklin D. Roosevelt: A Political Life

"Zeitz argues convincingly that Johnson's team . . . quickly became a smoothly running and effective machine, accomplishing a great amount in a relatively short time . . . A timely reconsideration of the Johnson years."
—Booklist

Praise for Joshua Zeitz and Lincoln's Boys

"A century before Harry Hopkins, Clark Clifford, or Ted Sorensen, John Hay and John Nicolay performed the duties of presidential aide, adviser, political operative, and confidant. Even the great Abraham Lincoln needed support, and Joshua Zeitz captures perfectly the intimate, interior world of the White House."
—David Plouffe, former White House Senior Adviser

"What a wonderful, welcome book. Zeitz has pulled off a difficult task—revealing how the myth of Lincoln came to be without distorting the true greatness of our extraordinary sixteenth president.ˮ
—Ken Burns (filmmaker)

"Joshua Zeitz's delightful study of John Hay and John Nicolay interweaves intimate biography, political drama, and the shaping of historical memory to produce an arresting and original narrative. Above all, it reminds us that, thanks to Lincoln's secretaries, the moral dimensions of the emancipationist Civil War could not be bleached from the historical record by an increasingly fashionable understanding of the struggle as a romantic 'brothers' conflict.'"
—Richard Carwardine, author of Lincoln: A Life of Purpose and Power

"Abraham Lincoln was blessed with truly first-rate biographers in John Nicolay and John Hay, so it is 'altogether fitting and proper' that Nicolay and Hay have now attracted a terrific chronicler of their own life and times in Joshua Zeitz. This fine book traces the extraordinary evolution of Lincoln's two private secretaries from clerks into tireless historians and rabid keepers of the flame. Historians have long remembered their roles as canny observers of the White House during the Civil War, but this study adds much fascinating new material about their peerless role in crafting and preserving the Lincoln image."
—Harold Holzer, author of The Civil War in 50 Objects

"Beautifully researched and written, it restores to full stature two figures who might have been young, but left a deep mark upon history. Highly recommended."
—Ted Widmer, former presidential speechwriter and author of Young America: The Flowering of Democracy in New York City