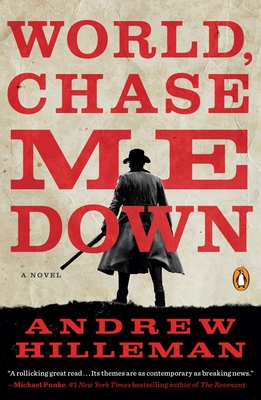 World, Chase Me Down (Paperback)
A Novel
Penguin Books, 9780143111474, 352pp.
Publication Date: January 24, 2017
* Individual store prices may vary.
Description
Winner of the 2018 Nebraska Book Award for Fiction

A rousing, suspenseful debut novel—True Grit meets Catch Me If You Can—based on the forgotten true story of a Robin Hood of the American frontier who pulls off the first successful kidnapping for ransom in U.S. history

"A kidnapper with a social-justice mission" (Time), Pat Crowe was once the most wanted man in America. World, Chase Me Down resurrects him, telling the electrifying story of the first great crime of the last century: how in 1900 the out-of-work former butcher kidnapped the teenage son of Omaha's wealthiest meatpacking tycoon for a ransom of $25,000 in gold, and then burgled, safe-cracked, and bond-jumped his way across the country and beyond, inciting a manhunt that was dubbed "the thrill of the nation" and a showdown in the court of public opinion between the haves and have-nots—all the while plotting a return to the woman he never stopped loving. As if channeling Mark Twain and Charles Portis, Andrew Hilleman has given us a character who is bawdy and soulful, grizzled, salty, and hard-drinking, and with a voice as unforgettable as that of Lucy Marsden in Alan Gurganus's Oldest Living Confederate Widow Tells All—an antihero you can't help rooting for.
About the Author
Andrew Hilleman was born in Omaha, Nebraska, in 1982. He earned his B.A. and M.A. in English at Creighton University, in Omaha, and his M.F.A. in fiction from Northern Michigan University. He has been published by The Fiddlehead and was a finalist for Glimmer Train's Very Short Fiction Award. He lives in Omaha with his wife and their daughter.
Praise For World, Chase Me Down: A Novel…
"Thrilling . . . A fun read . . . It's action the whole time, much like a Louis L'Amour Western . . . with wry humor throughout." —Outside

"Violent, funny, and unpredictable, with taut, authentic first-person prose and cinematic scope, World, Chase Me Down is a Western that begs to see itself on film. . . . As outlaw tales go, [it] ranks alongside the likes of Jesse James, Butch Cassidy, and Billy the Kid." —Interview

"An exciting adventure tale told with style and humor. It's a campfire tall-tale with an antihero protagonist as interesting as he is despicable. . . . [A] fine debut novel." —Mystery Scene

"Electrifying." —USA Today's The Gleaner

"A fast-paced and darkly funny adventure yarn [with] an antihero of eloquence and humanity, remorseful over his mistakes yet unable to stop making new ones. He's the kind of character (and this is the kind of book) that could make a great movie." —Omaha World-Herald

"The national manhunt became known as 'the thrill of the nation,' and Hilleman brings it to gritty life." —The Sacramento Bee

"A rollicking great read that careens between funny and poignant, intimate and epic, action-packed and romantic. And like the best historical fiction, its themes are as contemporary as breaking news." —Michael Punke, #1 New York Times bestselling author of The Revenant

"I envy you, reader, because you're in for at least two treats. First, World, Chase Me Down is a rollicking, elegiac page-turner that depicts a time and place I've not seen before in fiction and that stars a one-of-a-kind antihero you'll keep thinking about days and weeks later. Second, you get to be among the first to experience the debut of a great new talent in Andrew Hilleman. So: Buy and enjoy this novel right now." —Kurt Andersen, New York Times bestselling author of Turn of the Century and Heyday

"A riotous and righteous read—part poetry, part penny dreadful—World, Chase Me Down grips you with an originality that will keep you rooted to your chair." —Craig Johnson, New York Times bestselling author of the Walt Longmire mysteries

"World, Chase Me Down brings a patch of history forward, depicting a wide range of humans living and laughing, making mistakes and trying to do right—or sort of right. The vigor of the writing puts the story on the page with memorable bursts of power and subversive wit." —Daniel Woodrell, New York Times bestselling author of Winter's Bone

"The kidnapping that was called 'the crime of the century' in the early 1900s later became just a footnote in Omaha history, but Andrew Hilleman has again given it fascination and life in this elegant, meditative, beautifully written novel." —Ron Hansen, bestselling author of The Kid and The Assassination of Jesse James by the Coward Robert Ford

"Andrew Hilleman is a fine stylist with a great sense of fun and an impressive grasp of popular culture in the early twentieth century." —Mary Doria Russell, bestselling author of Doc and Epitaph

"A brilliant mix of pulp and balladry, narrated by an adventurous, philosophical, lovelorn outlaw, World, Chase Me Down reminds me of my favorite portraits of criminal lives—Jim Thompson's The Killer Inside Me and Ron Hansen's The Assassination of Jesse James by the Coward Robert Ford—and proves Andrew Hilleman to be as good a writer as any there is." —Timothy Schaffert, author of The Swan Gondola

"A first-class page-turner, layered with ambition, greed, promises made and broken, and the powerful bond of friendship. The writing is pitch-perfect, the dialogue pops, the flashes of humor are just right, and the courtroom scenes are not to be missed. Best of all is the sophisticated portrait of the kidnapper, a complicated and unforgettable character. Bravo." —Ann Weisgarber, author of The Personal History of Rachel DuPree and The Promise

"Supremely compelling. Gleaming with dark beauty in every line and gritty truth in its portraits of both haves and have-nots, World, Chase Me Down is that rare thing: a novel paced like a blazing page-turner and crafted like a finely woven tapestry. Brilliant on all counts." —Elizabeth Rosner, author of Electric City, Blue Nude, and The Speed of Light

"A thunderous debut: a raucous gallivant through the wild heartland of our American myth, an indictment of big beef money, and a portrait of the twentieth century's first great outlaw. This book will raise laughs from your belly and stab the wild meat of your heart. It sounds the barbaric yawp of a great new voice in American fiction." —Taylor Brown, author of Fallen Land

"A riveting read that brings a turn-of-the-century crime into shivering reality. Pat Crowe, butcher turned kidnapper, is a fascinating combination of high hopes and dark desires." —Jonis Agee, author of The Bones of Paradise and The River Wife

"The crime at the heart of this novel reverberates from dirty back streets to the halls of power. Once World, Chase Me Down grabs you, it won't let go." —Brent Spencer, author of Rattlesnake Daddy

"Unforgettable: a raucous and engaging story told by a voice so convincing you'll think the author must be channeling his turn-of-the-20th-century antihero, with all his imagination, boldness, wry humor, and natural eloquence. Rich historical details bring the sights, sounds, and smells of rough-and-tumble meat-packing Omaha to life in this suspenseful and surprising novel." —Mary Helen Stefaniak, author of The Cailiffs of Baghdad, Georgia and The Turk and My Mother

"Lively . . . A raucous example of narrative invention. Pat makes for an enthusiastic narrator, and he ends his story on a surprising note that affirms man's infinite capacity for resilience in the face of life's harsh vicissitudes." —Publishers Weekly

"This one's a winner. . . . Crowe's remembrances of his five wild years on the run are especially fun. . . . The attention to historical detail is illuminating throughout. . . . The supporting cast is pleasingly despicable. . . . [An] action-packed debut." —Kirkus Reviews

"Riveting . . . Colorful, real-life American outlaw Pat Crowe, the most wanted man in America at the turn of the century, is masterfully resurrected in [this] epic, action-packed Western. . . . The author's version of events is so thrilling that the reader immediately becomes engrossed in Crowe's dramatic tale and looks forward to each extraordinary chapter of his life. Gory, violent and occasionally shocking, Hilleman's novel is also darkly comic, moving and extremely entertaining. A standout work of fiction." —Lancashire Post

"Fabulous." —Book Riot's All the Books! podcast