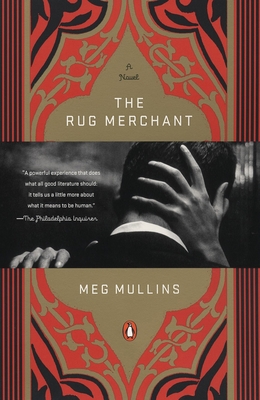 The Rug Merchant
Paperback

* Individual store prices may vary.
Description
At the heart of Meg Mullins?s debut novel is one of the most touchingly believable characters in recent fiction, a gentle soul in the body of an Iranian exile in New York. Ushman Khan sells exquisite hand-woven rugs to a wealthy clientele that he treats with perfect rectitude. He is lonely, and his loneliness becomes unbearable when he learns that his wife in Iran is leaving him. But when a young woman named Stella comes into his store, what ensues is a love story that is all the more moving because its protagonists understand tragedy. The Rug Merchant will sweep readers away with its inspiring, character-rich tale about shaking free from disappointment and finding connection and acceptance in whatever form they appear.
Praise For The Rug Merchant…
[Mullins] has imagined a tale as nuanced and alluring as the hand-woven patterns of the rugs that are at the heart of UshmanÆs American life. (Chicago Tribune)
Penguin Books, 9780143112099, 272pp.
Publication Date: June 26, 2007
About the Author
Meg Mullins earned her MFA at Columbia. The story that formed the basis of this novel appeared in the Best American Short Stories in 2002.
When Ushman decides to keep the antique carpet from the man in Queens, the decision sets in motion, or at least Ushman believes it sets in motion, a series of life-altering events. For instance, Ushman believes the rug and the $30,000 he knew Mrs. Roberts was willing to pay for it gave him the freedom and confidence to ask Farak what she truly wants. It is then that she confesses to him that she is pregnant, "and that stupid lucky feeling makes him a bigger fool now than ever" (p. 21). If he had not "stolen" the rug, would anything really have turned out differently? Later, he throws out the rug. Why?
Our three principal characters all seem to be in search of something. What does each character in the novel gain/learn from the other?
Is Stella truly devastated by Ushman's relationship with Mrs. Roberts, or is she subconsciously looking for a way out of her relationship with Ushman, as he suspects? Why might she wish the relationship to end?
When Ushman tells Mrs. Roberts that her coveted carpet is no longer available, she seems oddly pleased, and "it makes Ushman angry, that to want something she can't have is an indulgence." In the next moments, Ushman lies down and Mrs. Roberts lies down next to him, silently and without touching him, "as a wife would." Why does the author include this moment? How might it foreshadow later events?
"Show me how a Muslim would approach this rug, at a time of prayer," Mrs. Roberts requests of Ushman, when admiring the antique prayer rug (p. 71). Discuss the significance of Mrs. Roberts's asking Ushman to pray in front of her, and what the various carpets represent throughout the novel.
Ushman is thrilled when Stella comes to visit him for the first time. Seeing her distress, he invites her to rest in his store and she sleeps for several hours. When she wakes up, Ushman suddenly feels angry at himself and begins to escort her out, but then seems to change his mind (p. 87). Why does he change his mind? Why does he choose this moment to blurt out that he wishes his mother would die?
After first wishing harm to Farak's baby, Ushman now feels anguish and sympathy toward her after learning she is "marked" by a purple blotch across her temple: "Only now that he has something to cherish does he want the universe to be forgiving" (p. 185), he thinks to himself, upon reflecting what he has gained from his relationship with Stella. But just a few pages later he tells the Vietnamese prostitute, "Your sad story does not concern me." She, like Ushman, is also an outsider, so why does his newfound compassion not spill over to her? Why did he ever allow himself to be with this prostitute in the first place?
The Rug Merchant is, at its essence, the story of a romance between two very different people. Can you think of other examples in literature of unlikely couples or cross-cultural relationships? How do these usually work out in the end?
Why does Ushman finally open up to Mrs. Roberts at the end of the novel, after resisting this intimacy for so long? What change does his openness signal?
What makes Ushman such a compelling character? How do you see his life unfolding? Where do you see him building the rest of his life?
or
Not Currently Available for Direct Purchase