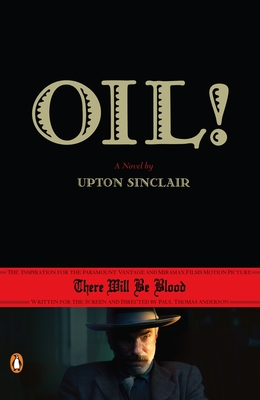 Oil!
Paperback

* Individual store prices may vary.
Other Editions of This Title:
Digital Audiobook (3/31/2008)
Paperback (1/18/2023)
Hardcover (2/1/2008)
Paperback (1/10/2023)
MP3 CD (4/1/2008)
Compact Disc (8/1/2008)
Compact Disc (4/1/2008)
Description
The classic novel that inspired the Academy award-winning film, There Will Be Blood.
Penguin Books is proud to now be the sole publisher of Oil!, the classic 1927 novel by Upton Sinclair. After writing The Jungle, his scathing indictment of the meatpacking industry, Sinclair turned his sights on the early days of the California oil industry in a highly entertaining story featuring a cavalcade of characters including senators, oil magnets, Hollywood film starlets, and a crusading evangelist.
This lively and panoramic book, which was recently cited by David Denby in the New Yorker as being Sinclair's "most readable" novel, is now the inspiration for the Paramount Vantage major motion picture, There Will Be Blood. It is the long-awaited film from Paul Thomas Anderson, one of the most admired filmmakers working today whose previous movies, Boogie Nights and Magnolia were both multiple Academy Award nominees. The movie stars Oscar-winner Daniel Day-Lewis (Gangs of New York, My Left Foot) and Paul Dano (Little Miss Sunshine).
Paramount Vantage will be releasing the film in New York and Los Angeles on December 26, 2007 and go nationwide in January. This is the same company responsible for Babel and A Mighty Heart and the current releases, Into the Wild, Margot at the Wedding, and The Kite Runner.
As wars rage on in the oil region and as anxiety over natural resources rise, the subject of this book, which celebrates its 80th anniversary in 2007, is more timely than ever.
Praise For Oil!…
"A classic tale of greed and corruption"—
Eric Schlosser
, author of
Fast Food Nation
"[Oil! is] probably his second best book and certainly his most readable."—The New Yorker
"Anderson's film is a true American saga—one that rivals Giant and Citizen Kane in our popular lore as origin stories about how we came to be the people we are… Daniel Day-Lewis is at his brilliant best as the story's Daniel Plainview, a man whose humanity diminishes as his fortunes increase."—Variety
Penguin Books, 9780143112266, 560pp.
Publication Date: December 18, 2007
About the Author
Upton Sinclair (1878-1968) was born in Baltimore. At age fifteen, he began writing a series of dime novels in order to pay for his education at the City College of New York. He was later accepted to do graduate work at Columbia, and while there he published a number of novels, including The Journal of Arthur Stirling (1903) and Manassas (1904). Sinclair's breakthrough came in 1906 with the publication of The Jungle, a scathing indictment of the Chicago meat-packing industry. His later works include World's End (1940), Dragon's Teeth (1942), which won him a Pulitzer Prize, O Shepherd, Speak! (1949) and Another Pamela (1950).