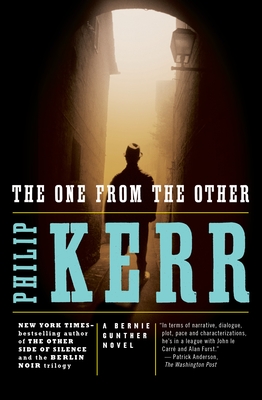 The One from the Other: A Bernie Gunther Novel (Paperback)
A Bernie Gunther Novel
Penguin Books, 9780143112297, 372pp.
Publication Date: February 3, 2009
Description
Philip Kerr's Berlin Noir trilogy--featuring the tough, fast-talking, noirish detective Bernie Gunther--is a publishing phenomenon that continues to win new fans more than fifteen years after its initial publication. Kerr has brought Bernie back in a highly anticipated thriller that will delight fans of the original books and attract new attention to the backlist. It is 1949 and--after being forced to serve in the SS in the killing fields of Ukraine--Bernie has moved to Munich to reestablish himself as a private investigator. When the beautiful Frau Britta Warzok hires him for an apparently simple job, Bernie's suspicions flare but the money is too good to turn down. Soon, Bernie is on the run, because in a defeated and divided Germany, it's hard to know friends from enemies, the one from the other.
About the Author
Philip Kerr is the author of many novels, but perhaps most important are the five featuring Bernie Gunther--A Quiet Flame, The One from the Other, and the Berlin Noir trilogy (March Violets, The Pale Criminal, and A German Requiem). He lives in London and Cornwall, England, with his family.
Advertisement