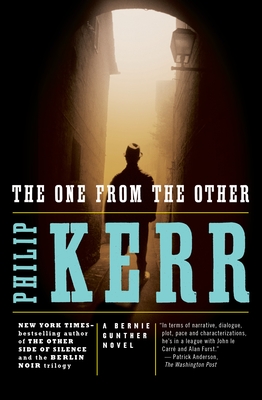 The One from the Other (Paperback)
A Bernie Gunther Novel
G.P. Putnam's Sons, 9780143112297, 372pp.
Publication Date: February 3, 2009
Description
In the fourth mystery in Philip Kerr's New York Times bestselling series, Bernie Gunther--a former policeman and reluctant SS offier--attempts to start over in the aftermath of World War 2 and quickly learns that the past is never far behind you... Berlin, 1949. Amid the chaos of defeat, Germany is a place of dirty deals, rampant greed, and fleeing Nazis. For Bernie Gunther, Berlin has become far too dangerous. After being forced to serve in the SS in the killing fields of Ukraine, Bernie has moved to Munich to reestablish himself as a private investigator. Business is slow and his funds are dwindling when a woman hires him to investigate her husband's disappearance. No, she doesn't want him back--he's a war criminal. She merely wants confirmation that he is dead. It's a simple job, but in postwar Germany, nothing is simple--nothing is what it appears to be. Accepting the case, Bernie takes on far more than he'd bargained for, and before long, he is on the run, facing enemies from every side.
About the Author
Philip Kerr is the New York Times bestselling author of the acclaimed Bernie Gunther novels, two of which--Field Gray and The Lady from Zagreb--were finalists for the Edgar(R) Award for Best Novel. Kerr has also won several Shamus Awards and the British Crime Writers' Association Ellis Peters Award for Historical Crime Fiction. As P. B. Kerr, he is the author of the much-loved young adult fantasy series Children of the Lamp.
Advertisement