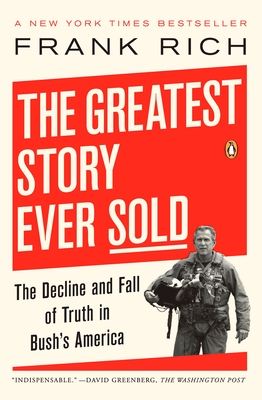 The Greatest Story Ever Sold (Paperback)
The Decline and Fall of Truth in Bush's America
Penguin Books, 9780143112341, 352pp.
Publication Date: August 28, 2007
Other Editions of This Title:
Digital Audiobook (9/18/2006)
Hardcover (10/1/2006)
* Individual store prices may vary.
Description
Demonstrating the candor and conviction that have made him one of our most trusted and incisive public voices, The New York Times columnist Frank Rich brilliantly and meticulously illuminates the Bush administration's disturbing love affair with "truthiness." Rich's step-by-step chronicle shows how, in the wake of 9/11, a propaganda president and his advisors misled a nation into war in Iraq and how the bungled aftermath, a Washington leak, and a devastating hurricane at long last revealed the lies in a story that had been so effectively sold to the nation as God-given patriotic fact.
About the Author
Frank Kelly Rich is the founder and editor of Modern Drunkard Magazine, the voice of the recreational drinker. Mr. Rich has spent the greater part of his life absorbing lessons and libations alike in bars the world over. He is also the author of four booze-noir action-adventure novels, and the writer and director of the booze-noir film Nixing the Twist.
Praise For The Greatest Story Ever Sold: The Decline and Fall of Truth in Bush's America…
"Occasionally the right man is at just the right place at exactly the right time.... Frank Rich is that man.... A shrewdly observed and reasoned explanation of the motives behind all this horrifically destructive deceit." -Tim Rutten, Los Angeles Times "Frank Rich has the perfect credentials for writing an account of the Bush administration, which has done so much to blur the lines between politics and show business." -Ian Buruma, The New York Times Book Review "A gripping, witty and devastating indictment of President Bush's reliance on public relations to market his Iraq and counterterrorism policies." -The Washington Post "Fierce and uncompromising." -Time Out "An incisive assault on the administration's message control and word games." -Pittsburgh Post-Gazette "Destined to enjoy a healthy shelf life." -The New York Times

or
Not Currently Available for Direct Purchase