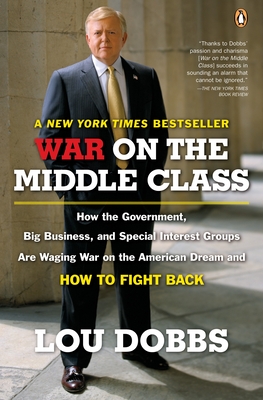 War on the Middle Class: How the Government, Big Business, and Special Interest Groups Are Waging War on the American Dream and How to Fight Ba (Paperback)
How the Government, Big Business, and Special Interest Groups Are Waging War on the American Dream and How to Fight Ba
Penguin Books, 9780143112525, 276pp.
Publication Date: October 1, 2007
Description
Lou Dobbs's bestselling expose of the silent assault on the living standards of ordinary Americans
Millions of TV viewers have known Lou Dobbs for years as the Walter Cronkite of economics coverage, and now the anchor has become the preeminent champion of the common man and the good of the national interest, who tells uncomfortable truths in a voice that can't be ignored. In this incendiary book, he presents a frontline report on the betrayal of America's middle class by interests that range from rapacious corporations to an out-of-touch political elite. The result is not only lost jobs but also dysfunctional schools and unaffordable health care. But War on the Middle Class also outlines a bold program for change. As essential as it is infuriating, this book furnishes the talking points for the national debate on income and class.
About the Author
Lou Dobbs is the anchor and managing editor of CNN's Lou Dobbs Tonight. He writes for Money and U.S. News & World Report and manages the Lou Dobbs Money Letter. He has received the Peabody Award, the Luminary Award by the Business Journalism Review, the Horatio Alger Association Award for Distinguished Americans, as well as an Emmy Lifetime Achievement award.
Praise For War on the Middle Class: How the Government, Big Business, and Special Interest Groups Are Waging War on the American Dream and How to Fight Ba…
"His refreshing prose, like his on-air persona, combines seemingly unmixable ingredients [and] thanks to Dobbs' passion and charisma [War on the Middle Class] succeeds in sounding an alarm that cannot be ignored."
-The New York Times Book Review

"[Dobbs] manages to shine a powerful spotlight on many outrages."
-Seattle Post-Intelligencer

"[Dobbs is] a refreshingly bold thinker who refuses to be intellectually pigeon- holed."
-Publishers Weekly, starred review
Advertisement