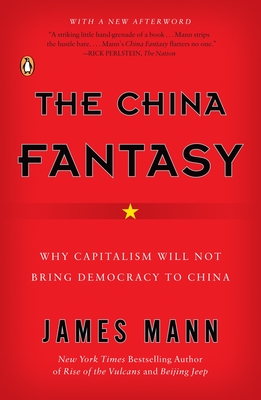 The China Fantasy: Why Capitalism Will Not Bring Democracy to China (Paperback)
Why Capitalism Will Not Bring Democracy to China
Penguin Books, 9780143112921, 141pp.
Publication Date: February 1, 2008
Description
The New York Times bestselling author of Rise of the Vulcans blasts America's policy regarding the world's most populous country
One of our most perceptive China experts, James Mann has penned a vital wake-up call to all who are ignorant of America's true relationship with the Asian giant. Our leaders may posit a China drawn to increasing liberalization through the power of the free market, but Mann asks us to consider a very real alternative: What if China's economy continues to expand but its government remains as dismissive of democracy and human rights as it is now? Calling for an end to the current policy of overlooking China's abuses for the sake of business opportunities, Mann presents a must-read book for anyone interested in global affairs.
About the Author
James Mann is the senior writer in residence at the CSIS International Security Program and the author of two critically acclaimed books: About Face: A History of America s Curious Relationship with China from Nixon to Clinton and Beijing Jeep. Previously, he was a long-time correspondent with the Los Angeles Times, and his writing has also appeared in The New Republic and The Atlantic Monthly."
Praise For The China Fantasy: Why Capitalism Will Not Bring Democracy to China…
"If Americans revered veteran China correspondents the way Chinese communists revere their founding revolutionaries, former Los Angeles Times bureau chief Jim Mann would justly be hailed as an 'immortal.'"
-Clay Chandler, editor, Fortune Asia

"Mr. Mann has perfectly described the blend of hope and cynicism that currently underpins American policy toward China."
-Gordon S. Chang, The New York Sun
Advertisement