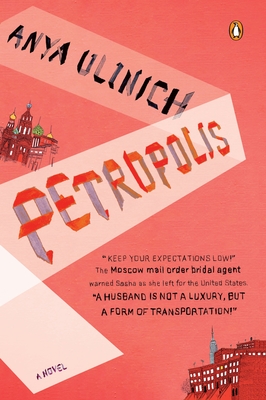 Petropolis (Paperback)
Penguin Books, 9780143113010, 324pp.
Publication Date: April 1, 2008
Description
In her stunning debut novel, Anya Ulinich delivers a funny and unforgettable story of a Russian mail-order bride trying to find her place in America. After losing her father, her boyfriend, and her baby, Sasha Goldberg decides that getting herself to the United States is the surest path to deliverance. But she finds that life in Phoenix with her Red Lobster-loving fiance isn't much better than life in Siberia, and so she treks across America on a misadventure-filled search for her long- lost father. Petropolis is a deeply moving story about the unexpected connections that create a family and the faraway places that we end up calling home.
About the Author
Anya Ulinich was seventeen when her family left Moscow and immigrated to the United States. She attended the Art Institute of Chicago and received an MFA in painting from the University of California. She lives in Brooklyn, New York.
Praise For Petropolis…
"Audacious, clever, and lively . . . a nervy social satire in the spirit of Tom Wolfe, Aleksandar Hemon, Gish Jen, Gary Shteyngart, and Lara Vapnyar."
-Chicago Tribune

"Ulinich has a knack for the tragicomic. . . . Petropolis is engaging, funny, and genuinely moving in all the right places."
-Los Angeles Times Book Review

"A moving account of a perpetual outsider's desire to belong, both to her family and to the wide, weird world she encounters with a sometimes weary heart and plenty of chutzpah."
-USA Today

"A beautiful far-ranging voice equally at home on both sides of the Atlantic . . . Anya Ulinich's satiric romp gives new meaning to the word 'bittersweet.'"
-Gary Shteyngart, author of Absurdistan and The Russian Debutante's Handbook
Advertisement