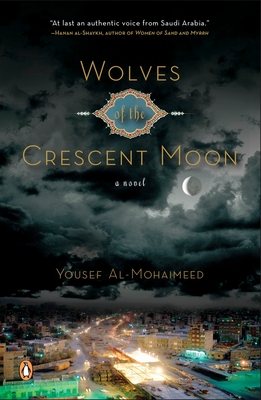 Wolves of the Crescent Moon (Paperback)
Penguin Books, 9780143113218, 180pp.
Publication Date: December 18, 2007
Description
-The first great Saudi novel.- --The New York Sun

Banned in the kingdom of Saudi Arabia, this provocative, fast-paced debut novel confirms what The Washington Post reported about its award-winning author: -Yousef Al-Mohaimeed is taking on some of the most divisive subjects in the Arab world . . . in a lush style that evokes Gabriel Garcia Marquez.-
In a Riyadh bus station, a man comes across a file containing official reports about an abandoned baby. As he pieces together the shattered life documented within, a larger picture emerges of three outsiders--a Bedouin, an orphan, and a eunuch-linked by fate and trying to make lives for themselves in a predatory city.
Unfolding with the intensity of a fever dream over the course of one night, Wolves of the Crescent Moon is a novel of astonishing power and great moral consequence about a deeply traditional society confronting the modern world.
About the Author
Yousef Al-Mohaimeed was born in Riyadh in 1964. He has published several novels and short story collections in Arabic and has had stories published in Lebanon, Egypt, France, Germany, Spain, and Russia. He studied English and photography at Norwich University in England and was recently presented with an award by Diwan al Arab magazine and the Egyptian Journalists Union in recognition of his creative contribution to Arab culture. He lives in Riyadh. Anthony Calderbank is the translator of Nobel laureate Naguib Mahfouz's novel Rhadopis of Nubia, Sonallah Ibrahim's Zaat, and Miral al-Tahawy's The Tent and Blue Aubergine. He lives in Khobar, Saudi Arabia.
Praise For Wolves of the Crescent Moon…
"At last an authentic voice from Saudi Arabia."
-Hanan al-Shaykh, author of Women of Sand and Myrrh

"Brave and brilliant . . . A novel that sneaks up on you with its power to make you see, hear, and live the complexities of another world."
-Uzodinma Iweala, author of Beasts of No Nation

"An irresistible novel."
-Nuruddin Farah, author of Links and Knots
Wolves of the Crescent Moon is set during a single night. Think back to all of the action that takes place in the present tense, and all that takes place as memory or imagination. How does this affect the pace of the novel? Why do you think the author chose to structure the novel in this way?
Each of the three main characters is missing a body part. What does this mean for each, both literally and symbolically? What do they lose as a consequence and is there anything that they have gained? What else are they missing in their lives?
Make a brief sketch of Turad's life: from his home life in the desert, to the events that caused him to abandon his "noble and ferocious face," through various jobs in Riyadh, to his present, indigent state. What propels him from place to place? How do his origins affect his life in the city? What do you think will happen to him next?
Count the number of substories that run throughout the novel and look through the list of chapter titles, from "A Body Like Ripe Fruit" to "The Journey of Thorny Dreams." How does each title add to the overall story or to the particular plot it introduces? Which chapters stand alone, as separate stories? Which tales seem like dreams, memories, or flashbacks? How does this contribute to the mood of the novel?
Amm Tawfiq's story is particularly dramatic and tragic. How does he explain his capture and its consequences to Turad and to himself? Which experiences seem to mark him the most? Describe how he feels about his life in Saudi Arabia, as he expresses it to Turad. What is his attitude toward freedom?
Return to the chapter that tells the story of the one-eyed man Nasir Abdulilah's parents. Is his story real or imagined? Does it matter? What are we meant to learn from it, and from Nasir's presence in the real-time of the novel? Compare the additional information we get from the diary that Turad discovers, as well as our own brief glimpses of Nasir, and attempt to describe Nasir as he really is.
Parentage is complicated for the three main characters. Tawfiq never knew his father, Nasir never knew either of his parents, and Turad's mother and father, weak mentally and physically, fail to govern either him or his brother. What are the repercussions of these unstable family constructions for the characters and how is this revealed in their various names? In what ways do they compensate for their missing parents? What is permanently lost, individually and culturally, by this loss of familial grounding?
The palace and its mistress recur in many stories. How do the two link the various characters and how do those that pass through the palace feel about their time there? Tawfiq claims "Inside the palaces, every creature has a defined role in life" (p. 153). Think over the events that transpire there and the consequences for each of the main characters. What do you think the palace represents in the city, culture, or country?
Wolves recur throughout this novel, from the title to the final chapters, in flashback, murals, and in Turad's musings. What do wolves symbolize, for Turad especially, but also for the other characters and for Saudi Arabia? Are they heroic or vicious, sympathetic or monstrous? How does an understanding of the wolf help us to understand the author's purpose?
Think through the scenes of city life in the novel. What do we know about Riyadh and its citizens by the end? Try to describe the city, or compare it to one you know well. Who are the inhabitants of Al-Mohaimeed's version of Riyadh and who is missing from his portrait? How do both major and minor characters feel towards the city they live in?
Why does Turad make the choice that he does at the end of the novel? Why do you think he is unable to take action at the beginning? Describe the trajectory of his night, and try to explain what has changed for him by daybreak.
Advertisement