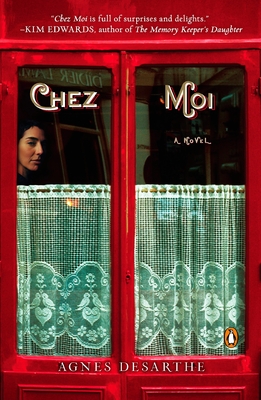 Chez Moi (Paperback)
Penguin Books, 9780143113232, 257pp.
Publication Date: May 1, 2008
* Individual store prices may vary.
or
Not Currently Available for Direct Purchase
Description
At forty-three, Myriam has been a wife, mother, and lover--but never a restauranteur. When she opens Chez Moi in a quiet neighborhood in Paris, she has no idea how to run a business, but armed only with her love of cooking, she is determined to try. Barely able to pay the rent, Myriam secretly sleeps in the dining room and bathes in the kitchen sink, while struggling to come to terms with the painful memories of her past. But soon enough her delectable cuisine brings her many neighbors to Chez Moi, and Myriam finds that she may get a second chance at life and love. Redolent with the sights, smells, and tastes of Paris, Chez Moi is a charming story that will appeal to the many readers who fell in love with Joanne Harris's Chocolat and Laura Esquivel's Like Water for Chocolate.
Myriam says she cooks "with and out of love" (p. 3), yet is unable to feel love for her son. Is it possible to stop loving your child? What circumstances do you believe would cause something like that to happen?
The way Myriam describes flowers and food is deeply affectionate and almost anthropomorphic. Why do you think she is she able to so lushly convey her love for these things, yet have such trouble with people?
Where you surprised by Rainer's slap and the aftermath? Do you believe that love can die so suddenly? What are some other reasons that could cause a relationship to end swiftly and without argument?
When Myriam's betrayal and the reason for her abandonment are revealed, does it change your view of her? How were you able to understand or empathize with her unfaithfulness? If you were in her position, would you have made the same decision to leave?
Myriam has elaborate, realistic dreams that reflect her state of mind and desires. Why do you think she remembers them so clearly? What affect do they have on her? How do your own dreams affect your waking life?
At the end of Chez Moi, Hugo and Myriam reunite after six years apart. It can be argued that often it is much easier to remain estranged from a person than to make strides to patch things up. Have you had an experience in your own life when you had to choose whether or not to repair a relationship that had grown distant? Who made the first move towards contact, and how did it work out in the end? Was it worth the effort?
Ali tells Myriam, "You're the wildest person I've ever met" (p. 237). Myriam has taken such risks in her life but in her mind, she is merely a cook. Why do you think she's still so unaware of others' perceptions of her? Do you think your own self-perception is accurate? Are you surprised at what others see in you?
Myriam feels that she needs to leave behind the restaurant and everything that she's created if she's going to give herself wholly to Ali. What did the restaurant say about her that has now changed? Do you agree with her decision?
Desire, physical and emotional, plays a large role in the book. So does destiny. How are the ideas of desire and destiny intertwined? Do you think it is possible to will something to happen?
Advertisement