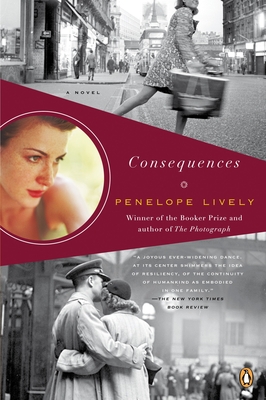 Consequences (Paperback)
Penguin Books, 9780143113430, 272pp.
Publication Date: May 27, 2008
* Individual store prices may vary.
Description
The Booker Prize winning author's sweeping saga of three generations of women

"One of the most accomplished writers of fiction of our day" (The Washington Post ) follows the lives and loves of three women--Lorna, Molly, and Ruth--from World War II-era London to the close of the century. Told in Lively's incomparable prose, this is a powerful story of growth, death, and renewal, as well as a penetrating look at how the major and minor events of the twentieth century changed lives. By chronicling the choices and consequences that comprise one family's history, Lively offers an intimate and profound reaffirmation of the force of connection between generations.
About the Author
Penelope Lively grew up in Egypt but settled in England after the war and took a degree in history at St Anne's College, Oxford. She is a Fellow of the Royal Society of Literature, and a member of PEN and the Society of Authors. She was married to the late Professor Jack Lively, has a daughter, a son and four grandchildren, and lives in Oxfordshire and London.
Penelope Lively is the author of many prize-winning novels and short story collections for both adults and children. She has twice been shortlisted for the Booker Prize; once in 1977 for her first novel, The Road to Lichfield, and again in 1984 for According to Mark. She later won the 1987 Booker Prize for her highly acclaimed novel Moon Tiger. Her novels include Passing On, shortlisted for the 1989 Sunday Express Book of the Year Award, City of the Mind, Cleopatra's Sister and Heat Wave.
Penelope Lively has also written radio and television scripts and has acted as presenter for a BBC Radio 4 program on children's literature. She is a popular writer for children and has won both the Carnegie Medal and the Whitbread Award.