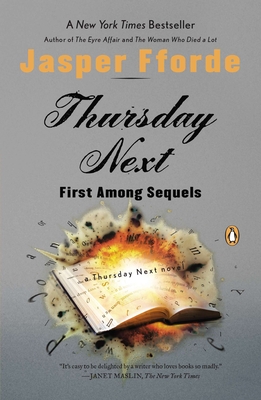 Thursday Next: First Among Sequels (Paperback)
First Among Sequels
Penguin Books, 9780143113560, 363pp.
Publication Date: August 1, 2008
Description
The fifth installment in Jasper Fforde's New York Times bestselling series follows literary detective Thursday Next on another adventure in her alternate reality of literature-obsessed England Jasper Fforde has thrilled readers everywhere with his gloriously outlandish novels in the Thursday Next and Nursery Crime series. And with another genre-bending blend of crime fiction, fantasy, and top-drawer literary entertainmentis Thursday Next: First Among Sequels, Fforde's famous literary detective is once again ready to make the world safe for fiction. Thursday Next is grappling with a host of problems in BookWorld: a recalcitrant new apprentice, the death of Sherlock Holmes, and the inexplicable departure of comedy from the once- hilarious Thomas Hardy novels, to name just a few--all while captaining the ship Moral Dilemma and facing down her most vicious enemy yet: herself. Thursday's zany investigations continue with Our Thursdays is Missing. Look for the five other bestselling Thursday Next novels, including Jasper Fforde's latest bestseller, The Woman Who Died A Lot. Visit jasperfforde.com for a ffull window into the Ffordian world Watch a Windows Media trailer for this book.
About the Author
Jasper Fforde traded a varied career in the film industry for staring vacantly out of the window and arranging words on a page. He lives and writes in Wales. The Eyre Affair was his first novel in the bestselling series of Thursday Next novels, which includes Lost in a Good Book, The Well of Lost Plots, Something Rotten, First Among Sequels, One of Our Thursdays is Missing, and The Woman Who Died A Lot. The series has more than one million copies (and counting) in print. He is also the author of The Big Over Easy and The Fourth Bear of the Nursery Crime series, Shades of Grey, and books for young readers, including The Last Dragonslayer. Visit jasperfforde.com.
Advertisement