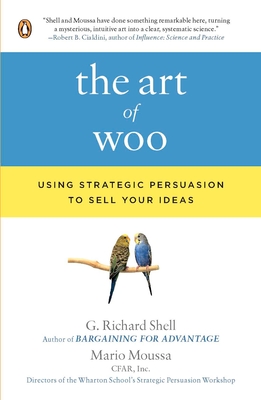 The Art of Woo (Paperback)
Using Strategic Persuasion to Sell Your Ideas
Penguin Books, 9780143114048, 320pp.
Publication Date: December 30, 2008
Other Editions of This Title:
Hardcover (10/18/2007)
* Individual store prices may vary.
Description
You may need The Art of War to defeat your enemies, but if you prefer to win them over, read The Art of Woo

G. Richard Shell and Mario Moussa know what it takes to drive new ideas through complex organizations. They have advised thousands of executives from companies such as Google, Microsoft, and General Electric to organizations like the World Bank and even the FBI's hostage rescue training program. In The Art of Woo, they present their systematic, four- step process for winning over even the toughest bosses and most skeptical colleagues. Beginning with two powerful self-assessments to help readers find their "Woo IQ," they show how relationship-based persuasion works to open hearts and minds.

"Ranging across history, from Charles Lindbergh to Sam Walton, the authors examine how savvy negotiators use persuasion - not confrontation-to achieve goals." -U.S. News & World Report

About the Author
G. Richard Shell teaches negotiation at the Wharton School of Business at the University of Pennsylvania, where he is professor of legal studies, business ethics, and management and academic director of the Wharton Executive Negotiation Workshop.
Praise For The Art of Woo: Using Strategic Persuasion to Sell Your Ideas…
"Ranging across history, from Charles Lindbergh to Sam Walton, the authors examine how savvy negotiators use persuasion - not confrontation-to achieve goals." -U.S. News & World Report

"Shell and Moussa have done something remarkable here, turning a mysterious, intuitive art into a clear, systematic science." -Robert B. Cialdini, author of Influence: Science and Practice

"Dale Carnegie's classic How to Win Friends and Influence People remains a standard for salespeople to this day, but [The Art of Woo] is more . . . relevant in ways that Carnegie's 70-year-old book cannot be." -Library Journal

"Many motivational books exhort readers to "sell yourself" to bosses and colleagues. This one counsels you to do so with self-awareness, finding a style that suits your strengths and weaknesses. The bottom line: woo wisely." -Time

"A fascinating book about how to pitch for gain and maintain long-term client relationships that are keys to success...Essential reading for anyone trying to get ahead of the pack in our competitive, global marketplace." -Robert Wolf, Former Chairman & CEO of UBS