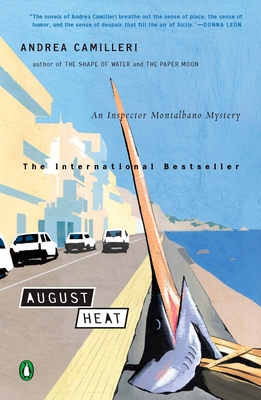 August Heat (An Inspector Montalbano Mystery #10) (Paperback)
Penguin Books, 9780143114055, 288pp.
Publication Date: February 24, 2009
* Individual store prices may vary.
Description
"You either love Andrea Camilleri or you haven't read him yet. Each novel in this wholly addictive, entirely magical series, set in Sicily and starring a detective unlike any other in crime fiction, blasts the brain like a shot of pure oxygen...transporting. Long live Camilleri, and long live Montalbano."
—A.J. Finn, #1 New York Times bestselling author of The Woman in the Window 

When a colleague extends his summer vacation, Inspector Salvo Montalbano is forced to stay in Vigàta and endure the August heat. Montalbano's long-suffering girlfriend, Livia, joins him with a friend—husband and young son in tow—to keep her company during these dog days of summer. But when the boy suddenly disappears into a narrow shaft hidden under the family's beach rental, Montalbano, in pursuit of the child, uncovers something terribly sinister. As the inspector spends the summer trying to solve this perplexing case, Livia refuses to answer his calls-and Montalbano is left to take a plunge that will affect the rest of his life.

Fans of the Sicilian inspector as well as readers new to the popular series will enjoy following the melancholy but unflinchingly moral Montalbano as he undertakes one of the most shocking investigations of his career.
About the Author
Andrea Camilleri is the bestselling author of the popular Inspector Montalbano Mystery series, as well as a number of historical novels that take place in Sicily. He lives in Italy.

Stephen Sartarelli is an award-winning translator and poet who lives in France.
Praise For August Heat (An Inspector Montalbano Mystery #10)…
Praise for Andrea Camilleri and the Montalbano Series

"Camilleri's Inspector Montalbano mysteries might sell like hotcakes in Europe, but these world-weary crime stories were unknown here until the oversight was corrected (in Stephen Sartarelli's salty translation) by the welcome publication of The Shape of Water…This savagely funny police procedural…prove[s] that sardonic laughter is a sound that translates ever so smoothly into English."—The New York Times Book Review

"Hailing from the land of Umberto Eco and La Cosa Nostra, Montalbano can discuss a pointy-headed book like Western Attitudes Toward Death as unflinchingly as he can pore over crime-scene snuff photos. He throws together an extemporaneous lunch of shrimp with lemon and oil as gracefully as he dodges advances from attractive women."—Los Angeles Times

"[Camilleri's mysteries] offer quirky characters, crisp dialogue, bright storytelling—and Salvo Montalbano, one of the most engaging protagonists in detective fiction…Montalbano is a delightful creation, an honest man on Siciliy's mean streets."—USA Today

"Camilleri is as crafty and charming a writer as his protagonist is an investigator."—The Washington Post Book World

"Like Mike Hammer or Sam Spade, Montalbano is the kind of guy who can't stay out of trouble…Still, deftly and lovingly translated by Stephen Sartarelli, Camilleri makes it abundantly clear that under the gruff, sardonic exterior our inspector has a heart of gold, and that any outburst, fumbles, or threats are made only in the name of pursuing truth."—The Nation

"Camilleri can do a character's whole backstory in half a paragraph."—The New Yorker

"Subtle, sardonic, and molto simpatico: Montalbano is the Latin re-creation of Philip Marlowe, working in a place that manages to be both more and less civilized than chandler' Los Angeles."—Kirkus Reviews (starred)