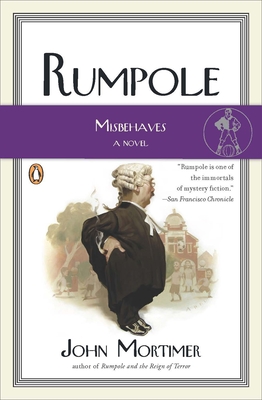 Rumpole Misbehaves (Paperback)
Penguin Books, 9780143114116, 196pp.
Publication Date: November 25, 2008
Description
The next novel in the Rumpole series from the beloved and bestselling master of the court
The Rumpole novels have garnered legions of fans who show no sign of abandoning their favorite curmudgeonly British barrister. Now in Rumpole Misbehaves, our hero takes on nothing less than the New Labour government when their ridiculous new Anti- Social Behavior Orders land a Timson child in front of the bench for playing soccer on a posh London street. However, Rumpole quickly discovers that the complainant is hiding some nefarious secrets of her own. As he investigates the murder of a prostitute with links to white slavery and unscrupulous dealings in a government department, Rumpole must also wrangle with his fellow barristers as they threaten him with an ASBO for bringing food, wine, and small cigars into his room in chambers.
About the Author
John Mortimer is a playwright, novelist, and former practicing barrister who has written many film scripts as well as stage, radio, and television plays, the Rumpole plays, for which he received the British Academy Writer of the Year Award, and the adaptation of Evelyn Waugh s Brideshead Revisited. He is the author of twelve collections of Rumpole stories and three acclaimed volumes of autobiography."
Advertisement