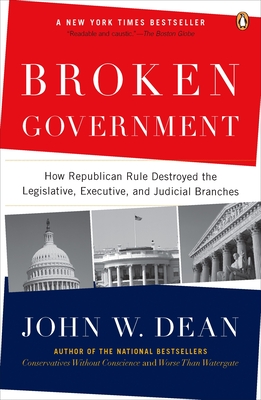 Broken Government (Paperback)
How Republican Rule Destroyed the Legislative, Executive, and Judicial Branches
Penguin Books, 9780143114215, 332pp.
Publication Date: October 7, 2008
Description
The concluding volume of The New York Times bestselling trilogy
One of today's most outspoken and respected political commentators asks: How can our democracy function when the key institutions of government no longer operate as intended by the Constitution? Stepping back to assess three decades of nearly continuous Republican rule, John W. Dean surveys the damage done to the three branches of government and traces their decline through the presidencies of Nixon, Ford, Reagan, Bush I, and Bush II. Speaking to what the average moderate citizen can do to combat extremism, authoritarianism, incompetence, and the Republicans' deliberate focus on polarizing social issues, Broken Government is a must-have book for voters this election year.
About the Author
John Dean was White House legal counsel to President Nixon for a thousand days. Dean also served as chief minority counsel for the House Judiciary Committee and as an associate deputy attorney general in the U.S. Department of Justice.
Praise For Broken Government: How Republican Rule Destroyed the Legislative, Executive, and Judicial Branches…
"Broken Government examines, with great precision and even greater urgency . . . 'how Republican rule destroyed the legislative, executive, and judicial branches.'"—The Boston Globe
Advertisement