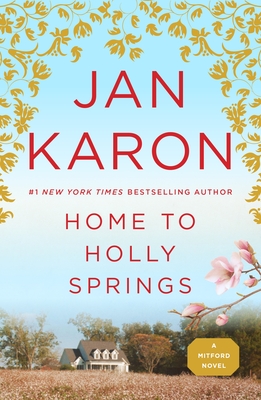 Home to Holly Springs (A Mitford Novel #10)
Paperback

* Individual store prices may vary.
Other Editions of This Title:
Digital Audiobook (10/29/2007)
Compact Disc (10/30/2007)
Hardcover, Large Print (11/1/2007)
Hardcover (11/1/2007)
Description
Join Father Tim on a profoundly personal journey back to his childhood home in this charming novel in #1 New York Times bestselling author Jan Karon's Mitford series.
 
Thirty-eight years have passed since Father Tim Kavanagh left his Mississippi hometown, determined not to return. Then he receives a handwritten note postmarked Holly Springs. Cryptic and unsigned, it says only Come home. These two words compel him to make the most challenging journey of his life.

Traveling to his boyhood home doesn't merely take Father Tim across hundreds of miles. Thanks to a thousand sights and smells, he also travels back through memories—some fond and some he's tried for nearly forty years to forget, from his quick-to-anger father and his lovingly tender mother to the picturesque small town he'd tried desperately to leave behind. And once Father Tim discovers who was behind the mysterious note, a truth is revealed that will change his life—forever.
Praise For Home to Holly Springs (A Mitford Novel #10)…
"Mitford fans, rejoice! . . . Father Tim answers the summons—and learns that you can go home again."—The Washington Post

"Lovely . . . This is Karon's most emotionally complex novel."—USA Today

"Karon holds varying aspects of humanity up to the light, from staggering cruelty . . . to the awesome power of love and forgiveness."—The Atlanta Journal-Constitution

"Mitford fans will enjoy this newest visit with wise, winsome, lovable Father Tim."—Publishers Weekly
G.P. Putnam's Sons, 9780143114390, 384pp.
Publication Date: October 28, 2008
About the Author
Jan Karon, born Janice Meredith Wilson in the foothills of North Carolina, was named after the title of a popular novel, Janice Meredith.

Jan wrote her first novel at the age of ten. "The manuscript was written on Blue Horse notebook paper, and was, for good reason, kept hidden from my sister. When she found it, she discovered the one curse word I had, with pounding heart, included in someone's speech. For Pete's sake, hadn't Rhett Butler used that very same word and gotten away with it? After my grandmother's exceedingly focused reproof, I've written books without cussin' ever since."

Several years ago, Karon left a successful career in advertising to move to the mountain village of Blowing Rock, North Carolina, and write books. "I stepped out on faith to follow my lifelong dream of being an author," she says."I made real sacrifices and took big risks. But living, it seems to me, is largely about risk."

Enthusiastic booksellers across the country have introduced readers of all ages to Karon's heartwarming books. At Home in Mitford, Karon's first book in the Mitford series, was nominated for an ABBY by the American Booksellers Association in 1996 and again in 1997. Bookstore owner, Shirley Sprinkle, says, "The Mitford Books have been our all-time fiction bestsellers since we went in business twenty-five years ago. We've sold 10,000 of Jan's books and don't see any end to the Mitford phenomenon."
Which of the two men, Jim Houck or Father Tim, do you think benefited more from the truth about what happened between their fathers: Father Tim learning the truth about what happened or Jim finally being able to tell him the truth?
What do you think Matthew Kavanagh's last words meant?
Father Tim is surprised that the courthouse was as large as he remembered it. Discuss times you revisited places from your childhood only to discover that things were different than you recalled.
When young Timothy Kavanagh uses a racist epithet, he's told to read First Corinthians 12:13, which says, "For we were all baptized by one Spirit into one body—whether Jews or Greeks, slave or free—and we were all given the one Spirit to drink." How do you think it was so easy for people to profess their Christianity while still embracing racism?
Father Tim reflects that since returning to Holly Springs, "his own bear had lumbered up to the wagon." Discuss what he meant. With what other bears are the characters in this book struggling?
Discuss the instances in Home to Holly Springs where the sins of the father are passed on to the son. Father Tim's father was a distant and strict person prone to bouts of depression. Why do you think Father Tim's parenting style wasn't negatively affected by how his father treated him?
Father Tim wanted to ask his dad, "Why do you hate me?" How do you think he would have reacted if the question had been posed?
As in Jan Karon's previous novels, food and fellowship go hand in hand. Discuss a few examples in the book where events and people are directly tied to food. What are the foods that you associate with childhood memories or other specific times in your life? Have you carried on those traditions?
Several people in the book say it's a must to see Graceland before one dies. What are your must-visit destinations?
Do you think the favor Peggy asks of Father Tim is selfish? What would you have done if you were in Father Tim's shoes?