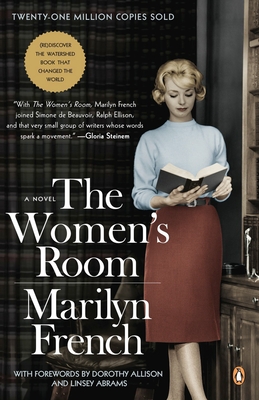 The Women's Room
A Novel
Paperback

* Individual store prices may vary.
Description
The twenty-one-million copy bestselling novel and provocative feminist classic that changed the world when it was first published in 1977

"With The Women's Room, Marilyn French joined Simone de Beauvoir, Ralph Ellison, and that very small group of writers whose words spark a movement." —Gloria Steinem

In the 1950s, many American women left education and professional advancement behind in order to marry, only to find themselves adrift and unable to support themselves after divorcing their husbands twenty years later. Some became destitute; a few went insane. But many went back to school in the heyday of the Women's Liberation movement, and were swept up in the promise of equality for both sexes.

The Women's Room tells the story of one such woman: a suburban 1950s housewife named Mira who divorces her loathsome husband and returns to graduate school at Harvard. Loosely based on Marilyn French's own life, the story of Mira and her friends offers wry, piercing insight into the inner lives of a generation of American women. A powerful indictment of the patriarchal social norms of the time, it caused an uproar when it was first published in 1977, changing the course of the feminist movement forever. Today, it remains timely and eerily relevant—a courageous novel infused with revolutionary fervor that examines the world of hopeful believers looking for new truths.
Praise For The Women's Room: A Novel…
"An experience not to be missed." 
—San Francisco Chronicle

"I kept forgetting it was fiction . . . [French's] women pulse with life and individuality."
—The New York Times

"A book with such honesty, humor, tough sad wisdom and stylistic surety that it speaks from a place where every woman may have been but few have ever articulated . . . Exciting . . . Far-reaching . . . As raggedly true as life . . . I can't think of one novel that has affected me the way The Women's Room has!"
—The Boston Globe

"An important fictional account of a whole generation of women . . . Arresting, very real and poignant."
—The Cleveland Plain Dealer

"I know these women. I've held their hands when their marriages fell apart and cried in their arms when mine did. . . . The characters in The Women's Room are my friends and I love them immeasurably. The book accomplishes for my generation what Doris Lessing's The Golden Notebook did for hers."
—The Baltimore Sun

"The kind of book that changes lives."
—Fay Weldon

"[The Women's Room] seized me by my preconceptions and I kept struggling and arguing with its premises. 'Men can't be that bad,' I kept wanting to shout at the narrator. 'There must be room for accommodation between the sexes that you've somehow overlooked.' And the damnable thing is, she's right."
—Christopher Lehmann-Haupt, The New York Times

"Today's Desperate Housewives eat your heart out! This is the original and still the best, a page-turner that makes you think."
—Kate Mosse, bestselling author of Labyrinth

"Courageous . . . honest . . . powerful. A book you'd like to give to twenty women (and perhaps anonymously, twenty men)."
—Chicago Tribune

Penguin Books, 9780143114505, 496pp.
Publication Date: May 27, 2009
About the Author
Marilyn French (1929–2009) received her doctorate from Harvard University in 1972. She was a literary critic, and her articles and stories appeared in a wide range of journals and anthologies. She taught at Hofstra, Harvard, and the College of the Holy Cross, and received a Harvard Centennial Medal.

Dorothy Allison (foreword) is the acclaimed author of the nationally bestselling novel Bastard Out of Carolina, which was a finalist for the 1992 National Book Award. The recipient of numerous awards, she lives in Northern California.

Linsey Abrams (foreword) has published three novels: Charting the Stars, Double Vision, and Our History in New York.