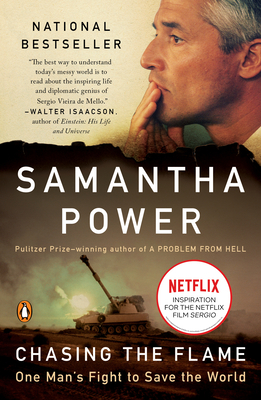 Chasing the Flame
One Man's Fight to Save the World
Paperback

* Individual store prices may vary.
Description
Now a Netflix biopic, Sergio, with Narcos star Wagner Moura playing diplomat Sergio Vieira de Mello.

"The best way to understand today's messy world is to read about the inspiring life and diplomatic genius of Sergio Vieira de Mello." –Walter Isaacson

Before his death in 2003 in Iraq's first major suicide bomb attack, Sergio Vieira de Mello--a humanitarian and peacemaker with the United Nations--placed himself at the center of the most significant geopolitical crises of the last half-century. He cut deals with the murderous Khmer Rouge in Cambodia, forcibly confronted genocidal killers from Rwanda, and used his intellect and charisma to try to tame militant extremists in Lebanon, Afghanistan, and Iraq. Known as a "cross between James Bond and Bobby Kennedy," Vieira de Mello managed to save lives in the world's most dangerous places, while also pressing the world's most powerful countries to join him in grappling with such urgent dilemmas as: When should killers be engaged, and when should they be shunned? When is military force justified? How can outsiders play a role in healing broken people and broken places? He did not have the luxury of merely posing these questions; Vieira de Mello had to find answers, apply them, and live with the consequences.

With Chasing the Flame, Pulitzer Prize winner and author of The Education of an Idealist Samantha Power offers a profile in courage and humanity--and an unforgettable meditation on how best to manage the deadly challenges of the twenty-first century.
Praise For Chasing the Flame: One Man's Fight to Save the World…
"Surely the life and death of Sergio Vieira de Mello is a good place to begin a serious debate about the proper way to manage world order in the future."
- Francis Fukuyama, The New York Times Book Review

"The strength of the book lies in Power's use of Vieira de Mello's life (and death) as a well-placed window on the international community's successes and failures.... An ambitious effort...[that] succeeds brilliantly"
-James Mann, The Washington Post

"Her book [has] the dramatic quality of a leaked memo. . . . Sergio Vieira de Mello, with his flaws and heroism, represents us at our best and at our most helpless."
-Paul Berman, Slate

"[A] detailed and sympathetic biography . . . thoughtful."
-The Economist

"Power presents a fiercely precise, extraordinary dramatic biography. . . . Strongly argued, lacerating, and utterly human, this invaluable history will be the catalyst for soul searching and debate."
-Booklist

"Deeply and impressively reported."
-Tim Rutten, Los Angeles Times

"Chasing the Flame is an impressively researched book. Power's notes include references to more than 400 interviews, and she cites everything from interoffice emails to Vieira de Mello's high school term papers. Casting a wide net provides Power with memorable details that capture Vieira de Mello's charisma and complexity: a bottle of Johnny Walker hidden in his desk, a plastic bag full of foreign coins for payphones . . . she nimbly excavates colorful artifacts from Vieira de Mello's life."
- San Francisco Chronicle

"A masterful biography."
-Marie Claire

"In meticulous, unsentimental prose, Power portrays Vieira de Mello not as a martyr but as a man who knew too much, a tragic emblem of squandered opportunities in Iraq. . . . In eloquently asking who will keep [the flame] alive, Power proves herself a worthy candidate."
-Vogue

"Chasing the Flame is a brilliantly researched biography about an extraordinary man."
-The Times (UK)

"Power, who combines humanitarian passion and a girlish capacity for hero- worship with analytical rigor, a clear prose style and a gift for narrative, has written a remarkable book. It is not only a gripping story, which takes on the awful fascination of a Greek tragedy as it approaches the catastrophic ending. . . . It also forces the reader to think about some of the most uncomfortable issues in contemporary politics, without offering an easy or simple solution."
-The Guardian (UK)

"A compelling work, culminating in a brilliant and moving reconstruction of Vieira de Mello's doomed last mission in Iraq, and the frantic, disorganized rescue efforts to pull survivors from the bombed-out Canal Hotel as his life seeped away in the rubble."
-The Times Literary Supplement (UK)
Penguin Books, 9780143114857, 656pp.
Publication Date: December 2, 2008
About the Author
Samantha Power is the Anna Lindh Professor of the Practice of Global Leadership and Public Policy at Harvard Kennedy School and the William D. Zabel Professor of Practice in Human Rights at Harvard Law School. From 2013 to 2017, Power served in the Cabinet of President Barack Obama and as US Ambassador to the United Nations. From 2009 to 2013, Power worked on the National Security Council as Special Assistant to the President for Multilateral Affairs and Human Rights. Power's book "A Problem from Hell": America and the Age of Genocide won the Pulitzer Prize in 2003. She is also the author of the New York Times bestselling memoir The Education of an Idealist. Power began her career as a journalist reporting from countries including Bosnia, East Timor, Rwanda, and Sudan, and she has been named by TIME as one of the world's 100 Most Influential People and by Forbes as one of the World's 100 Most Powerful Women. She immigrated to the United States from Ireland as a child, and lives in Massachusetts with her husband, Cass Sunstein, and their two children.