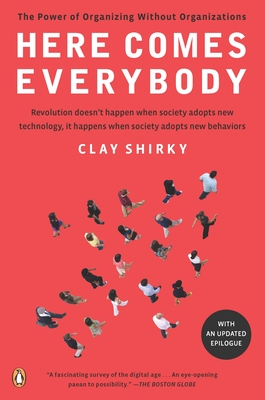 Here Comes Everybody: The Power of Organizing Without Organizations (Paperback)
The Power of Organizing Without Organizations
Penguin Books, 9780143114949, 344pp.
Publication Date: March 1, 2009
Description
An extraordinary exploration of how technology can empower social and political organizers
For the first time in history, the tools for cooperating on a global scale are not solely in the hands of governments or institutions. The spread of the internet and mobile phones are changing how people come together and get things done--and sparking a revolution that, as Clay Shirky shows, is changing what we do, how we do it, and even who we are. Here, we encounter a whoman who loses her phone and recruits an army of volunteers to get it back from the person who stole it. A dissatisfied airline passenger who spawns a national movement by taking her case to the web. And a handful of kids in Belarus who create a political protest that the state is powerless to stop. Here Comes Everybody is a revelatory examination of how the wildfirelike spread of new forms of social interaction enabled by technology is changing the way humans form groups and exist within them. A revolution in social organization has commenced, and Clay Shirky is its brilliant chronicler.
"Drawing from anthropology, economic theory and keen observation, Shirky] makes a strong case that new communication tools are making once-impossible forms of group action possible . . . an] extraordinarily perceptive new book." -Minneapolis Star Tribune
"Mr. Shirky writes cleanly and convincingly about the intersection of technological innovation and social change." -New York Observer
About the Author
Clay Shirky teaches at the Interactive Telecommunications Program at NYU, where he researches the interrelated effects of our social and technological networks. He has consulted with a variety of Fortune 500 companies working on network design, including Nokia, Lego, the BBC, Newscorp, Microsoft, as well as the Library of Congress, the U.S. Navy, and the Libyan government. His writings have appeared in the New York Times, the Wall Street Journal, the Times of London, Harvard Business Review, Business 2.0, and Wired, and he is a regular keynote speaker at tech conferences. Mr. Shirky lives in Brooklyn.
Advertisement