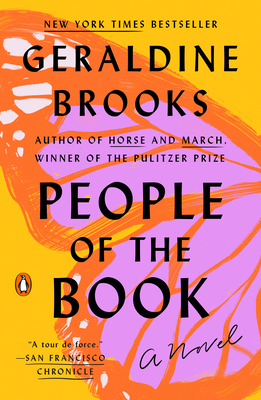 People of the Book
A Novel
Paperback

* Individual store prices may vary.
Other Editions of This Title:
Digital Audiobook (12/31/2007)
Paperback, Spanish (9/1/2008)
Audio Cassette (1/1/2008)
Hardcover (1/1/2008)
Paperback (10/1/2009)
Compact Disc (1/1/2008)
Compact Disc (1/1/2008)
MP3 CD (1/1/2008)
Compact Disc (2/1/2012)
Spring/Summer '09 Reading Group List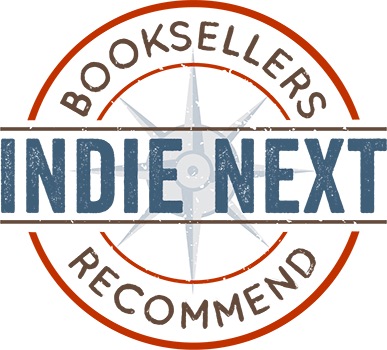 "Geraldine Brooks uses the Sarajevo Haggadah as the centerpiece for another brilliant historical novel. The history of the beautifully illustrated book is the basis for a journey through multiple eras, portraying the trials and travails of European Jews through the centuries. A must for lovers of books and great fiction."
— Bill Cusumano, Nicola's Books, Ann Arbor, MI
View the List
Description
The bestselling novel that follows a rare manuscript through centuries of exile and war, from the author of The Secret Chord and of March, winner of the Pulitzer Prize.

Inspired by a true story, People of the Book is a novel of sweeping historical grandeur and intimate emotional intensity by an acclaimed and beloved author. Called "a tour de force" by the San Francisco Chronicle, this ambitious, electrifying work traces the harrowing journey of the famed Sarajevo Haggadah, a beautifully illuminated Hebrew manuscript created in fifteenth-century Spain. When it falls to Hanna Heath, an Australian rare-book expert, to conserve this priceless work, the series of tiny artifacts she discovers in its ancient binding—an insect wing fragment, wine stains, salt crystals, a white hair—only begin to unlock its deep mysteries and unexpectedly plunges Hanna into the intrigues of fine art forgers and ultranationalist fanatics.
Praise For People of the Book: A Novel…
Praise for People of the Book:

"There's romance between Brooks and the world, and her writing is as full of heart and curiosity as it is intelligence and judgement."
—The Boston Globe

"Intelligent, thoughtful, gracefully written, and original . . . Brooks tells a believable and engaging story."
—The Washington Post

"Intense, gripping . . . People of the Book, like her Pulitzer Prize–winning previous novel March, is a tour de force that delivers a reverberating lesson gleaned from history. . . . It's a brilliant, innately suspenseful structure, and one that allows Brooks to show off her remarkable aptitude for assimilating research and conveying a wide range of settings. Also on full display is her keen sense of dramatic pacing."
—San Francisco Chronicle

"[A] marvelously intertwined narrative, with one strand tied to the contemporary world and the other leading us back into European history, into wars and inquisitions and family tragedies, all of this making up avidly narrated, powerfully emotional quest."
—The Dallas Morning News

"Richly imagined and at times almost unbearably exciting. . . . An ambitious book, a pleasure to read, and wholly successful in its attempt to give a sense of how miraculous, unlikely, and ultimately binding the history of objects can be."
—Star Tribune (Minneapolis)
Penguin Books, 9780143115007, 416pp.
Publication Date: December 30, 2008
About the Author
Geraldine Brooks is the author of four novels, the Pulitzer Prize–winning March and the international bestsellers Caleb's Crossing, People of the Book, and Year of Wonders. She has also written the acclaimed nonfiction works Nine Parts of Desire and Foreign Correspondence. Her most recent novel, Caleb's Crossing, was the winner of the New England Book Award for Fiction and the Christianity Today Book Award, and was a finalist for the Langum Prize in American Historical Fiction. Born and raised in Australia, she lives on Martha's Vineyard with her husband, the author Tony Horwitz.
1. When Hanna implores Ozren to solicit a second opinion on Alia's condition, he becomes angry and tells her, "Not every story has a happy ending." (p. 37) To what extent do you believe that their perspectives on tragedy and death are cultural? To what extent are they personal?
2. Isak tells Mordechai, "At least the pigeon does no harm. The hawk lives at the expense of other creatures that dwell in the desert." (p.50) If you were Lola, would you have left the safety of your known life and gone to Palestine? Is it better to live as a pigeon or a hawk? Or is there an alternative?
3. When Father Vistorni asks Rabbi Judah Ayreh to warn the printer that the Church disapproves of one of their recently published texts, Ayreh tells him, "better you do it than to have us so intellectually enslaved that we do it for you." (p. 156) Do you agree or disagree with his argument? With the way he handled Vistorni's request?
4. What was it, ultimately, that made Father Vistorini approve the haggadah? Since Brooks leaves this part of the story unclear, how do you imagine it made its way from his rooms to Sarajevo?
5. Several of the novel's female characters lived in the pre-feminist era and certainly fared poorly at the hands of men. Does the fact that she was pushing for gender equality—not to mention saving lives—justify Sarah Heath's poor parenting skills? Would women's rights be where they are today if it weren't for women like her?
6. Have you ever been in a position where your professional judgment has been called into question? How did you react?
7. Was Hanna being fair to suspect only Amitai of the theft? Do you think charges should have been pressed against the culprits?
8. How did Hanna change after discovering the truth about her father? Would the person she was before her mother's accident have realized that she loved Ozren? Or risked the dangers involved in returning the codex?
9. There is an amazing array of "people of the book"—both base and noble—whose lifetimes span some remarkable periods in human history. Who is your favorite and why?