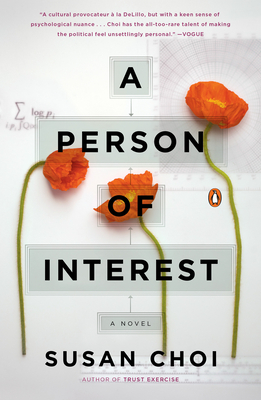 A Person of Interest
A Novel
Paperback

* Individual store prices may vary.
Other Editions of This Title:
Digital Audiobook (1/30/2008)
MP3 CD (2/1/2008)
Compact Disc (2/1/2008)
Description
A compelling story of a mad bomber, a suspect scientist, and paranoia in the age of terror from the National Book Award-winning author of Trust Exercise and My Education

Professor Lee, an Asian-born mathematician near retirement age would seem the last person to attract the attention of FBI agents. Yet after a colleague becomes the latest victim of a serial bomber, Lee must endure the undermining power of suspicion and face the ghosts of his past.
With its propulsive drive, vividly realized characters, and profound observations about soul and society, Pulitzer Prize-finalist Susan Choi's third novel is as thrilling as it is lyrical, and confirms her place as one of the most important novelists chronicling the American experience. Intricately plotted and psychologically acute, A Person of Interest exposes the fault lines of paranoia and dread that have fractured American life and asks how far one man must go to escape his regrets.
Praise For A Person of Interest: A Novel…
"A tour de force . . . universal and raw and irresistibly sympathetic."
-The Washington Post Book World

"With nuance, psychological acuity, and pitch-perfect writing, she tells the large-canvas story of paranoia in the age of terror and the smaller (but no less important) story of the cost of failed dreams and the damage we do to one another in the name of love."
-Los Angeles Times

"Read A Person of Interest for one of the best reasons to read any fiction: to transcend the limitations of our own lives, to find out what it's like to be someone else, to recognize unmistakable aspects of ourselves staring back at us from the portrait of a stranger."
-Francine Prose, The New York Times Book Review
Penguin Books, 9780143115021, 368pp.
Publication Date: January 27, 2009
About the Author
Susan Choi is the author of the novels Trust Exercise (winner of the National Book Award), The Foreign Student, American Woman (a finalist for the Pulitzer Prize), A Person of Interest, and My Education. She has also won the PEN/W.G. Sebald Award and the Asian-American Literary Award for fiction. The recipient of NEA and Guggenheim Foundation fellowships, she lives in Brooklyn.
In their minds, Lee's neighbors and coworkers convict him of Hendley's murder because they find his reaction to the bombing inappropriate. What explains the willingness of the community to equate social obtuseness with criminal guilt?
Although Lee is not guilty of any crime, his thoughts do not stand up too well under moral scrutiny. His inner life is one of fear, jealousy, guilty desire, and imperfectly repressed aggression. Although he is in some ways a victim of injustice, can the argument be made that he deserves the ill treatment that he sometimes gets?
Does Lee's character change over the course of the novel? What, if any, are the durable lessons that he learns?
Many of the main characters in A Person of Interest are shaped by either their passionate belief or firm disbelief in God. Choi's narrative suggests that theistic belief is no guarantee of unerring virtue, nor is its absence a clear sign of moral badness. How does religiosity or its absence affect the moral judgments and personalities of Choi's characters?
Although some of his actions toward the end of the novel appear to atone for his earlier lapses in judgment, Lee's redemption remains far from unambiguous. What issues regarding Lee's redemption remain uncertain at the end of the novel?
How does Choi view the academic profession? What critiques of it does she offer, and how does it serve her as an object for satire?
Mark Gaither lives the first thirty years of his life believing in a fictitious past that his father and stepmother have manufactured for him. Is there any way to excuse the lies that they tell him?
Mark and his friend Gene argue about how important it is to know one's parents in order to know oneself. In your opinion, how essential is knowing one's family to achieving knowledge of oneself?
Aileen Gaither Lee, one of the most sympathetic characters in A Person of Interest, is destroyed by the strange fortunes of her romantic life. To what extent does she choose the path that leads to her downfall, and to what extent does her tragedy seem inevitable? What emotions and motivations seem most important in her life, and how blameworthy do you find them?
Lee's friend Frank Fusano observes that it is never good to be a "tall poppy," that is, someone who rises to the highest levels of achievement. Nevertheless, Lee, an undistinguished math professor, often reproaches himself for his lack of exceptional accomplishments. What thoughts does Choi express about the tradeoffs between being exceptional and being mediocre?
One of Choi's characters observes, "There is some relief in becoming old men." Yet Lee asserts that, as we age, the most rigid, least desirable aspects of ourselves can come to dominate our personalities. What are Choi's ideas about the experience of growing old?
The popular condemnation of Professor Lee is strongly abetted by the interventions of the news media. What critique of the media does Choi put forward in A Person of Interest? Do you consider her portrayal of the media to be fair and accurate?
or
Not Currently Available for Direct Purchase