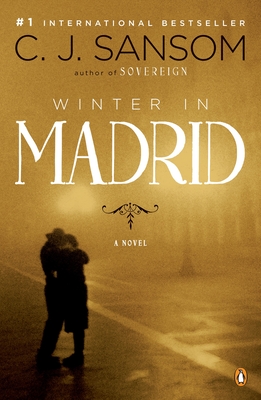 Winter in Madrid (Paperback)
Penguin Books, 9780143115137, 537pp.
Publication Date: February 1, 2009
Description
A #1 internationally bestselling novel set in post-Civil War Spain by the author of Dominion and the Matthew Shardlake Tudor Mystery seriesSeptember 1940: the Spanish Civil War is over, Madrid lies in ruin, while the Germans continue their march through Europe, and General Franco evades Hitler's request that he lead his broken country into yet another war. Into this uncertain world comes a reluctant spy for the British Secret Service, sent to gain the confidence of Sandy Forsyth, an old school friend turned shady Madrid businessman. Meanwhile, an ex-Red Cross nurse is engaged in a secret mission of her own. Through this dangerous game of intrigue, C. J. Sansom's riveting tale conjures a remarkable sense of history unfolding and the profound impact of impossible choices.
About the Author
C. J. Sansom, the internationally bestselling author of the novels Winter in Madrid and Dominion and the Matthew Shardlake Tudor Mystery series, earned a Ph.D. in history and was a lawyer before becoming a full-time writer.
Praise For Winter in Madrid…
"It comes as no surprise to learn that Sansom's novel spent month after month on London's bestseller lists."
-The Philadelphia Inquirer

"There are touches of Graham Greene; Hemingway's here, too. . . . But Sansom transfigures his sources into a moral universe very much his own."
-The Independent (U.K.)

"Sansom [proves] real noir is best when lit with flashes of wit."
-Publishers Weekly

"Sansom can lay claim to a place among the best distinguished of modern historical novelists."
-P. D. James
Institutions loom large in the book, from public school (which is the equivalent of private school in the US), to the Communist party, to the Catholic Church. How do the main characters reinforce and/or defeat them?
Bernie begins the book as a devoted Communist, yet eventually becomes disillusioned with its ideology. Disillusionment with the Catholic Church also plays a large role in the book. Why does the author juxtapose the two? What are the dangers of ideology?
The threat of approaching winter permeates the book. What does the cold weather symbolize? Why did the author choose to set the book during the winter?
Each of the book's main characters is tempted by corruption and bribery. Is corruption a by-product of war? Can corruption ever be positive?
Bernie is a fervent believer in communism and also an atheist. Yet in the labor camp, he is threatened by the power-hungry Estalbo, a fellow prisoner and Communist, and shown kindness by Father Eduardo, a Catholic priest. Why did the author choose to upend Bernie's perceived notions of good and bad? What does Bernie learn about kindness and cruelty?
How does Harry's parentless background and experiences at Dunkirk shape his character? Is his reluctance to spy on Sandy justified?
Have you read any other novels about the Spanish Civil War? How does this book compare?
Bernie and Sandy are very different characters, yet Barbara forms a relationship with both of them. What draws her to each? Is her relationship with Sandy believable? Why or why not?
Harry, Sandy and Bernie are all classmates at Rookwood, but each of them has a vastly different experience at the school. Why did the author choose to connect Sandy, Harry and Bernie in this way? How do their experiences at Rookwood define them as characters?
How do you feel about the book's conclusion?
Advertisement