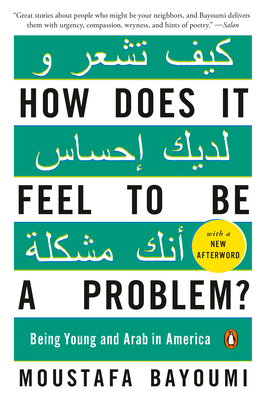 How Does It Feel to Be a Problem?: Being Young and Arab in America (Paperback)
Being Young and Arab in America
Penguin Books, 9780143115410, 290pp.
Publication Date: July 1, 2009
Description
An eye-opening look at how young Arab- and Muslim- Americans are forging lives for themselves in a country that often mistakes them for the enemy Just over a century ago, W.E.B. Du Bois posed a probing question in his classic The Souls of Black Folk How does it feel to be a problem? Now, Moustafa Bayoumi asks the same about America's new "problem"-Arab- and Muslim-Americans. Bayoumi takes readers into the lives of seven twenty-somethings living in Brooklyn, home to the largest Arab-American population in the United States. He moves beyond stereotypes and cliches to reveal their often unseen struggles, from being subjected to government surveillance to the indignities of workplace discrimination. Through it all, these young men and women persevere through triumphs and setbacks as they help weave the tapestry of a new society that is, at its heart, purely American.
About the Author
Moustafa Bayoumi was born in Zurich, Switzerland, and raised in Canada. He earned his Ph.D. at Columbia University and is an associate professor of English at Brooklyn College, the City University of New York. He is coeditor of The Edward Said Reader, and his essays have appeared in The Best Music Writing 2006, The Nation, The London Review of Books, The Village Voice, and other publications. He is also the author of This Muslim American Life: Dispatches from the War on Terror. He lives in Brooklyn, New York.
Advertisement