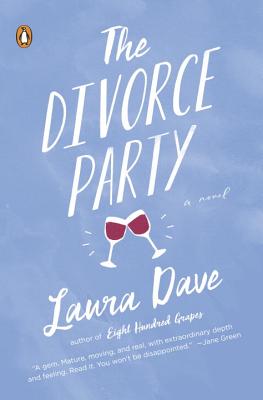 The Divorce Party (Paperback)
A Novel
Penguin Books, 9780143115601, 272pp.
Publication Date: April 28, 2009
Other Editions of This Title:
Hardcover (5/15/2008)
Compact Disc (5/15/2008)
MP3 CD (8/18/2015)
Compact Disc (5/15/2008)
Hardcover, Large Print, Large Print (10/1/2008)
MP3 CD (5/15/2008)
MP3 CD (5/15/2008)
* Individual store prices may vary.
Description
"Sizzle Factor: SPF 50. A secret marriage, lies about affairs . . . even sex on the day of the divorce party" (USA Today)

The second novel from Laura Dave, the acclaimed author of Eight Hundred Grapes and Hello Sunshine. In The Divorce Party, she captures a much-discussed cultural phenomenon that has never been profiled in fiction before-divorce celebrations-with her characteristic wit and warmth. Set in Hamptons high society, The Divorce Party features two women-one newly engaged and one at the end of her marriage-trying to answer the same question: when should you fight to save a relationship, and when should you let go?

An insightful and funny multi-generational story, this deeply moving novel is sure to touch anyone whose heart has weathered an unexpected storm.
About the Author
Laura Dave is the international bestselling author of Eight Hundred Grapes, The First Husband, The Divorce Party, and London is the Best City in America. Her novels have been published in fifteen countries and optioned as major motion pictures. Dave's writing has appeared in The New York Times, Glamour, Self, Redbook, and Cosmopolitan. She lives in Santa Monica.
Praise For The Divorce Party: A Novel…
"A revealing, honest portrait of how love binds us together-and drives us apart."
-Kate Jacobs, author of The Friday Night Knitting Club

" Events unfold over the course of a day, but the lessons learned have their roots in a lifetime."
-Elle

" Incredibly deft, utterly satisfying . . . I love every character. A triumph of a first novel!"
-Melissa Bank, author of The Girl's Guide to Hunting and Fishing

"Elegant, accessible prose and compelling portraits of relationships."
- Cosmopolitan
Nate suggests that people with some money act differently than people with a lot of money. What does he mean? If you were to come into a large sum of money, in what ways would you expect it to change you? How would you want your life to stay the same?
Gwyn seems to place most of the blame for her marital problems squarely on her husband. How much responsibility does Eve bear? Do you think Gwyn should have been harder on her? How much responsibility lies with Gwyn?
Put yourself in Maggie's shoes. Would your trust in Nate be shattered? Do you think you'd be able to overcome your uncertainty about him? Is it ever best not to know the truth?
Do you think a divorce party is a good idea? Would you hold a celebration for a divorce or a break-up? Would you attend one?
How do you see Gwyn faring? What about her husband's relationship with Eve? How do you expect it to evolve?
Should Gwyn have confronted Thomas earlier? How do you think their story would have been different?
In what ways has Maggie been affected by her mother's leaving? What about Nate and Georgia? How have they been affected by their relationships with their parents?
Do you know women like Murphy? Why do you think she would make up a crazy story and make a stranger uncomfortable? Maggie could have avoided worrying about Murphy if she'd only confronted Nate about what Murphy said. If she'd come right out and asked him, do you think Maggie would have believed Nate's denial?
Music is woven throughout The Divorce Party and is ultimately critical to the book's resolution. Why is music such an important part of love stories?
or
Not Currently Available for Direct Purchase