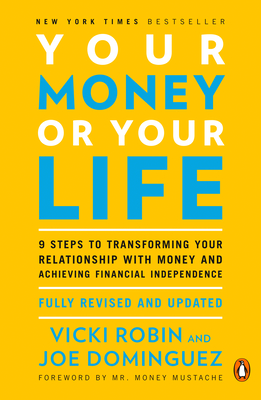 Your Money or Your Life: 9 Steps to Transforming Your Relationship with Money and Achieving Financial Independence: Revised and Updated for the (Paperback)
9 Steps to Transforming Your Relationship with Money and Achieving Financial Independence: Revised and Updated for the
Penguin Books, 9780143115762, 384pp.
Publication Date: December 10, 2008
Description
The "the best book on money period" according to Grant of Millennial Money (as featured on CNBC Make It), who followed its advice and became a self-made millionaire entrepreneur in only five years In an age of great economic uncertainty when everyone is concerned about money and how they spend what they have, this updated edition of the bestselling Your Money or Your Life is an essential read. Millennial Money's Grant explains: "The premise of it is that you exchange your time for money. And when you start thinking about how many hours of your life it took to save up the money to buy something, you really start thinking twice about your purchases." In Your Money or Your Life, Vicki Robin shows readers how to gain control of their money and finally begin to make a life, rather than just make a living. With this book, you'll learn how to: - Get out of debt and develop savings
- Save money through mindfulness and good habits, not strict budgeting
- Declutter your life and live well for less
- Invest your savings and begin creating wealth
- Save the planet while saving money
- And much more "The seminal guide to the new morality of personal money management." -Los Angeles Times
About the Author
Vicki Robin is a renowned innovator, writer, and speaker. In addition to coauthoring the bestselling Your Money or Your Life, Robin has been at the forefront of the sustainable living movement. She has received awards from Co-Op America and Sustainable Northwest and was profiled in Utne Magazine's book Visionaries: People and Ideas to Change Your Life. She is also the author of Blessing the Hands That Feed Us: What Eating Closer to Home Can Teach Us About Food, Community and Our Place on Earth. She lives on Whidbey Island in Washington. Joe Dominguez (1938-1997) was a successful financial analyst on Wall Street before retiring at the age of thirty-one by following the nine-step program he formulated for himself. He taught this formula for many years, and preserved it for future generations in Your Money or Your Life. From 1969 on, he was a full-time volunteer and donated all proceeds from his teaching to transformational projects.
Praise For Your Money or Your Life: 9 Steps to Transforming Your Relationship with Money and Achieving Financial Independence: Revised and Updated for the…
"In this time of crashing markets, soaring prices, tent cities, and melting ice caps, no book is more useful to readers and to the planet than Your Money or Your Life."
-Mary Pipher, author of The Shelter of Each Other and Seeking Peace
Advertisement