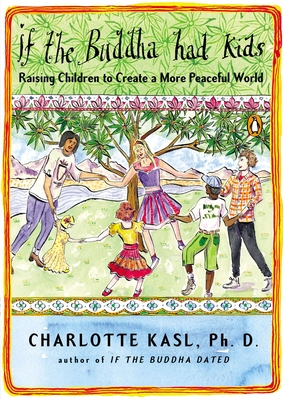 If the Buddha Had Kids (Paperback)
Raising Children to Create a More Peaceful World
Penguin Books, 9780143116318, 320pp.
Publication Date: August 29, 2012
Other Editions of This Title:
MP3 CD (9/4/2012)
Compact Disc (9/4/2012)
Compact Disc (9/4/2012)
Pre-Recorded Audio Player (9/15/2012)
* Individual store prices may vary.
Description
Zen and the art of raising children to make peace in the world . . .

In this wise and insightful volume, Charlotte Kasl applies her signature blend of spiritual guidelines, exercises, and practical advice to a stage of life that leaves many of us searching for answers. If the Buddha Had Kids draws from Buddhist, Quaker, and other spiritual traditions to help parents raise children who value cooperation, compassion, and understanding, emphasizing that finding peace within a family is the first step toward creating a peaceful world.

Beginning with creating a healthy bond with your child and moving through all stages of life, encouraging empathy, respect, fascination, and curiosity, Kasl explores the spiritual journey of parenting. She also draws on her decades of experience as a healer and practicing psychotherapist to tackle very practical concerns such as the roles of electronics, money, sexuality, and education, and what it means to find one's voice.

This lively book promises to bring inspiration, humor, and wisdom to the joys and struggles of raising children in our contemporary world, and will serve as an enlightening companion for all moms and dads.
About the Author
Charlotte Kasl, Ph.D., a practicing therapist and nationally recognized workshop leader for more than 20 years, has had lifelong connections to feminism, Buddhism, Quaker practice, and Reiki healing. The author of several books including Finding Joy, she lives in Lolo, Montana.
Praise For If the Buddha Had Kids: Raising Children to Create a More Peaceful World…
Praise for If the Buddha Dated

"[Charlotte Kasl] adds an entirely new level of understanding to our lives through love and not fear." —Geneen Roth, author of When Food is Love

"[This book] focuses not on a lot of basic how-to's or manipulations but on creating spiritual bonds. Kasl does a beautiful job weaving Eastern philosophy into modern day relationships." —Janet Luhrs, author of Simple Loving and The Simple Living Guide


Praise for If the Buddha Married

"[Kasl] brings the Buddha's wisdom to the complex world of relationships. We've all heard that marriage can be a spiritual experience; reading this book, you actually believe it." —Marianne Williamson, New York Times bestselling author of A Return to Love and A Year of Miracles

"Filled with succinct and practical advice that is immersed in spiritual wisdom." —Brenda M. Schaeffer, author of Is It Love or Is It Addiction? and Love's Way


Praise for If the Buddha Had Kids

"Dr. Kasl provides a wonderful blend of Buddhist wisdom, practical suggestions, psychological research, and her own rich perspective of being a mother.  Parents will find this book very helpful in their efforts in promoting healthy brain development." —Daniel Ladinsky, author of Love Poems from God, A Year with Hafiz, and The Purity of Desire

"This book brings the wisdom of the ages to bear to help parents inways that are extraordinarily inspiring and remarkably practical.You discover compassion for your child and compassion for yourself." —Marti Erikson, PhD, coauthor of Last Child in the Woods


Praise for If the Buddha Got Stuck

"If the Buddha Got Stuck provides a roadmap to freedom and greater possibilities. Regardless of your starting place, Kasl will help you achieve greater joy, authenticity, and peace of mind. . . . Encouraging, practical, beautifully written." —Laura Davis, author of I Thought We'd Never Speak Again and coauthor of The Courage to Heal

"Charlotte Kasl's new book overflows with insight, humor and eminently practical suggestions." —Anita Doyle, former Director of the Jeannette Rankin Peace Center, Missoula, MT

"If previous attempts to work with your life from a Western philosophical or psychological perspective encountered gaps . . . [consider this] your bridge." —Rowan Conrad, PhD, Director, Open Way Mindfulness Center

"If The Buddha Got Stuck brings perspective, inspiring stories, and useful exercises to feel less overwhelmed by life's difficulties." —Lisa M. Najavits, Ph.D., Associate Professor in Psychiatry, Harvard Medical School and author of Seeking Safety: A Treatment Manual for PTSD and Substance Abuse