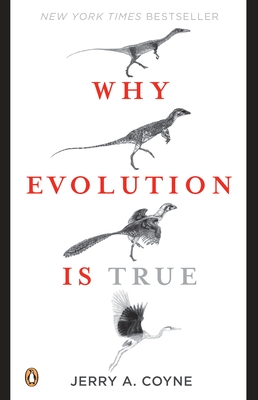 Why Evolution Is True
Paperback

* Individual store prices may vary.
Other Editions of This Title:
MP3 CD (11/18/2014)
Hardcover (1/22/2009)
Compact Disc (11/20/2012)
Description
"Coyne's knowledge of evolutionary biology is prodigious, his deployment of it as masterful as his touch is light." -Richard Dawkins

In the current debate about creationism and intelligent design, there is an element of the controversy that is rarely mentioned-the evidence. Yet the proof of evolution by natural selection is vast, varied, and magnificent. In this succinct and accessible summary of the facts supporting the theory of natural selection, Jerry A. Coyne dispels common misunderstandings and fears about evolution and clearly confirms the scientific truth that supports this amazing process of change. Weaving together the many threads of modern work in genetics, paleontology, geology, molecular biology, and anatomy that demonstrate the "indelible stamp" of the processes first proposed by Darwin, Why Evolution Is True does not aim to prove creationism wrong. Rather, by using irrefutable evidence, it sets out to prove evolution right.
Praise For Why Evolution Is True…
"Coyne's book is the best general explication of evolution that I know of and deserves its success as a best seller."
-R.C. Lewontin, New York Review of Books

"[Coyne] makes an unassailable case."
-New York Times

"In nine crisp chapters...the respected evolutionary biologist lays out an airtight case that Earth is unspeakably old and that new species evolve from previous ones."
-Boston Globe

"I recommend that Mr. Coyne's insightful and withering assessment of evolutionary studies of human psychology and behavior be taped to the bathroom mirrors of all those (perhaps especially journalists) inclined to be swept into excited announcements of What Evolution Shows About Us."
-Philip Kitcher, Wall Street Journal

"With logic and clarity, Coyne presents the vast trove of scientific evidence that supports Darwin's theory."
-Cleveland Plain Dealer

"It's always a pleasure to tell people about a wonderful book, especially when the subject of the book is of universal and critical importance. Evolutionary geneticist Jerry A. Coyne has given us such a book...A book that may change the way you look at things-if you dare."
-The Huffington Post

"In this 200th anniversary year of Darwin's birth, Why Evolution is True ranks among the best new titles flooding bookstores."
-Christian Science Monitor
Penguin Books, 9780143116646, 304pp.
Publication Date: January 26, 2010
About the Author
Jerry A. Coyne is Professor Emeritus in the Department of Ecology and Evolution at the University of Chicago, where he specialized in evolutionary genetics. He is also the author of Faith Versus Fact: Why Science and Religion are Incompatible.