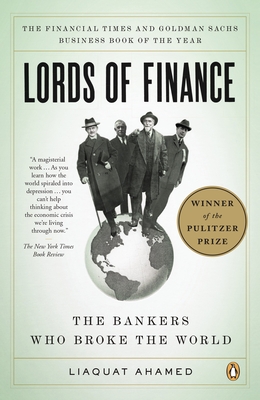 Lords of Finance
The Bankers Who Broke the World
Paperback

* Individual store prices may vary.
Other Editions of This Title:
Digital Audiobook (4/26/2009)
MP3 CD (4/1/2009)
Compact Disc (4/1/2009)
Hardcover (1/22/2009)
Compact Disc (4/1/2009)
Description
Winner of the 2010 Pulitzer Prize

"A magisterial work...You can't help thinking about the economic crisis we're living through now."—The New York Times Book Review

It is commonly believed that the Great Depression that began in 1929 resulted from a confluence of events beyond any one person's or government's control. In fact, as Liaquat Ahamed reveals, it was the decisions made by a small number of central bankers that were the primary cause of that economic meltdown, the effects of which set the stage for World War II and reverberated for decades. As yet another period of economic turmoil makes headlines today, Lords of Finance is a potent reminder of the enormous impact that the decisions of central bankers can have, their fallibility, and the terrible human consequences that can result when they are wrong.
Praise For Lords of Finance: The Bankers Who Broke the World…
"A magisterial work…As you learn how the world spiraled into depression…you can't help thinking about the economic crisis we're living through now."—The New York Times Book Review
 
"The rich and charming story of the end of the world."—Time
 
"Lords of Finance is highly readable .... That it should appear now, as history threatens to repeat itself, compounds its appeal."—Niall Ferguson, Financial Times
 
"There is terrific prescience to be found in [Lords of Finance's] portrait of times past…[A] writer of great verve and erudition, [Ahamed] easily connects the dots between the economic crises that rocked the world during the years his book covers and the fiscal emergencies that beset us today. He does this winningly enough to make his book about an international monetary horror story seem like a labor of love… Mr. Ahamed does a superlative job of explaining the ever-germane way the problems of one shyster, one bank, one treasury or one economy can set off repercussions all around the globe."—Janet Maslin, The New York Times
 
"This absorbing study of the first collective of central bankers is provocative, not least because it is still relevant."—The Economist
 
"This is narrative history at its most vivid, an epic portrait of how the predecessors of Ben Bernanke, Jean-Claude Trichet and Mervyn King helped shove economies into the abyss in 1929…His reportorial style has the Barbara Tuchman touch. Learned yet unpretentious, he dips into diaries, letters and cables to pull out evocative vignettes…Central bankers, [Ahamed] says, can resemble Sisyphus in Greek mythology— condemned to roll a boulder up a hill, only to watch it roll down again. Like Alan Greenspan, the four men described here saw their apparent successes melt into failure."—Bloomberg News
 
"The parallels evidenced by Ahamed between state of the world financial system then and now add to the fascination of this remarkable achievement in history, biography and analysis."—Fort Worth Star Telegram
 
"An outstanding book…[Ahamed] found a fascinating frame for relating global economic history from the beginning of World War I until the dying days of World War II."—The Houston Chronicle
 
"[Ahamed's] protagonists' high-wire efforts to stave off national bankruptcies furnish Ahamed with plenty of drama to highlight his engrossing analysis of the complexities of monetary policy."—Publishers Weekly
 
"Erudite, entertaining macroeconomic history of the lead-up to the Great Depression as seen through the careers of the West's principal bankers…Spellbinding, insightful and, perhaps most important, timely."—Kirkus Reviews (starred)
 
"Books grounded in history sometimes offer an eerie resonance for contemporary readers. Rarely has that statement seemed truer than with Lords of Finance."— Steve Weinberger, Dallas Morning News
 
"[A] wonderful new history"—Newsweek
Penguin Books, 9780143116806, 576pp.
Publication Date: December 29, 2009
About the Author
Liaquat Ahamed has been a professional investment manager for 25 years. He has worked at the World Bank in Washington D.C. and the New York based partnership of Fischer Francis Trees and Watts, where he served as Chief Executive. He is currently an adviser to several hedge fund groups, including the Rock Creek Group and the Rohatyn Group, is a director of Aspen Insurance Co. and is on the board of Trustees of the Brookings Institution. He has degrees in economics from Harvard and Cambridge Universities.