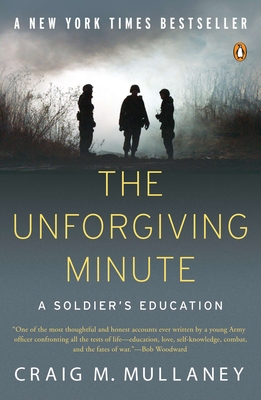 The Unforgiving Minute: A Soldier's Education (Paperback)
A Soldier's Education
Penguin Books, 9780143116875, 386pp.
Publication Date: February 23, 2010
Description
"One of the most thoughtful and honest accounts ever written by a young Army officer confronting all the tests of life." -Bob Woodward
In this surprise bestseller, West Point grad, Rhodes scholar, Airborne Ranger, and U. S. Army Captain Craig Mullaney recounts his unparalleled education and the hard lessons that only war can teach. While stationed in Afghanistan, a deadly firefight with al-Qaeda leads to the loss of one of his soldiers. Years later, after that excruciating experience, he returns to the United States to teach future officers at the Naval Academy. Written with unflinching honesty, this is an unforgettable portrait of a young soldier grappling with the weight of war while coming to terms with what it means to be a man.
About the Author
Craig Mullaney grew up in a blue-collar, Irish-Catholic family in Rhode Island and graduated from West Point in 2000. An Airborne Ranger, Mullaney earned a Rhodes Scholarship to Oxford University. In 2003, he led an infantry rifle platoon along the border between Afghanistan and Pakistan. His platoon operated along the entire spectrum of operations--from humanitarian assistance to combat engagements against Al Qaeda and Taliban fighters. Mullaney was later selected to join the Old Guard, the Army's elite honor guard for Arlington National Cemetery. He served three years on the history faculty of the U.S. Naval Academy, focusing on the history of American foreign policy. Mullaney's military awards include the Combat Infantryman's Badge, Bronze Star Medal, and Army Commendation Medal with "V" device for valor. He was an adviser on the Obama-Biden campaign and is now a member of the President-elect's Transition Team.
Praise For The Unforgiving Minute: A Soldier's Education…
"[The Unforgiving Minute] is one man's story, warmly and credibly told, and its focus is on the idealism that he brought to military service. In Captain Mullaney's mind there is no contradiction between loyally following orders and intelligently wondering what purpose those orders serve.... The Unforgiving Minute finds both suspense and pathos in the events that took place under its author's command. Its fierce climactic battle is recreated in searing detail. But what gives this memoir its impact isn't the external events that it describes. It's the inner journey of a man who is at first eager to learn as much as he can from service and scholarship. Later on he learns from his mistakes."
-The New York Times

"The Unforgiving Minute is a wonderful, beautifully written story of the education and development of a young soldier-scholar, the coming of age of an infantry officer, and the exercise of a small unit leader's responsibilities in a tough, complex, and frustrating situation in Afghanistan. It captures particularly eloquently and movingly the relationships among those who walk point for our nation as part of that most elite of fraternities, the brotherhood of the close fight."
-General David Petraeus, Commander, U.S. Central Command

"Craig Mullaney's memoir is a thoughtful, introspective work reminiscent of the great British memoirs of World War I. A thousand years from now, historians wanting to know about life in America after 9/11 would do well to look at this book. Equally important, it is an enjoyable and honest book. Read it."
-Thomas E. Ricks, author of New York Times bestseller FIASCO: The American Military Adventure in Iraq and senior military correspondent, The Washington Post

"[Craig Mullaney] ultimately delivers far more than the boy-to-man story that he promised.... In this extraordinary book, Mullaney has taken the trouble to look very closely, and has had the courage to discover the limits to his own understanding. Readers will be fascinated to look over his shoulder."
-Washington Post Book World

"Craig Mullaney has lived every kind of American life-he has been a working- man's son, a prize scholar, a soldier-and what's come out of it is a classic memoir about what it means to be American. By marching so many terrains, he has covered the subjects central to every life: courage, pain, loyalty, honor, friendship, love and the tests any good life faces, year by year, minute by minute. He has also produced a page-turner, a brutally honest account of West Point life, the innocence-abandoned experiences of an American abroad at Oxford, and ultimately an indelible story of life and death on the battlefield. In words his squadmates might recognize, I recommend The Unforgiving Minute without any mental reservation or purpose of evasion."
-David Lipsky, contributing editor to Rolling Stone Magazine and author of the New York Times bestseller Absolutely American

"The Unforgiving Minute is one of the most compelling memoirs yet to emerge from America's 9/11 era. Craig Mullaney has given us an unusually honest, funny, accessible, and vivid account of a soldier's coming of age. This is more than a soldier's story; it is a work of literature."
-Steve Coll, author of the Pulitzer Prize-winning Ghost Wars and The Bin Ladens

"Former Army Capt. Craig Mullaney admits up front that, emotionally, he takes after his expressive Irish mother, who is "incapable of stemming a tear." Mullaney is less candid and perhaps unaware of his talent for evoking emotion in others..... But The Unforgiving Minute is far from heavy and never maudlin. Mullaney's sense of humor is obvious....It is Mullaney's clear-eyed, warm- hearted candor that elicits empathy.... This self-effacing frankness makes his coming- of- age-in-uniform memoir a charmer.... Stunning [and] pertinent."
-The Army Times "The Unforgiving Minute is the ultimate's soldier's book-universal in its raw emotion and its understanding of the larger issues of life and death. Mullaney, a master storyteller, plunges the depths of self-doubt, endurance, and courage. The result: a riveting, suspenseful human story, beautifully told. This is a book written under fire-a lyrical, spellbinding tale of war, love, and courage. The Unforgiving Minute is the Three Cups of Tea of soldiering."
-Ahmed Rashid, author of the New York Times bestseller Taliban and Descent into Chaos

"The Unforgiving Minute is a gripping account of a young military officer's quest to prepare for the unknowns of leadership under fire, and his eventual testing in Afghanistan. With unflinching candor, Mullaney depicts his evolution from idealistic teenager to reflective veteran who retains his conviction and patriotism once his innocence is lost. His emotional, often funny memoir takes us to the U.S. Military Academy at West Point, through the rigors of Army Ranger school, then on to drunken debates and romance at Oxford, where he had a Rhodes Scholarship.... The book [is] a departure from traditionally dry military memoirs --it reads like a work of literature.... Mullaney's evolution through his intellectual and emotional journey grips on every page; his writing contains a modesty that becomes more endearing as his achievements mount. This is a classic coming-of-age memoir and a valuable insight into post-Sept. 11 conflict."
-Bloomberg.com

"Mullaney writes a great story-a true privilege to read. Entertaining, balanced, and graceful, The Unforgiving Minute is a powerful narrative of purpose, responsibility, courage, and personal growth. Every young man and woman in America should read this book, and aspire to his standard of public service."
-General Wesley Clark, USA (Ret.)

"The Unforgiving Minute is a classic memoir of war and personal development. Craig Mullaney has provided a far greater service to his nation by penning a riveting memoir that should be mandatory reading by every junior officer who dons the military uniform."
-ARMY Magazine

"I recommend The Unforgiving Minute because it is superb and important.... Read the book and you know the caliber of the men and women leading our troops and the troops themselves. More importantly, Craig shows the price of service to country and the cost of sacrifices so few individuals endure in our name."
-The Huffington Post

"Craig Mullaney has written a poignant and evocative book about the great hurdles in coming of age: love, death, belief, and betrayal. Learning from his experience can help us face our own unforgiving minutes. I couldn't stop reading."
-Nathaniel Fick, author of the New York Times bestseller One Bullet Away

"Insightful... This book should be read, certainly, by everyone who has a loved one who is serving in the military, has served or might one day serve. But it also should be required reading for all Americans.... His is a remarkable journey, recounted with unflinching honesty, thoughtful reflection, occasional humor and hard-won wisdom.... An unusual book that combines grittily realistic accounts of war with highly educated reflection and introspection.... If enough people read [The Unforgiving Minute], then perhaps we as a country would not have such a profound lack of understanding of the volunteer troops we send to fight our wars, and of the sacrifices that they and their families make."
-Winston-Salem Journal

"One of the most thoughtful and honest accounts ever written by a young Army officer confronting all the tests of life---education, love, self-knowledge, combat, and the fates of war."
-Bob Woodward

"There have been a slew of memoirs, many very good, from soldiers who fought in Iraq or Afghanistan. But Mullaney's honest, elegantly-written account [The Unforgiving Minute] has gained particular notice."
-New York Post

"The Unforgiving Minute is the poignant true story of a young man's unusual education from the classrooms of West Point and Oxford to his development as a leader, son, brother, husband and friend. In this powerful book, we share in the remarkable experiences of a Rhodes Scholar, and the heartache and pride of a soldier. I admire Craig Mullaney's courage, and thank him for his service."
-Senator Richard Lugar, former Chairman of the Senate Foreign Relations Committee

"Mullaney's harrowing and humorous details make the book not only a soldier's story but also a richly human one."
-Baltimore Sun

"Craig Mullaney is an exemplar of the next great generation of Americans, those who are serving and sacrificing on the front lines in Afghanistan and Iraq. This is a compelling, can't-put-down book, a well-written, memorable description of preparing for war and leading in combat."
-Joe Klein, Time Magazine political columnist and author of New York Times bestseller Primary Colors

"My only regret in reading The Unforgiving Minute is that I had not read it earlier. [The Unforgiving Minute] is essential reading for those in (or veterans of) our business - and maybe more importantly - for those who need to know what that business is all about....We can ill afford leaders equipped solely with the implements of warfare - they must be intellectually equipped as well. Craig Mullaney is indeed a soldier-scholar and -citizen as well and his story is the story of a whole generation of young leaders."
-Dave Dilegge, Small Wars Journal

"Riveting... Reminiscent of Ernest Hemingway, John Hersey, and Ring Lardner, owing to Mullaney's talents as a storyteller and astute observer of detail."
-Vanity Fair

"[The Unforgiving Minute] should be required reading for all who will be placed in leadership positions in the military and in the corporate world."
-Major General Mike Myatt, USMC (Ret.), President and CEO of Marines' Memorial Association

"The Unforgiving Minute offers great insight into the war we are sending young Americans to fight in Afghanistan, but it is also a wonderful coming of age story told with wit and brio by one of the best writers I've read in a long time."
-Bob Schieffer, CBS News

"I couldn't put down The Unforgiving Minute. Well-written and engaging, this book should be a requirement for all young people seeking to become leaders."
-Lieutenant General (Ret.) Donald L. Kerrick, former Deputy National Security Adviser

"Keenly intelligent war memoir whose central question is, 'What is a man?' First-time author Mullaney, a West Point graduate, Rhodes Scholar and veteran of combat in Afghanistan, searches for the answer while investigating a second question: What kind of man is a soldier? At West Point and in the Army, soldier and man are one and the same. Mullaney's intelligence and sensitivity are too fine-tuned for such a simple conflation....
A philosophically ambitious account of coming to adulthood."
-Kirkus Reviews

"No matter how many books you have read about the rigors of basic training and the terrors of war, you should read this one. Mullaney's keen eye for detail, lively narrative style, and capacity for self-reflection-unusual in many soldiers-make an old story new and gripping."
-Anne-Marie Slaughter, Dean of the Woodrow Wilson School of Public and International Affairs, Princeton University

"Craig Mullaney adds his name to the very few among of us who have the intelligence, sensitivity and skill to share the unforgiving sadness and the unparalleled joy of leading men and women in combat. The Unforgiving Minute should be required reading for all who serve in the White House and Congress and for those who aspire to leadership. Read it. Twice."
-Paul Bucha, West Point Class of 1965, Medal of Honor recipient and past president of the Congressional Medal of Honor Society

"Craig Mullaney puts the reader in the muddy boots of a combat leader as he marches a path from West Point to Afghanistan and back again. Weaving action and reflection, The Unforgiving Minute is fast-paced, entertaining, and rich with insight and wisdom. A great debut from a leader to watch."
-General Barry McCaffrey, USA (Ret.)

"Intimate and evocative in the tradition of the best coming-of-age memoirs, The Unforgiving Minute accurately captures what it is to prepare for the ultimate responsibility of leading soldiers in war, a demand as much intellectual as physical, as much about compassion as discipline. By turns thoughtful, hilarious, gut-wrenching, and inspiring, The Unforgiving Minute is as gripping and addictive as it is perceptive and honest."
-Lieutenant General F.L. Hagenbeck, U.S. Army

"Craig Mullaney has served his country twice: first by leading his men at war, and now by remembering. He has done both with skill and honor. Mullaney's memoir is the thinking soldier's guide to modern combat, told with a novelist's eye for detail and a philosopher's penchant for perspective. It is a story well worth reading."
-Bill Murphy Jr., author of IN A TIME OF WAR: The Proud & Perilous Journey of West Point's Class of 2002

"No one describes more clearly how a boy becomes a man than Craig Mullaney in this masterpiece of self-awareness. No American can read this book and ever again forget what we owe to others for giving to us a society filled with so many choices that we have the freedom to make for ourselves."
-David L. Boren, former U.S. Senator and longest serving chairman of the U.S. Senate Intelligence Committee

"A searingly honest and brilliant tale, full of small victories, significant losses, self-awareness and understanding. This is a marvelous read, full of life lessons on every page, written in a modest and unflinching style-a classic memoir."
-Admiral James Stavridis, Commander, U.S. Southern Command

"An honest account of the closeness and the distance between a father and a son and the highs and lows of military life. A heart-breaking account of what it is like to be responsible for the life and death of America's most precious asset: the Combat Warrior. A must read for all combat leaders."
-Lieutenant General Ronald Coleman, U.S. Marine Corps

"The Unforgiving Minute tells the story of a fiercely passionate young man and provides important insight into a new greatest generation-his comrades in arms who serve in a time of war. Read this book to get a sense of their courage and sacrifice."
-Lieutenant Colonel John Nagl, USA (Ret.), author of Learning to Eat Soup with a Knife

"The Unforgiving Minute is a literate and thoughtful memoir that is a valuable contribution to both the genre and to our understanding of contemporary conflict."
-Andrew Exum, author of This Man's Army
Advertisement