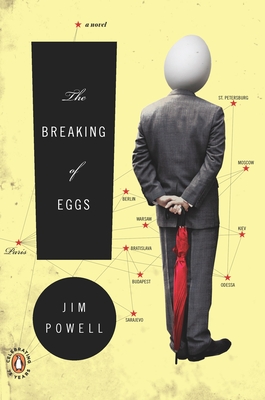 The Breaking of Eggs
A Novel
Paperback

* Individual store prices may vary.
Other Editions of This Title:
Paperback (3/1/2011)
Paperback (11/1/2010)
Description
Read Jim Powell's blogs and other content on the Penguin Community.
The Breaking of Eggs is the story of the curmudgeonly Feliks Zhokovski, Polish by birth, Communist at heart, who at age 61 finds that just about everything he has based his life on is crumbling. Separated from him family as a child when the Nazis invaded Poland, Feliks is currently living in Paris and his life's work is a travel guide to the old Eastern bloc. But unfortunately for Feliks, it's 1991: the Berlin Wall has fallen, Communism has collapsed, East Germany isn't the economic miracle he wants it to be, and he's forced to confront the fact that his travel-writing days are numbered. His guide was a flourishing business, but the old pro-Communist descriptions won't do, for Western visitors will now be able to see for themselves. So he makes the (extremely difficult) decision to sell his guide to a big, capitalist American publisher. This sets in motion a chain of events that will reunite him with a brother living in Ohio that he hasn't seen in fifty years, reveal the truth about the mother he thought abandoned him and offer him a second chance with a long-lost love.
Equal parts hilarious and moving, The Breaking of Eggs is the story of a man who closed himself off from everyone and everything years ago and now awakens to discover the world has changed dramatically and he must change with it. The Breaking of Eggs also has the added bonus of being a crash course in 20th century European history, subtly told as a backdrop to Feliks' riveting personal story. Imagine Everything is Illuminated meets The Elegance of the Hedgehog, then forget all the publishing clichés and discover this incredible new voice.
Praise For The Breaking of Eggs: A Novel…
"A magnificent debut novel...a haunting, quietly brilliant story...a rare and remarkable achievement: a novel that meshes storytelling potency with historical erudition."
-The Boston Globe

"An impressive first novel...wise and witty."
-American Spectator

"Dramatic change comes to the rigidly ordered, solitary life of Feliks Zhukovski. A naturalized French citizen living in Paris, the irascible 61-year- old Polish leftist is stunned by the sudden collapse of the Soviet Union. He also gets the flu, and that spurs his first conversation in 36 years with his landlady. Feliks has always valued ideas and ideology over people, but events conspire to reunite him with the brother he hasn't seen for 50 years; take him to the hated U.S. to complete a business deal with capitalists (gasp!); discover the fate of his mother; and offer him a second chance at love. All of these events force Feliks to examine the choices he has made. Powell's delightful debut novel is by turns winsome and moving. Feliks is an indelible character, and the people who enter his life tell remarkable stories of the suffering that fascism and communism visited on Europe. The Breaking of Eggs is a book that thoughtful readers won't soon forget."
-Thomas Gaughan, Booklist
Penguin Books, 9780143117261, 352pp.
Publication Date: July 27, 2010
About the Author
JIM POWELL has had many careers: as managing director of a large London advertising agency, as founder of a successful ceramics business, as a speechwriter for three government ministers, and even as an office boy for The Beatles. He lives in Northamptonshire, England.
or
Not Currently Available for Direct Purchase