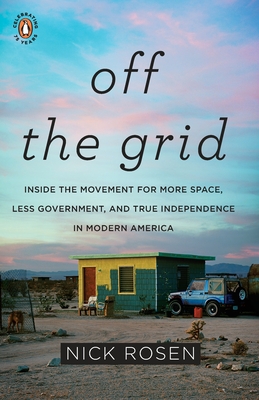 Off the Grid: Inside the Movement for More Space, Less Government, and True Independence in Modern America (Paperback)
Inside the Movement for More Space, Less Government, and True Independence in Modern America
Penguin Books, 9780143117384, 292pp.
Publication Date: July 27, 2010
Description
Inside the subculture of off-grid living Written by a leading authority on living off the grid, this is a fascinating and timely look at one of the fastest growing movements in America. In researching the stories that would become Off the Grid, Nick Rosen traveled from one end of the United States to the other, spending time with all kinds of individuals and families striving to live their lives the way they want to-free from dependence on municipal power and amenities, and free from the inherent dependence on the government and its far-reaching arms. While the people profiled may not have a lot in common in terms of their daily lives or their personal background, what they do share is an understanding of how unique their lives are, and how much effort and determination is required to maintain the lifestyle in the face of modern America's push toward connectivity and development.
About the Author
Nick Rosen is a rising authority on living off the grid and has written extensively on the subject for the Times (London), the Guardian, and Reuters. He is also an award-winning documentary filmmaker. He edits the website Off-Grid.net in the back of his RV, using a laptop plugged into the cigar lighter (and a wireless modem plugged into the laptop). His hobbies include cooking, diving, and trespassing, and he has a part-time off-grid home on the island of Majorca.
Praise For Off the Grid: Inside the Movement for More Space, Less Government, and True Independence in Modern America…
"Bottom Line: A compelling look at a relatively invisible subculture. B+"
-Newsweek

"Remember from your youth the potheads, the guys who slept in their rust-bucket cars, the women who baked their own bread from scratch and bartered it for used shoes? They're back. You can reunite in this quirky, unsettling and fascinating look at 21st-century men and women who have cut the cord to power and water and choose to live, for a variety of reasons, 'Off the Grid.'"
-Minneapolis Star Tribune

"A timely and gripping read with an entertaining, often inspiring cast of misfits and visionaries, Off the Grid offers a peephole view into the future of apocalyptic America."
-Lydia Millet, author of Oh Pure and Radiant Heart and How the Dead Dream

"Nick Rosen sees going off the grid as a political choice. In Off the Grid: Inside the Movement for More Space, Less Government, and True Independence in Modern America, he writes that corporate greed, massive layoffs, healthcare wars, ecological disasters have caused many true believers to question the American Dream. "Most of the people I met on my tour of America," writes the British Rosen, "are losing faith in the grid, both in its literal and metaphorical sense. They don't feel a sufficient advantage to being inside the fabric of society." ... He travels across the U.S. visiting individuals, families and communities that have chosen to live free of the "Meter Man." He distinguishes between the back-to-the-landers, the hippies, the anarchists and the survivalists and writes about the issues they face as they go off-grid - zoning problems, permits and social ostracism.
-The Los Angeles Times

"Journalist Nick Rosen profiles the brave souls who live sans electricity bill, from the predictably fringe-ish (9/11 Truther survivalists, old-order Mennonites) to the surprisingly ordinary: A Colorado mom explains that off-grid living is the only way she can afford to raise her kids "where neighbors are neighborly, and there is plenty of clean air." Thoreau couldn't have said it better himself, and luckily Rosen knows it. Off the Grid makes a convincing case for living deliberately, without too many Waldenisms."
-Mother Jones
Advertisement