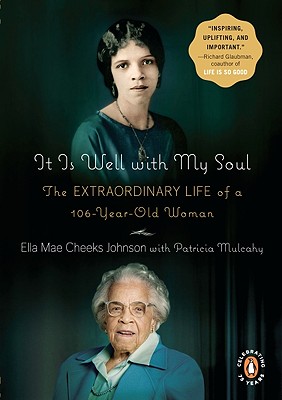 It Is Well with My Soul: The Extraordinary Life of a 106-Year-Old Woman (Paperback)
The Extraordinary Life of a 106-Year-Old Woman
Penguin Books, 9780143117445, 202pp.
Publication Date: March 30, 2010
* Individual store prices may vary.
or
Not Currently Available for Direct Purchase
Description
An African American centenarian who saw W. E. B. Du Bois speak in 1924 and attended President Barack Obama's inauguration in 2009 shares wisdom from a life well lived during a crucial period in American history
Ella Mae Cheeks Johnson was an inspirational, dynamic, and one-of-a-kind woman, whose ordinary life was nothing less than extraordinary throughout the course of her 106 years. A graduate of Case Western Reserve University, Ella Mae was the child of former slaves and experienced the best and worst of the past century in America--from the Jim Crow era and the Great Depression to the inauguration of President Barack Obama in 2009, which she memorably attended. Through it all, she endured--and thrived--by adhering to the example of the Good Samaritan: the belief that compassion is the key to the good life and offering to help without expecting payback brings its own rewards. In
It Is Well with My Soul
, Ella Mae Cheeks Johnson shares her insights on living a long and enjoyable life and her hopes for the future.
Praise For It Is Well with My Soul: The Extraordinary Life of a 106-Year-Old Woman…
"Now 105, Johnson offers a broad perspective on life for a woman who was the child of former slaves and lived to attend the inauguration of the first black president of the U.S. She describes herself as an "unabashed beggar," meaning unashamed to admit to her needs and ask for help and also happy to switch roles and fulfill the needs of others. She was born in Texas, orphaned at 4, and raised by a neighboring family. With aid and the support of family and friends, she studied at Fisk University, participating in a boycott organized by W. E. B. DuBois to protest authoritarian treatment of students. She went on to get a Master's degree in social work from what is now known as Case Western Reserve University. Johnson survived the Jim Crow South, the Great Depression, and widowhood as she raised two young sons and worked as a social worker in Cleveland. Johnson offers encouragement and inspiration, citing her faith as a source of strength over a long and fruitful lifespan.
-Vanessa Bush, Booklist

"Ella Mae's memoir describes a parallel history of the black experience in our nation that is so rarely recorded. After living a life of quiet dignity, Ella Mae Cheeks Johnson, in It Is Well with My Soul shares a story that is inspiring and uplifting."
-Richard Glaubman, coauthor of Life is So Good
Advertisement