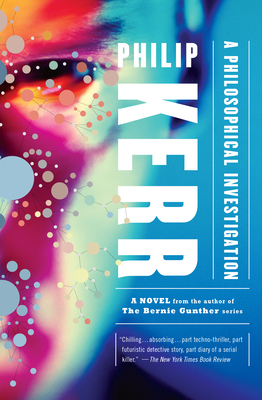 A Philosophical Investigation (Paperback)
Penguin Books, 9780143117537, 329pp.
Publication Date: April 27, 2010
Description
A terrifyingly prescient cult classic by the author of the Berlin Noir trilogy
LONDON, 2013. Serial killings have reached epidemic proportions-even with the widespread government use of DNA detection, brain-imaging, and the "punitive coma." Beautiful, whip-smart, and driven by demons of her own, Detective Isadora "Jake" Jacowicz must stop a murderer, code-named "Wittgenstein," who has taken it upon himself to eliminate any man who has tested posi-tive for a tendency towards violent behavior-even if his victim has never committed a crime.
Philip Kerr is winning more acclaim than ever for his beloved Bernie Gunther series and-with Kerr's higher profile-A Philosophical Investigation is poised to capture an all-new readership with its riveting tale of a killer whose intellectual brilliance is matched only by his homicidal madness.
About the Author
Philip Kerr is the author of many novels, but perhaps most important are the five featuring Bernie Gunther--A Quiet Flame, The One from the Other, and the Berlin Noir trilogy (March Violets, The Pale Criminal, and A German Requiem). He lives in London and Cornwall, England, with his family.
Advertisement