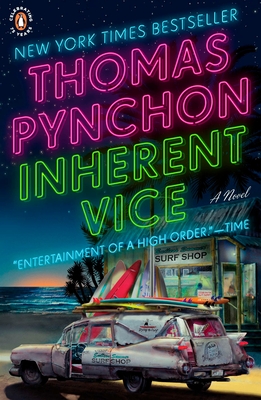 Inherent Vice
A Novel
Paperback

* Individual store prices may vary.
Other Editions of This Title:
Digital Audiobook (8/3/2009)
Prebound (11/26/2014)
Paperback (11/26/2014)
Hardcover (8/4/2009)
Hardcover (8/1/2009)
Hardcover, Large Print, Large Print (1/1/2010)
Compact Disc, Abridged, Abridged (8/4/2009)
Description
Part noir, part psychedelic romp, all Thomas Pynchon—Private eye Doc Sportello surfaces, occasionally, out of a marijuana haze to watch the end of an era

In this lively yarn, Thomas Pynchon, working in an unaccustomed genre that is at once exciting and accessible, provides a classic illustration of the principle that if you can remember the sixties, you weren't there.

It's been a while since Doc Sportello has seen his ex- girlfriend. Suddenly she shows up with a story about a plot to kidnap a billionaire land developer whom she just happens to be in love with. It's the tail end of the psychedelic sixties in L.A., and Doc knows that "love" is another of those words going around at the moment, like "trip" or "groovy," except that this one usually leads to trouble. Undeniably one of the most influential writers at work today, Pynchon has penned another unforgettable book.
Praise For Inherent Vice: A Novel…
"What he does, and brilliantly, is open windows onto a universe where we're all in custody, but we're none of us sure who put on the cuffs. . . . entertainment of a high order." —TIME
 
"An enjoyable book by a writer whose work can be daunting." —John Powers, Fresh Air on NPR
 
"With whip-smart, psychedelic-bright language, Pynchon manages to convey the Sixties—except the Sixties were never really like this. This is Pynchon's world, and it's brilliant. The resolution is as crisp as Doc is laid-back. Highly recommended." —The Library Journal
 
"A deliciously composed dark comedy . . . that most Pynchon fans will be delighted by. . . . I found myself charmed and pleased with the way Pynchon meets the genre square and fair, on its own terms, and makes it his own." —San Fransisco Chronicle
 
"His most accessible book . . . the author's comical mystery (musings about the end of national innocence) as well as the wordplay so relentlessly present in any of his books, keep Pynchon's Inherent Vice from being just another thriller—and ensure it is never less than entertaining." —The Denver Post
 
"With whip-smart, psychedelic-bright language, Pynchon manages to convey the Sixties-except the Sixties were never really like this. This is Pynchon's world, and it's brilliant." —The Library Journal
 
"Terrific pastiche of California noir, wonderfully amusing throughout (and hard to quote from in a family newspaper because of the frequent use of, uh, colorful spoken language) and a poignant evocation of the last flowering of the '60s, just before everything changed and passed into myth or memory." —Michael Dirda, The Washington Post

"[A]n author whose work has long married the perversely dystopic to the poetically giddy, with the same cosmic unease with which louche noir detectives have long found a home under the insistent Los Angeles sun." —John Anderson, Newsday

"Inherent Vice is the funniest book Pynchon has written. It's also a crazed and majestic summary of everything that makes him a uniquely huge American voice. It has the moral fury that's fueled his work from the start—his ferociously batshit compassion for America and the lost tribes who wander through it." —Rolling Stone
 
"We should all take a hit off a fat spliff and enjoy the dirty, brainy achievement of Pynchon's Vice. . . . It's easy to forget, among all his games and puzzles, that Pynchon can write razor-sharp beauty with the best of them. A page-long description of the Santa Anas demands a place next to classic passages by Chandler and Joan Didion . . . With Pynchon's brilliance comes readability." —The Los Angeles Times

"[A] deliciously composed dark comedy . . . I found myself charmed and pleased with the way Pynchon meets the genre square and fair." —Alan Cheuse, NPR

"Pynchon's prose is so casually vernacular, so deeply in the American grain, you forget that someone composed it. Inherent Vice feels fizzily spontaneous—like a series of jazz solos, scenes, and conversations built around little riffs of language. Does it add up? Maybe. Do you get lost? Lured down a long linguistic dark alley is more like it. It's always weird but always fun." —Newsweek

"What Pynchon is after with the prodigal absurdities of Doc's adventures is not really parody, but something larger. They are a way to enter into a time and place of extravagant delusions, innocent freedoms, and an intoxicated (literally) sense of possibility. And to do it without sententiousness, to write in psychedelic colors disciplined by a steel-on-flint intelligence (thus the incandescent sparks)." —The Boston Globe
 
"Hard to know what Thomas Pynchon was smoking when he wrote this pitch-perfect homage to the hard-boiled California crime novel, but it did the trick. . . . Pynchon's just having a blast, and we are lucky to join in." —Pittsburgh Post Gazette
 
"How pitch-perfect noir can one get?" —Chicago Tribune
 
"[Of the] Pynchon novels, Inherent Vice is funny, maybe even the funniest." —The Village Voice

"Pynchon is frolicking in this psychedelic mystery, featuring dopers, surfers, bikers, predators, and parasites, drugs and counterfeit money, setups and switchbacks, and the Golden Fang, a stealth ship. As Doc wiggles and smokes his way out of gnarly predicaments, Pynchon skewers urban renewal, television, government surveillance, and the looming computer age. A bit of a mystery himself, master writer Pynchon has created a bawdy, hilarious, and compassionate electric-acid-noir satire spiked with passages of startling beauty." —Booklist

"Blessed with a sympathetic hero, suspenseful momentum and an endlessly suggestive setting . . . [fans] will know it for the throwaway masterwork it is: playful as a dolphin, plaintive as whale song, unsoundly profound as the blue Pacific." —Publishers Weekly
 
"The new Pynchon: a beach read and a heartstring puller. It's almost surreal. A." —Entertainment Weekly
 
"Reading Thomas Pynchon again, one is reminded that fiction can clarify the world—capturing it as it seems to be—and it can also change the world by seeing it new ways. Pynchon is a magician in the second category: He applies language to what we know and all we've missed—giving new shape to both. . . . The book is exuberant, delightfully evocative of its era, and very funny." —O Magazine
 
"Thomas Pynchon, the paranoid poet of the information age, is LA's greatest writer." —Wired
 
"After writing over 3,000 pages (some of the best in American fiction) on topics ranging from paranoia to Fay Wray to the demarcation of the Mason-Dixon Line, a towering literary giant takes on the hardened detective genre in a mere 384 pages. And he keeps up with the best of them." —GQ 
Penguin Books, 9780143117568, 384pp.
Publication Date: July 27, 2010
About the Author
Thomas Pynchon is the author of V., The Crying of Lot 49, Gravity's Rainbow, Slow Learner, a collection of short stories, Vineland , Mason and Dixon and, most recently, Against the Day. He received the National Book Award for Gravity's Rainbow in 1974.