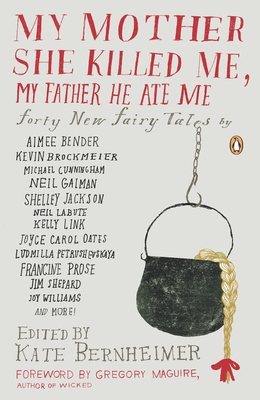 My Mother She Killed Me, My Father He Ate Me
Forty New Fairy Tales
Paperback

* Individual store prices may vary.
Description
The fairy tale lives again in this book of forty new stories by some of the biggest names in contemporary fiction.

Neil Gaiman, "Orange"
 
Aimee Bender, "The Color Master"
 
Joyce Carol Oates, "Blue-bearded Lover"
 
Michael Cunningham, "The Wild Swans"
 
These and more than thirty other stories by Francine Prose, Kelly Link, Jim Shepard, Lydia Millet, and many other extraordinary writers make up this thrilling celebration of fairy tales—the ultimate literary costume party.
 
Spinning houses and talking birds. Whispered secrets and borrowed hope. Here are new stories sewn from old skins, gathered by visionary editor Kate Bernheimer and inspired by everything from Hans Christian Andersen's "The Snow Queen" and "The Little Match Girl" to Charles Perrault's "Bluebeard" and "Cinderella" to the Brothers Grimm's "Hansel and Gretel" and "Rumpelstiltskin" to fairy tales by Goethe and Calvino and from China, Japan, Vietnam, Russia, Norway, and Mexico.
 
Fairy tales are our oldest literary tradition, and yet they chart the imaginative frontiers of the twenty-first century as powerfully as they evoke our earliest encounters with literature. This exhilarating collection restores their place in the literary canon.
Praise For My Mother She Killed Me, My Father He Ate Me: Forty New Fairy Tales…
"Spooky, shocking, and surreal narrative tricks and treats [in] forty spanking- new stories inspired by classic folktales from around the world are showcased in [this] lavish anthology."
-Elle

"The shiveringly titled My Mother She Killed Me, My Father He Ate Me proves that the fairy tale can still mutate into new, chilling, often humorous forms... There are many surprising plums in this pie... A fine example...is Aimee Bender's 'The Color Master.'...Kevin Brockmeier's 'A Day in the Life of Half of Rumpelstiltskin'' is a grotesque, witty, and melancholy guess into what life must be like for the Rumpelstiltskin... The best story here is an old one by John Updike... Another triumph of realism is Francine Prose's 'Hansel and Gretel.'... Chris Adrian's retelling of the Irish story 'Teague O'Kane and the Corpse' is a gruesome romp. Karen Joy Fowler's 'Halfway People' is eerie and stirring. Jim Shepard's 'Pleasure Boating in Lituya Bay' is challengingly complex. And the haunting 'First Day of Snow' by Naoko Awa is a fairy tale that makes you feel like a child again."
-The Boston Globe

"Witty, gruesome, eerie, funny, and . . . fresh, surprising, and vividly sharp . . . this collection offers surprises and delights at every turn. . . . The author contributor list is a huge draw: Neil Gaiman rubs shoulders with Michael Cunningham, Shelley Jackson keeps company with John Updike, and Aimee Bender shares page room with Kelly Link." —Library Journal

"The fairy tale is not dead. This wonderful collection brings together some of our best contemporary writers and some of our most beloved (and even feared) old stories. Rumplestiltskin, Bluebeard, the Earl-King, Hansel and Gretel, Snow White-all come alive again in vivid and colloquial prose. This is a book of brilliant dreams and dazzling nightmares: perfect fare for imaginative readers of any age."
-Seth Lerer, author of Children's Literature: A Reader's History from Aesop to Harry Potter and dean of arts and humanities at the University of California, San Diego

"I cannot remember a time I had more fun reading a book! Many of these contemporary tales rival the originals in creepiness, joy, and impact."
-Darcey Steinke, author of Easter Everywhere

"Let's open the door to the green room and peek to see who is waiting. A bevy of beauties . . . an evanescence of sprites . . . an abundance of adversaries . . . a passel of princes . . . Maybe we should have brought that bubbly; but there's something being served here more deeply inebriating than champagne. Hush."
-Gregory Maguire, from the Foreword
 
Penguin Books, 9780143117841, 576pp.
Publication Date: September 28, 2010
About the Author
Kate Bernheimer is the editor of xo Orpheus: Fifty New Myths, among several other anthologies, and the founder and editor of the literary journal Fairy Tale Review. The author of numerous works of fiction, including How a Mother Weaned Her Girl from Fairy Tales, she teaches in the English department at the University of Arizona.

Gregory Maguire (foreword) is the bestselling author of Wicked, the basis for the Tony Award–winning Broadway musical of the same name. He lives in Boston, Massachusetts.
Coverage from NPR