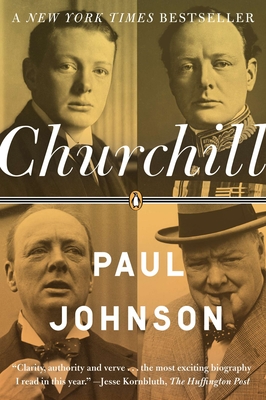 Churchill (Paperback)
Penguin Books, 9780143117995, 180pp.
Publication Date: October 26, 2010
Description
From the "most celebrated and best-loved British historian in America" (Wall Street Journal), an elegant, concise, and revealing portrait of Winston Churchill In Churchill, eminent historian Paul Johnson offers a lively, succinct exploration of one of the most complex and fascinating personalities in history. Winston Churchill's hold on contemporary readers has never slackened, and Johnson's analysis casts new light on his extraordinary life and times. Johnson illuminates the various phases of Churchill's career--from his adventures as a young cavalry officer in the service of the empire to his role as an elder statesman prophesying the advent of the Cold War--and shows how Churchill's immense adaptability and innate pugnacity made him a formidable leader for the better part of a century. Johnson's narration of Churchill's many triumphs and setbacks, rich with anecdote and quotation, illustrates the man's humor, resilience, courage, and eccentricity as no other biography before, and is sure to appeal to historians and general nonfiction readers alike.
About the Author
Paul Johnson's many books, including A History of Christianity, A History of the Jews, Modern Times, Churchill, and Napoleon: A Penguin Life, have been hailed as masterpieces of historical analysis. He is a regular columnist for Forbes and The Spectator, and his work has also appeared in The New York Times, The Wall Street Journal, and many others publications. He lives in London.
Praise For Churchill…
Praise for Churchill by Paul Johnson:
 
"Johnson . . . give[s] the reader the definite sense of having known Churchill, or at least of having hung out with him for a bit . . . Churchill lets you spend some time in the man's company, and who wouldn't want that?"
—New York Times Book Review

"Johnson's distillation of life lessons from Churchill's stories career [is written in] . . . vivid prose and [with] consistent intelligence and urbanity."
—Jon Meacham, Slate.com
 
"[If] you appreciate clarity, authority, and verve in historical writing, you will understand why I gulped down [Churchill] and now declare it the most exciting biography I read in 2009."
—Jesse Kornbluth, Huffington Post

"Johnson clearly shares and revels in Churchill's generosity of spirit and limitless intellectual energy. He has produced a book that is a joy—and a worthy tribute to both of them."
—Washington Times

"You read Johnson to be provoked and entertained, and on both these scores his biography, like its subject, succeeds wonderfully."
—The American Conservative

"With deft narrative skill and keen insight, Johnson masterfully sketches the phases of Churchill's life . . . Along the way, Johnson gives us wonderful insights into Churchill's character . . . Rich with anecdote and quotation, Paul Johnson's Churchill illustrates the man's humor, resilience, courage, and eccentricity as no other biography before."
—National Review

"Paul Johnson is the most celebrated and best-loved British historian in America."
—Wall Street Journal
Advertisement