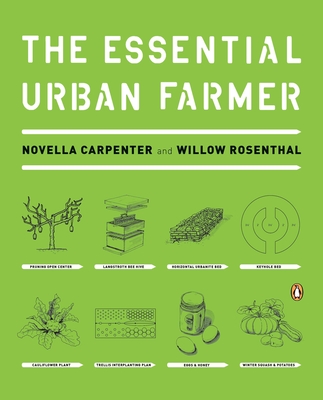 The Essential Urban Farmer
Paperback

* Individual store prices may vary.
Description
The "how-to" guide for a new generation of farmers from the author of Farm City and a leading urban garden educator.
In this indispensable guide, Farm City author Novella Carpenter and Willow Rosenthal share their experience as successful urban farmers and provide practical blueprints-complete with rich visual material-for novice and experienced growers looking to bring the principles of ethical food to the city streets. The Essential Urban Farmer guides readers from day one to market day, advising on how to find the perfect site, design a landscape, and cultivate crops. For anyone who has ever grown herbs on windowsills, or tomatoes on fire escapes, this is an invaluable volume with the potential to change our menus, our health, and our cities forever.
Penguin Books, 9780143118718, 592pp.
Publication Date: December 27, 2011
About the Author
Novella Carpenter grew up in rural Idaho and Washington State. She went to University of Washington in Seattle where she majored in Biology and English. She later studied under Michael Pollan at Berkeley's Graduate School of Journalism for two years. She's had many odd jobs including: assassin bug handler, book editor, media projectionist, hamster oocyte collector, and most recently, journalist. Her writing has appeared in Salon.com, Saveur.com, sfgate.com (the SF Chronicle's website), and Mother Jones. She has been cultivating her farm in the city for over ten years now, and her neighbors still think she's crazy. It all started with a few chickens, then some bees, until she had a full-blown farm near downtown Oakland, where she lives today.