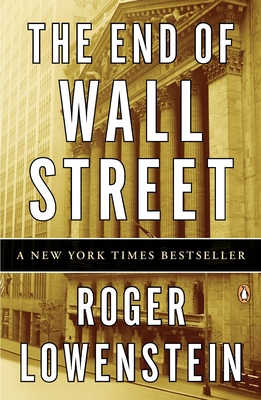 The End of Wall Street (Paperback)
Penguin Books, 9780143118725, 384pp.
Publication Date: March 29, 2011
Other Editions of This Title:
Digital Audiobook (4/5/2010)
Hardcover (4/6/2010)
* Individual store prices may vary.
Description
With razor-sharp insight, bestselling author Roger Lowenstein tells the full story of the end of Wall Street as we knew it.

Roger Lowenstein's The End of Wall Street unfurls a gripping chronicle of the 2008 financial collapse, drawing on 180 interviews with top government officials and Wall Street CEOs. Lowenstein looks to the roots of the crisis to reveal how America succumbed to the siren song of easy debt and speculative mortgages. Combining deep analysis with sizzling narrative, The End of Wall Street charts the end of an era of unprecedented and unwarranted optimism while looking ahead to the legacy of the bailout.
About the Author
Roger Lowenstein, author of the bestselling Buffett: The Making of an American Capitalist and When Genius Failed: The Rise and Fall of Long-term Capital Management, reported for the Wall Street Journal for more than a decade and wrote the Journal's stock market column "Heard on the Street" and also its "Intrinsic Value" column. He now contributes articles and reviews to the Journal and the New York Times Magazine and is a columnist for SmartMoney Magazine. He lives in Westfield, New Jersey.
Praise For The End of Wall Street…
"Lowenstein, a magnificent business writer, creates an almost novelistic accounting of the all-too-real 2008 financial collapse…. Lowenstein has a pitch-perfect sense of the Street's monumental recklessness."—
Time
"[The End of Wall Street] is a complex but imaginative book… [Lowenstein] is able to identify the creative instruments of financial destruction with the directness that is all-important to a book like this."—New York Times
"Think of Roger Lowenstein's The End of Wall Street as a tuition-free class in 21st-century U.S. macroeconomics... The End of Wall Street debunks the notion that no one could have seen the economic catastrophe coming."—USA Today
"The End of Wall Street is a calm, reasoned, and often witty tour of the current financial landscape and how it got that way."—Philadelphia Observer
"In the flood of new books about the financial crisis, Roger Lowenstein's is a standout. Lowenstein, a highly accomplished financial journalist, lays out what may be the best explanation yet of the recent crash—and as good a prediction as any on what happens next."—Barron's
"Lowenstein's strong knowledge of the source material and flair for the dramatic and doomsday title should draw readers who still wonder what went wrong and how."—Publishers Weekly
"Lowenstein does a great job of explaining…in understandable terms that unobtrusively avoids the injection of emotion and politics."—Booklist
"Over the past year, there has been a steady stream of books trying to make sense of the crisis. The latest, and perhaps the most accessible and even-handed, is Roger Lowenstein's The End of Wall Street."—Washington Post
"The End of Wall Street is a good book: witty, well-written, heavily researched and often dramatic."—Associated Press/Huffington Post
"A veteran financial/business journalist examines the past three years of economic collapse, chronicling actions and inactions from dozens of villains and a few heroes…A well-delineated chronicle likely to cause readers to ask who put the clowns in charge of the circus, and why aren't they confined to prison cells." —Kirkus